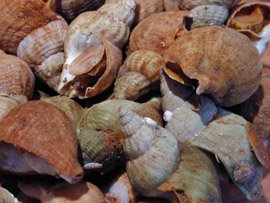 On a Saturday morning, you go to the pool for your weekly swim. As you come out, limbs pleasantly weary and hair still wet, you reflect that it would be nice to buy a baguette for lunch. So, instead of making a right and walking directly home — you are fortunate enough to live just a block from a clean and quiet swimming-pool — you go left and make a detour by the boulangerie to buy a warm and crusty Renaissance baguette (their signature traditional baguette).
As you walk back up the street, you pass the fish stall, and the thought pops: bulots! That will be great for lunch.
Bulots — also called buccin, ran, coucou or cuter still, calicoco — are whelks, those pretty snail-like shellfish that you eat cooked, after delicately removing the little opening cap and pulling the chewy body out, optionally using a special metal pick. In Paris they can be purchased, already cooked, from any poissonnerie — and each fish stall cooks them to its own recipe. Relatively cheap, super nutritious (they are full of vitamins and minerals) but more importantly, delightfully tasty and fun to eat.
You step in to enquire whether they have any, and the poissonnier says yes — in fact he has just finished cooking the daily batch and they are still warm. You buy a generous portion for two that he gets from the back.
You step out, and now your brain is in full menu-planning mode. You think: I need greens to go with that. Luckily there is a produce stall just a few steps further, where you get a few handfuls of wild roquette, sensing that the arugula's peppery bite will work wonders with the plump whelks.
You get home, drop your purchases on the counter, and happily announce that lunch is taken care of, and bulots it will be! The news is met with enthusiasm — no surprise, whelks were a favorite of his long before you stopped being squeamish about seafood. The roquette you simply dress in a little olive oil and balsamic vinegar, then top with fresh shavings of parmesan (a vegetable peeler works wonders) and a little piment d'Espelette (chili powder from the Pays Basque).
Just moments later, you sit down together to a simple, satisfying, colorful and healthy lunch of bulots, salad, fresh bread and salted butter — the one from Brittany that has salt flakes in it. And between two bites you stop to think: how lucky we are to be living in a place where food, good food, is so readily available and such a prominent aspect of life. And how lucky we are to realize it.
Arnaud Delmontel
39 rue des Martyrs
75009 PARIS
01 48 78 29 33
Chrono-Pêche
41 rue des Martyrs
75009 PARIS
01 48 78 06 64

Le Jardin des Martyrs
53 rue des Martyrs
75009 Paris
01 53 20 99 05