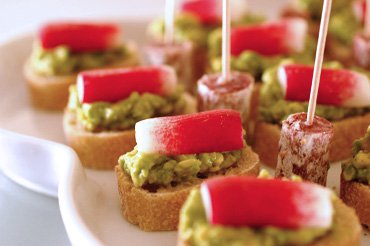 [Avocado and Radish Canapés with Smoked Salt]
I've been on an avocado kick lately, and I blame my favorite produce stall for that: they keep running specials on them and really, who can resist a special on a trio of avocados when the stall keeper will hand-pick them for you so each will be ripe a couple of days after the previous one? (And since we're on the subject of produce stall wonders, I've just discovered after four years of schlepping basketfulls of stuff from this one that they. will. deliver.)
So I've been on an avocado kick, and because the season of pink radishes is in full swing, I've been hung up on them, too. The classic way to enjoy pink radishes is to eat them with bread, butter, and salt, so I had this idea for a canapé: substitute avocado for the butter — what is avocado if not green butter? — and smoked salt for the ordinary salt.
Smoked salt, you ask? Yes, after trying Bordier's smoked salt butter, I decided that I, too, had a right to play with smoked salt, and I bought a tub made by the Halen Môn salt company. This is potent stuff, the sort that should bear a little tag that warns, "Easy there, pal," lest you get a nosebleed from breathing it in too sharply like my sister did when we were seven and eight and we tried to make ourselves sneeze with black pepper like Ma Dalton does in Lucky Luke.
But if you use it in a gingerly fashion, it lends an unusual note to whatever you sprinkle it on, a note I would situate somewhere between sapwood, burnt leaves, and moist earth, and this robust flavor profile engaged the sweetness of the avocado and the fruity piquant of the radish beautifully.
(If smoked salt isn't readily available, a good old sea salt will do fine, with an optional pinch of smoked paprika. As for the toothpicked bites to the right, they're sections from the dry sausages that hang next to the register at my butcher's, rod-shaped and positively addictive.)
Canapés Radis Avocat au Sel Fumé
1 small ripe avocado (or half of a large one)
1 teaspoon lemon juice
Freshly ground pepper
20 slices from a ficelle (a slim baguette) or a baguette
Smoked salt (substitute fleur de sel, kosher salt, or salt + smoked paprika)
10 pink radishes, trimmed and halved
Yields 20 two-bite canapés
Combine the avocado and lemon juice in a small bowl, sprinkle with pepper, and mash roughly with a fork. Spoon onto the bread, season with a pinch of smoked salt, and top with half a radish. Serve immediately.