I used to be someone who liked the white meat best in a roast chicken.
This worked out nicely at dinner with my parents when I was growing up, as they would each get a chicken leg while we girls ate the breast happily: it was mild in flavor, there were no bones to wrestle with, and it came with plenty of pan juices that our mother spooned on after we'd cut criss-cross indentations in the meat for optimal absorption.
My preference made for a uniform chicken distribution with Maxence, too, as he's always been a dark-meat, bone-gnawing kind of guy: we could therefore buy a whole roast chicken and work our way through it, symmetrically, over the next two or three meals.
But lately I've flipped my jacket* and crossed over to the Dark Side of the meat: after years of denial, I've finally come to admit that it's just, well, tastier.
This marvellously creamy dressing matches the chicken and radishes perfectly, but I'll also keep it in mind for crisp greens, raw endives, asparagus spears, and artichoke hearts.
This is a problem. However fabulous our fabulous rôtisserie is, they haven't figured out how to sell four-legged, breastless chickens (let's not even try to imagine what such a creature might look like), so I've started collecting ideas to use chicken breasts in manners more titillating than just plopping them on a plate with a side of something.
Today's salad is a good spring-like one: the breast meat is cubed and combined with sliced multicolored radishes in a bright dressing of mashed avocado, yogurt and mixed herbs. The tender meat, the crunchy radishes and the creamy dressing make for a particularly rewarding textural landscape.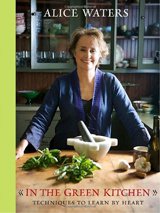 This dressing is in fact inspired by a recipe that caught my eye in Alice Waters' latest book project, In the Green Kitchen, of which I received a review copy. Subtitled "Techniques to learn by heart," it is a collection of simple techniques and recipes shared by some of the chefs and cooks she most admires.
Covering a range of topics from simmering stock to pickling vegetables or baking fruit, each of the twenty-seven sections comes with a short profile of that person (with portraits that jump out at you in all their smiling warmth; I am particularly taken with Claire Ptak's), a breakdown of the technique he/she is contributing, and a few recipes to put it into practice — 56 of them in total.
At first glance, you might think it's the sort of book that's mostly targeted at beginners, and indeed it would make a lovely, encouraging gift for a budding cook. But as I've written before, I believe in striving to master simple dishes, and I think even experienced cooks benefit from reading books about basic techniques, comparing them to their own way of doing things.
I myself have picked up some tips, tagged a few recipes for later consideration (the cornbread, the braised pork shoulder, the apple galette…), and was immediately moved to try the green goddess dressing featured on page 14, served with hearts of romaine. A mayo-less version of the famous dressing, this one relies on mashed avocado, whipping cream and olive oil for creaminess. I kept the overall idea but substituted fromage blanc (a French dairy product that's similar to yogurt) for the whipping cream, and found it unnecessary to add any oil.
It matched the chicken and radishes perfectly (you know what I think of the radish + avocado pairing), but I'll also keep it in mind for crisp greens, raw endives, asparagus spears, and artichoke hearts.
Whatever you use it with, one thing to keep in mind about this dressing is that it needs to be assembled just before serving: if you leave it hanging, the avocado will get all upset and gray.
And if you want to share your favorites uses for leftover chicken breasts, I am standing by, notebook and pen at the ready!
* Pardon the literal translation of the French idiom retourner sa veste (flipping one's jacket), used for people who chose to rally one side or the other based on personal gain rather than conviction.

Have you tried this? Share your pics on Instagram!
Please tag your pictures with #cnzrecipes. I'll share my favorites!
Chicken and Radish Salad with Avocado Green Goddess Dressing Recipe
Ingredients
chicken breast meat leftover from a roast chicken
a bunch of radishes, multicolored if available

For the dressing:

1 small shallot
1 tablespoon white wine vinegar
1 tablespoon lemon juice
1 handful mixed fresh herbs of your choice (tarragon, parsley, chervil, cilantro, dill, chives, mint, basil...)
2 fillets anchovies, oilor salt-packed (the finished salad doesn't taste of them at all, but they definitely add to the flavor, so I recommend you leave them in)
1 small ripe avocado
1 rounded tablespoon plain yogurt, or fromage blanc, or sour cream, or crème fraîche
Tabasco sauce, to taste
sea salt, freshly ground black pepper
Instructions
Start preparing the dressing. Chop the shallot finely and place it in a salad bowl. Add the vinegar, lemon juice, and a pinch of salt, combine and set aside to macerate while you prepare the rest of the ingredients. (As Alice Waters explains, this helps take the edge off both the shallot and the vinegar.)
Cut the chicken meat in bite-size cubes. Trim the radishes and cut them in thickish slices if they're ball-shaped, or split them in two if they're elongated. Chop the herbs roughly. Set aside.
Rinse the anchovies briefly to remove the excess salt. Pat dry, chop finely, and add to the shallot.
Add the flesh of the avocado and mash roughly with a fork. Add the yogurt and Tabasco sauce, stir in the herbs, and grind on some pepper.
Add the chicken and radishes, and fold them in gently. Taste, adjust the seasoning, and serve immediately.
https://cnz.to/recipes/sauces-condiments/chicken-and-radish-salad-with-avocado-green-goddess-dressing-recipe/
Unless otherwise noted, all recipes are copyright Clotilde Dusoulier.