I have never been particularly drawn to energy bars and their spooky ingredients lists. But then I discovered the hugely popular Lärabars while in New York, and they won me over quickly.
If you've yet to make their acquaintance, here's what you need to know: Lärabars (I just ignore the umlaut and say "larabar") are compact but tender energy bars made of ground dates mixed with nuts and other flavorings (spices, dried fruits, coconut, cocoa powder…) but no added sweetener.
They come with a string of honor badges (non-GMO, gluten-free, raw, vegan, the list goes on) and in many different flavors, each with just a few of ingredients, all of them from the normal world we inhabit.
Well, how about homemade Lärabars?
The downside of such simplicity, for the company who sells them* at least, is that it doesn't take a girl very long to think, "Hey! I could probably just make my own." And so I did, and never looked back.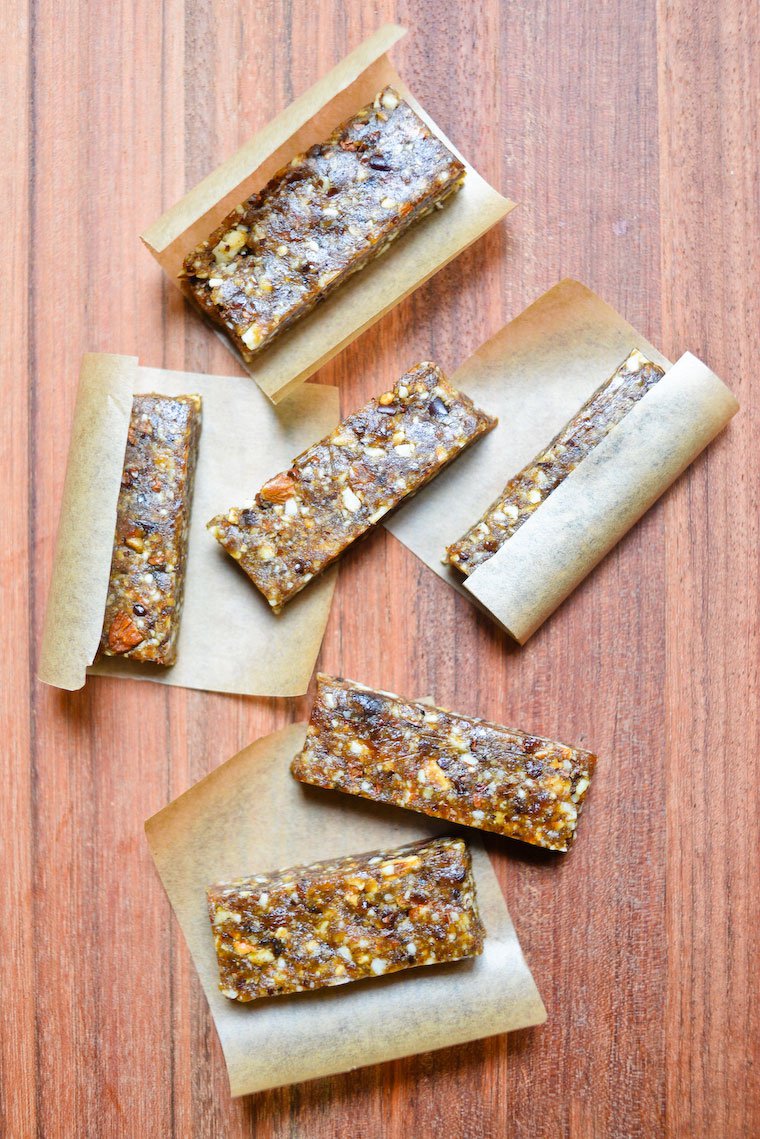 I start with Medjool dates, to which I add a mix of nuts, a touch of cardamom, cinnamon, and salt, and for the obligatory chocolate fix, cacao nibs.
The resulting bars are slightly chunkier than the original, full-flavored, chewy with crunchy bits, and absolutely delicious.
Making homemade Lärabars your own
My recipe is completely open to variations and substitutions to emulate your own favorite or come up with your ideal bar. You can check the original flavors on the Lärabar website for inspiration. I hope you'll report back if you make a winning version!
About the cinnamon I use
I am in love with the fresh cinnamon I order from Cinnamon Hill, a small company that specializes in sourcing and selling the highest-quality, freshest cinnamon from Sri Lanka and Vietnam (ordinary cinnamon usually comes from China or Indonesia). I get whole sticks, and grate them with the beautifully crafted (and highly giftable!) cinnamon grater that Cinnamon Hill has designed. Truly, you don't know what cinnamon tastes like until you've tried freshly harvested, freshly grated, top-grade cinnamon, and it makes an amazing difference in this recipe.
* Lärabars were introduced in 2003 by an independent company based in Denver, but the company was bought over by General Mills in 2008.

Have you tried this? Share your pics on Instagram!
Please tag your pictures with #cnzrecipes. I'll share my favorites!
Ingredients
150 grams (5 1/3 ounces) Medjool dates, pitted
100 grams (3 1/2 ounces) mixed nuts (I like Brazil nuts, pistachios, cashews, almonds, hazelnuts...)
The seeds from 2 green cardamom pods
1/4 teaspoon ground cinnamon (I use fresh cinnamon from Cinnamon Hill)
1/4 teaspoon salt
1 rounded tablespoon cacao nibs (not chocolate covered)
Instructions
Combine all the ingredients in the bowl of a sturdy blender or food processor. (Read all about my beloved blender.)

Process in short pulses until the nuts are chopped to small bits and blended with the dates.
Transfer to a bowl and knead lightly until the mixture comes together.

Grease the bottom and sides of a 23-by-13-cm (9-by-5-inch) loaf pan.
Put the date mixture in the pan and pack it into a smooth, even layer using the back of a spoon.

Transfer to the fridge to set for at least 2 hours, then slice into 6 to 8 bars, or whatever number of servings you prefer.
The bars will keep in the refrigerator, covered, for a few weeks.
https://cnz.to/recipes/cookies-small-cakes/homemade-larabars-recipe/
Unless otherwise noted, all recipes are copyright Clotilde Dusoulier.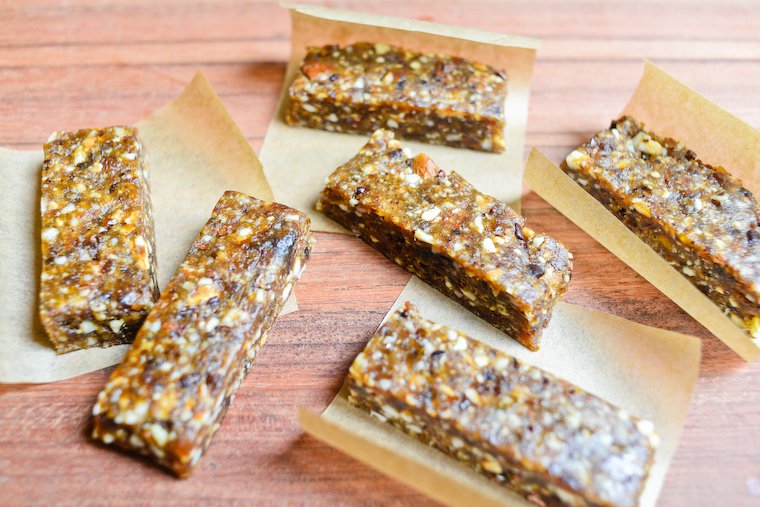 This post was first published in May 2009 and updated in July 2016.