With the nicer weather taking us out of the house more — springtime in Paris is no time to stay indoors! — I become a more frequent practitioner of picnic meals.
These are meals for which we just plop a bunch of items on the table for each of us to compose our own plate: imagine crunchy crudité sticks, a simple green salad, buttery avocados, perhaps a jar of chicken rillettes or a can of sardines, some roasted nuts, a quick dip or spread, and any leftover bits and pieces from previous meals.
I love the loose structure, the joy and spontaneity of it, and I never tire of this format.
With this we may have some fresh baguette from the corner bakery, but lately I've been making these absolutely irresistible raw buckwheat crackers, leveraging the power of my high-power blender (more on that below!).
The process is very simple: you soak some buckwheat groats and almonds over night, then blitz them in the blender with a few spices. I use cumin and cacao but the formula is very flexible.
You get a fairly smooth paste that you spread on two baking sheets, and dehydrate in the oven or a dehydrator until you get crisp, rough-around-the-edges, high-flavor, raw buckwheat crackers that are up for anything.
I've enjoyed them dipped into my simple tahini sauce, to scoop up some hummus, or spread with cashew "cheese". And when bell peppers come round again I'm sure they'll be magical with romesco sauce.
Do you need a dehydrator for this recipe? No, I use my oven at a low temperature setting. If you don't want to wait around for the crackers to dry up, you can also bake them at a higher temp, as noted below the recipe.
Do you need a high-performance blender for this? It's ideal to get a smooth consistency quickly, but you can also use a regular blender or food processor; depending on the power of your appliance, you may have to pause once or twice through the mixing so it doesn't overheat.
About my high-speed blender
After years and years (and years) of yearning for a high-performance blender — to make really smooth soups, quick sauces and marinades, nut butters and milks, and of course smoothies — I finally got one earlier this year. Based on my research, I have picked an Optimum blender from Australian brand Froothie as an alternative to the better-known Vitamix or Blendtec. It's just as high-performing, if not more so; the Optimum is a 2,611-watt blender with 6 stainless steel blades and a single 2-liter (2-quart) jug that works for both dry and liquid ingredients.
(I have been so happy with it I entered into a partnership with the brand and have a discount to offer. If you're interested in buying a Froothie blender for yourself, use promo code CD-Optimum-Blender-20 to get $20 off your purchase of the Optimum 9400 or 9200A on the US store. The same code will get you 20€ off on the French site, the Belgian site, or the Luxembourg site. For my Canadian friends, the code is CD-Optimum-Blender-25 and you'll get CA$25 off on the Canadian site.)
See also my detailed review of the Froothie Optimum 9400 blender.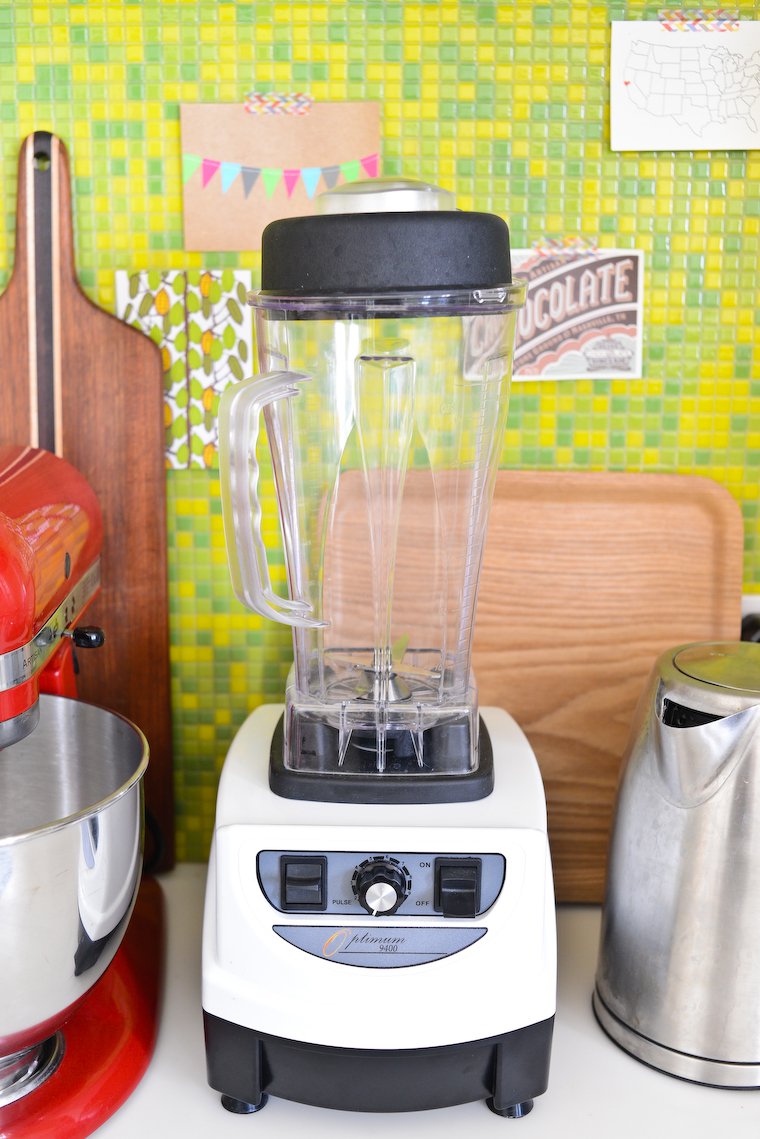 Have you tried this? Share your pics on Instagram!
Please tag your pictures with #cnzrecipes. I'll share my favorites!
Raw Buckwheat Crackers Recipe
Ingredients
140 g (1 cup) uncooked, untoasted buckwheat groats
70 g (1/2 cup) raw almonds
2 tablespoons flax seeds
1 tablespoon whole cumin seeds
1 tablespoon raw cacao powder
1 tablespoon sesame seeds
1 teaspoon fine sea salt
Instructions
The night before, put the buckwheat and almonds in a bowl, cover generously with fresh water, and leave to soak on the counter.
The next day, drain and rinse thoroughly.
In a high-power blender, grind the flax seeds until finely ground.
Add the buckwheat and almonds along with the cumin, cacao, sesame, and salt, plus 60 ml (1/4 cup) water.
Process until mostly smooth -- it's fine if some pieces remain visible -- using the tamper tool to push the mixture down, and adding a little more water as needed if the mixture is too thick to process properly.
Line two baking sheet with silicone baking mats or parchment paper.
Spread half of the mixture on each baking sheet to a thickness of about 2 mm (1/16 inch).

Insert into the oven and turn the oven on to 60°C (140°F). (See note.)
After 2 hours, score with a knife to mark the shape of rectangular crackers. Return to the oven.

After 4 hours, separate the crackers, flip, and return to the oven, switching the baking sheets so the top one is at the bottom and vice versa.

Leave in the oven for another 4 hours, until the crackers are dehydrated and crisp.
(If you are lucky enough to own a dehydrator, it will take 10-12 hours.)
The crackers will keep for about a week in an airtight container at room temperature.
Notes
If you prefer to make cooked crackers rather than raw, bake for 20 to 30 minutes at 175°C (350°F), scoring, dividing, flipping, and switching halfway through.
https://cnz.to/recipes/appetizers/raw-buckwheat-crackers-recipe/
Unless otherwise noted, all recipes are copyright Clotilde Dusoulier.