The story of these crackers started quite serendipitously.
I had prepared my trusty olive oil tart crust to make one of my favorite dishes ever, the onion and cumin quiche featured in my first book. I was left with some scraps, which I usually bake in whatever shape they happen to come out in, to nibble on at a later date. But this time I decided to go one step further and stamp out crackers using an actual cookie cutter, and the first one I grabbed when I reached into my cavernous miscellany cabinet was a puzzle shape I've owned for years and years.
These crackers are thin and delightfully crisp, with air pockets that form randomly and add to the thrill of them.
I had enough leftover dough to make, oh, about three, but they were such a hit with my two-and-a-half-year-old (crackers! puzzle-shaped! what's not to like?) that I soon whipped up another batch of the dough just for this purpose. The crackers have been on heavy rotation at my house since then, pleasing toddlers and adults alike.
Over time I have fiddled with the recipe to boost the flavor (and nutrition), eventually settling on this favorite version, which includes mixed seeds (sesame, chia, and flax) and dried seaweed flakes (all of these are easily found at natural food stores).
These crackers are thin and delightfully crisp, with air pockets that form randomly and add to the thrill of them. We tend to snack on them as is, either to hold us over till the next meal or to accompany a pre-dinner drink, but naturally they'd do just as well with the dip or spread of your choice, such as these colorful and veg-heavy beet hummus or peacamole.
PS: Add more fuel to your cracker fire with these Zaatar pita chips, Cheese thins, and Chestnut and herb canistrelli.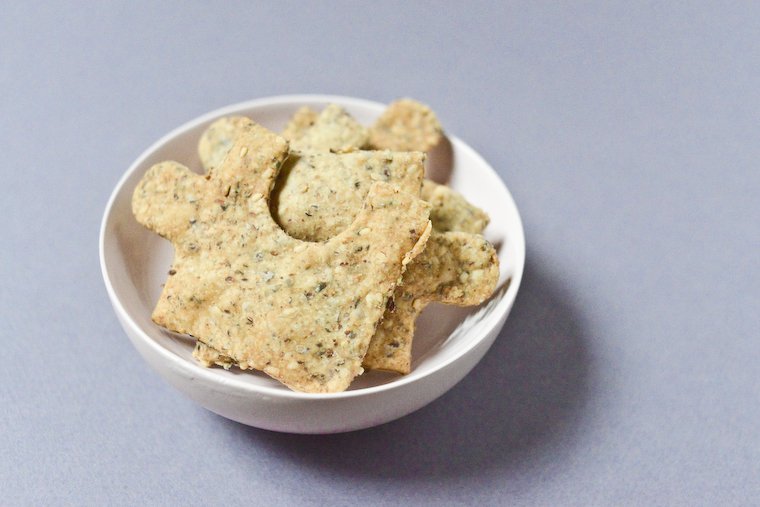 Have you tried this? Share your pics on Instagram!
Please tag your pictures with #cnzrecipes. I'll share my favorites!
Seaweed and Seed Crackers Recipe
Ingredients
250 grams (8.8 ounces, see note) light whole wheat flour (French T80), or a 50/50 mix of all-purpose and whole wheat
1 teaspoon fine sea salt
2 tablespoons sesame seeds, lightly toasted
2 tablespoons whole or ground chia seeds
2 tablespoons flax seeds, ground
3 tablespoons dried seaweed flakes (I use a three-color mix that contains dulse, nori and sea lettuce)
60 ml (1/4 cup) olive oil
120 ml (1/2 cup) cold water
Instructions
Combine the flour, salt, seeds, and seaweed in a medium mixing bowl. Add the oil and water, and mix them in with a fork or dough whisk until the dough comes together. Add a touch more water as needed.

Cover and refrigerate for 1 hour.
Preheat the oven to 180°C (360°F) and line a baking sheet with parchment paper or a silicon baking mat.
Divide the dough in two. Keep one refrigerated and place the other on a lightly floured work surface. Roll the dough out fairly thinly -- 1 to 2 mm, about 1/16" -- adding a little more flour underneath and on the dough when it seems on the verge of sticking. Try to work in quick, assertive gestures to avoid overworking the dough.
Using a cookie cutter, stamp out as many crackers as you can and arrange them on the prepared baking sheet as you go. Gather the dough scraps into a ball, roll it out again, and repeat. Repeat with the second half of the dough.

Bake for 15 to 20 minutes, until golden to golden brown; chances are you'll have a bit of both due to slightly different thicknesses. Transfer to a rack to cool completely.
The crackers keep for a week or two in an airtight container at cool room temperature.
https://cnz.to/recipes/appetizers/seaweed-and-seed-crackers-recipe/
Unless otherwise noted, all recipes are copyright Clotilde Dusoulier.