Kitchen recycling is my favorite hobby.
So many food scraps can be put to good use with just a little time and flair*, and the satisfaction is immense when I feel I'm using my supplies to the max — making chilled soup from pea pods, pesto from radish tops and croissants aux amandes from day-old croissants, using the whey from mozzarella in bread dough, parsley stems in stews, and the rinds from hard cheeses in soups.
Today's trick is one I've devised because it bothered me to toss the rinds of lemons when all I needed that day was their juice.
I got the idea from a jar of roasted lemon peel, dried and ground, that I bought years ago. It was made by a Sicilian company and simply sold under the name buccia di limone (lemon peel).
That Sicilian lemon powder was so lovely it took me years to go through the little container, until I finally got my act together and realized I could just make my own.
The scent and flavor were so lovely it took me years to go through that little container — it was not cheap, and I seem to have trouble using up ingredients I perceive as rare and precious — until I finally got my act together and realized I could just make my own.
How to make roasted lemon peel
The process is simple: before I juice the lemons, I peel off ribbons of the zest with a vegetable peeler. I leave those out to dry completely for a day or two, then roast them gently in the oven before grinding them with a mortar and pestle, a step that's rewarded by a fantastic tarte au citron smell.
Because I usually make a small batch and the whole idea is to be thrifty, I place the ribbons of lemon peel in my oven while I preheat it for something else: this means they're exposed to a moderate heat, but it also means they need to be kept on a close watch until they reach the proper shade of golden brown.
What you get is a fragrant powder of roasted lemon peel that doesn't pack the punch of fresh zest, but makes up for it with a toasted dimension that pulls it toward the sweet. It can be used to flavor scones and butter cookies, mixed into a fruit crisp topping or granola, infused in cream or milk for crème brûlée or gelato, sprinkled over a fruit salad (think nectarines and raspberries), blended with sugar to make lemon sugar or with tea to make lemon tea, combined with other flavorings in a rub for meat or fish… the possibilities are endless.
In fact, roasted lemon peel powder can be used in pretty much any recipe that call for fresh — I'm trying to find an exception but I can't think of one — and I suggest substituting it measure for measure then.
And once you've peeled the zest for this, and juiced the lemons for whatever reason you had to buy them in the first place, the rest of the rind can be placed in your water pitcher for a day or two, where it will release a faint and refreshing citrusy flavor.
Naturally, this method could be applied to any other citrus fruit.
* For more on that topic, check out C&Z readers' tips for a green kitchen, including suggestions on how to reduce food waste.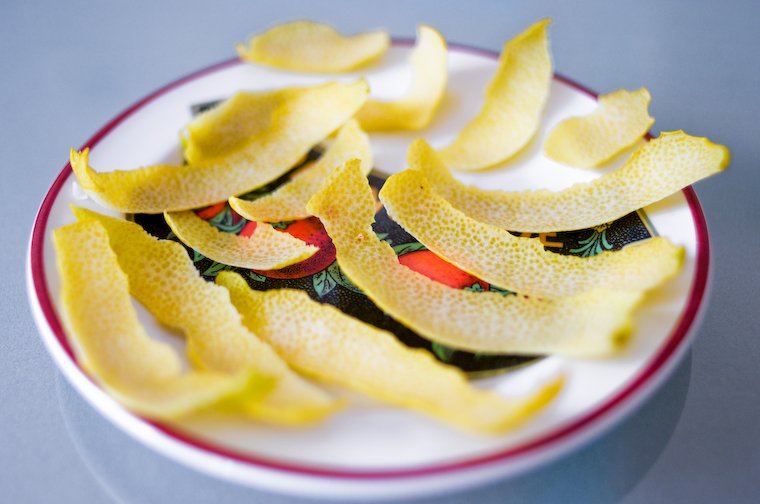 Have you tried this? Share your pics on Instagram!
Please tag your pictures with #cnzrecipes. I'll share my favorites!
Roasted Lemon Zest Powder Recipe
Ingredients
Instructions
Using a sharp vegetable peeler (I like this one), peel off the peel off the lemons in thin ribbons, making sure to get only the top colored layer of peel, and none of the bitter white pith. (The naked lemons can now be juiced as you normally would.)
Arrange the ribbons of peel, pith side up, on a cookie sheet or in a baking dish in a single layer. Reserve somewhere dry and at room temperature for about 2 days, until the peels are completely dry; they will gradually curl up as they do.
On an occasion when you're using your oven for another purpose, place the peels in the oven during the first 5 to 10 minutes of preheating so they will roast in the moderate heat. Keep a close eye on them so you can retrieve them when the edges are turning golden brown.
Let cool completely, then grind finely with a mortar and pestle (or in a mini food chopper).
Notes
The roasted lemon peel powder will keep for a few months in a spice jar, preferably in the fridge.
https://cnz.to/recipes/sauces-condiments/roasted-lemon-zest-powder-recipe/
Unless otherwise noted, all recipes are copyright Clotilde Dusoulier.