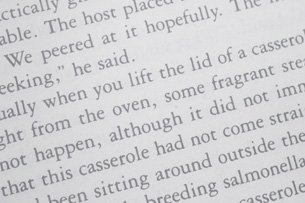 I have a special bookshelf where I keep the books I plan to read. Some of them I've bought myself, and some of them I've borrowed, mostly from my mother or from my neighbor Patricia. At latest count — let me get up from the couch and count them for you — there are thirty-two books there. As you will infer, I am a bit of an unread-book hoarder, and I don't feel quite serene unless this stash is well fed.
Perhaps my most cherished moment in the whole reading experience is when I kneel in front of the shelf (it is a low shelf), twist my neck this way and that to read the titles (English books have you bend your head to the right, French books have you bend it to the left, and my shelf is not very well organized), check my reader's pulse to know what I feel like reading now, pull the chosen book by the spine (the others, while disappointed, let out a little sigh of relief — they have a bit more room to breathe now), and relocate my bookmark (a very old tattered thing) from the previous book to the promising new one.
Some of the books on my shelf have nothing to do with food — a couple of Simenon novels, Zadie Smith's latest, a biography written by Jonathan Coe, a series of short novels about the Inuit people, an essay about Paris' street life in the 18th century, my father's two latest Le Guin translations — and some do — Hemingway's Moveable Feast, a book on chocolate, Jeffrey Steingarten's second collection of essays, and a history of French cakes and pastries, a fascinating thing into which I've peeked already, in a patent breach of my official rule.
Some books find themselves waiting for months in this temporary settlement — fortunately, my two favorite book lenders don't seem to mind — but some barely have time to unpack their stuff. The most recent example was Laurie Colwin's first collection of essays on food, called Home Cooking: A Writer in the Kitchen
.
Laurie Colwin was an American novelist who cooked, and who wrote a column in Gourmet magazine for a few years. She died very suddenly in 1992, when she was just 48 years old. This book is a collection of her Gourmet stories, and was followed by a second volume, called More Home Cooking: A Writer Returns to the Kitchen
— interestingly enough, both books have now far outsold her novels.
Laurie Colwin's writing was recommended to me a long time ago by a reader named Luisa, who said I was bound to enjoy her. But since I am sometimes a little slow at heeding advice, it took two years and a few more hints from other people for me to finally order her first book.
I devoured it in a couple of days — although I seem to have less time to read now that I don't ride the metro to work anymore — and loved it to pieces. Her voice is warm and generous, her writing style simple and elegant, and she has such an intimate way of telling tales that she makes you feel she wrote the book just for you. And more importantly, she is funny. Whether she's laughing at herself or pointing out entertaining traits in others, it is always clever and affectionate, never cynical nor cruel.
As I was nearing the end of the book and giggling uncontrollably — what we call un fou rire in French — through two whole chapters (namely "Kitchen Horrors", and "Repulsive Dinners: A Memoir"), I felt so full of fondness for the author that I suddenly had tears well up in my eyes, thinking that she was no longer alive, nor cooking, nor writing, and that I would never ever get to meet her. Whether that's a testament to her writing skills, or just proof that I am extremely emotional these days (book deadline fast approaching and all), I'll let you decide.
In the meantime, if you haven't yet read this book, I envy you (much like I envy whoever hasn't yet seen the Twin Peaks TV series), and urge you to go out and buy a copy: you're in for a real treat. I myself have ordered her second collection, and one of her novels. I have an inkling they won't stay on the Shelf for very long.
[Looking for things to read? Check out the following topics on the C&Z forums: cookbook recommendations, food-related book recommendations, and a budding thread with general reading recommendations.]
~~~
As an unrelated side note, I wrote a tiny piece in yesterday's New York Times Style Magazine about resto-épiceries in Paris. It is available online here (scroll down to the middle of the page — free registration required).