The end of the school year is fast approaching, and I attended my first end-of-year party (in French, une kermesse) as a parent, twenty years after graduating from high school. Twenty years! I get dizzy just thinking about it, but if I was offered to push a button and go rewind my life to that day, I'm really not sure I would. As Paul Nizan wrote, "I was [sixteen]. I won't let anyone say that it's the most beautiful age of life."*
June Eats and Accomplishments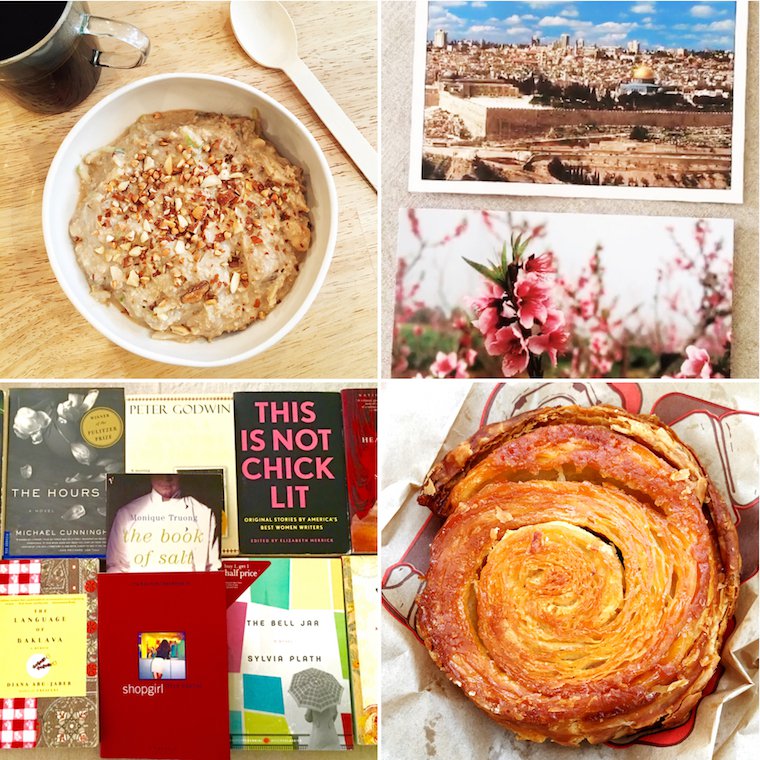 • I joined a new friend for breakfast at Bol, a porridge bar (yes, it is a thing!) that recently opened on rue du Faubourg Poissonnière, in the 10th. You get a choice of hot and cold porridges, with different grain and milk types, and some savory options at lunchtime.
I opted for the deliciously fresh bircher muesli, while Eleonora chose a hot porridge with banana, maple syrup, and sesame. (Said new friend is the author of the brand-new cookbook As the Romans Do, which is very lovely. Check it out!)
• I recently had a chance encounter with a C&Z reader I'd never met before at a bakery in my neighborhood (it happens to me once in a while), and I had the opportunity to perform a small act of kindness for her. She asked how she could repay me, and since she lives in Jerusalem, I said I would very much like a postcard.
A couple of weeks later, I received two, along with a wonderful care package containing plump dates, almond halva, as well as two fun kitchen toys designed in Israel: a vegetable sharpener and a fish-shaped egg yolk separator. (My eldest son is all. over. these.)
• I adopted a new strategy to trim down the contents of my bookshelves. I've been doing this regularly for years, but I still had a couple of shelves of novels I couldn't part with for sentimental reasons. Not because I planned to re-read them (I never re-read books, apart from The Count of Monte Cristo every fifteen years) but for the vivid memories they evoked, of both the stories themselves, and the colors of my life when I first read them.
There is about a dozen books I may hold on to forever. But for the others, I decided to take a picture of the covers and to use the photo as a keepsake. It takes up less space, collects zero dust, and I feel much lighter.
• I was leading a private walking tour for two great guys from West Hollywood, and we decided to try the kouign amann from Coquelicot bakery in Montmartre (you're going to think I spend my life in bakeries, and wouldn't be very far from the truth). A major fixture of my childhood vacations in Brittany, this involves a bread dough that's laminated with salted butter and sugar, and baked until crisp and caramelized.
It is rather irresistible, and even though we had sampled quite a few delicacies over the span of our two-hour tour, the kouign amann was much enjoyed. (Planning a trip to Paris? Ask me about my walking tours!)
Find my top Paris spots on this map of favorites, and follow me on Instagram to see many more food shots and Paris recommendations throughout the month!
Latest Reads
More reading recommendations »
5 Cool Links
Follow me on Twitter and like the C&Z Page on Facebook for many more links throughout the month.
* The original quote is from Aden Arabie, published in 1931 : "J'avais vingt (20) ans. Je ne laisserai personne dire que c'est le plus bel âge de la vie."