When you're out and about in Paris, it's good to remember to look up, so as not to miss a special architectural detail, a beautiful play of light between buildings, or an especially striking perspective. (You do want to look back down at your feet often enough, though, as some Parisian dog owners shirk their responsibilities in a despicable manner.)
And sometimes it's sideways you should look, such as here, at the foot of the Sacré-Coeur, where a steep little slope on your right allows you to get this trompe-l'oeil view of a "sinking" building on rue Lamarck.
Good Eats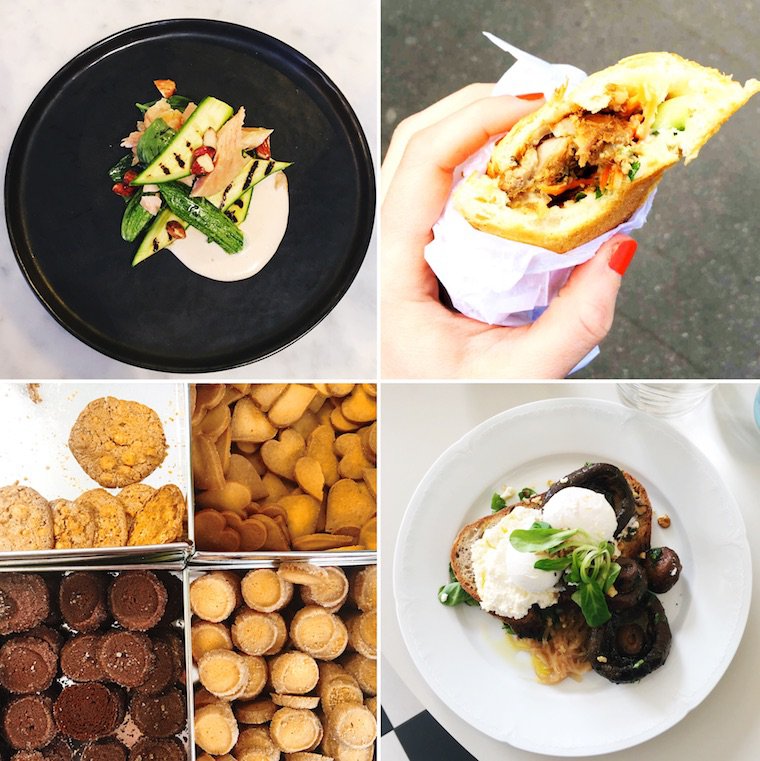 • We had a delightful dinner at Yard, a pocket-size restaurant in a super cute micro-neighborhood of the 11th that serves market-fresh dishes and natural wines in a fun, unpretentious atmosphere. The stand-out for me was this starter of trout with slim grilled zucchini and almond cream. I would have licked the plate clean, but their beautifully crusty bread volunteered to mop up the sauce.
• Whenever I'm in the Belleville area, I can't not get a fabulous banh mi from Saigon Sandwich. Maxence and I have been total fans of their Vietnamese sandwiches for years and years, and in fact, they were my first meal after I gave birth to each of my sons, special-delivered by Maxence to my room at the maternité. My favorite is the chicken (poulet spécial) with extra chile peppers.
• I was happy to discover the Compagnie générale de biscuiterie, the brand-new cookie shop that star pastry chef Gilles Marchal (formerly of La Maison du Chocolat) opened in my neighborhood. (Montmartre is becoming more and more of a must-not-miss destination for pastry enthusiasts. Ask me about my walking tours!) It's a workshop-slash-boutique where you can see the team at work making puff pastry treats and butter cookies. I recommend the paper-thin arlettes and the chocolate chip sablés.
• If more proof was needed that Montmartre is on the rise (ha ha), Melbourne coffee shop Hardware Société chose it to establish its Parisian outpost. It's a gorgeous space with lots of light, a beautiful view, and a wall of butterflies you kind of want to take home with you. On the menu: all-day brunch (what's not to like?) such as these poached eggs served with grilled mushrooms, ricotta, mâche and watercress on a thick toast of walnut bread. (On weekends, get there early or late to avoid the crowds.)
Find my top Paris spots on this map of favorites, and follow me on Instagram to see many more food shots and Paris recommendations throughout the month!
Latest Reads
More reading recommendations »
Food Blogger Pro Enrollment

Not long ago I told you about Food Blogger Pro, a membership site that offers invaluable resources for food bloggers. I continue to draw great value from my own membership, and you can read about it here; I'm especially excited about the new food styling course that they just added in. The current window of admissions is closing on June 2, so if you want to give it a try, this is your chance. (You can sign up for just one month if you're unsure, and they have a 60-day money back guarantee.)
5 Cool Links
Follow me on Twitter and like the C&Z Page on Facebook for many more links throughout the month.
Note: This post contains some affiliate links. This means that if you decide to make a purchase using those links, I will receive a commission from the vendor, at no extra cost to you. Your support is greatly appreciated.