2016 is off to a delicious start for me, and I hope it is the same for you! Here are some highlights from the month. Please share your own in the comments below: I want to know what you've been up to, in the kitchen and elsewhere!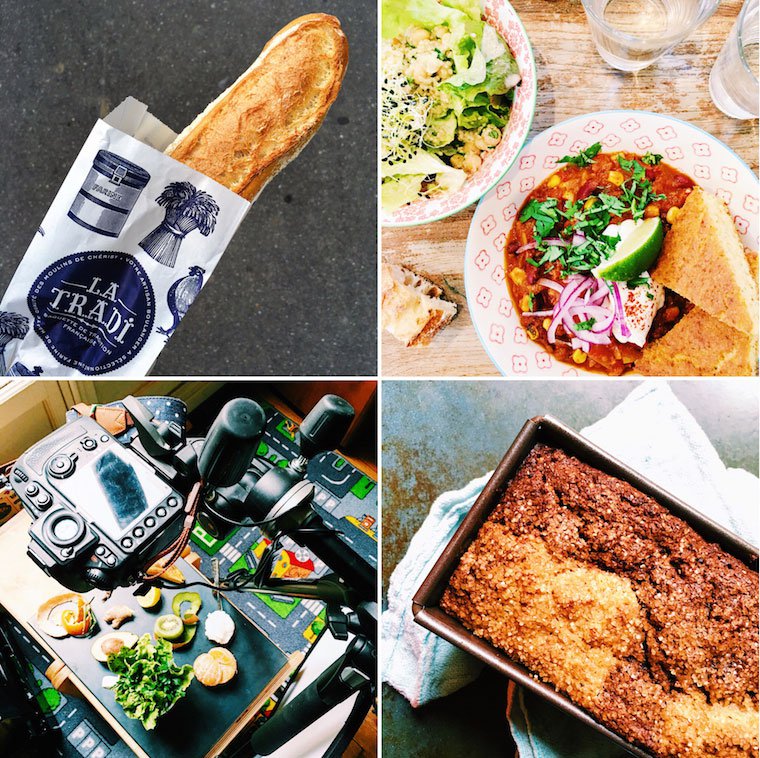 • I am perpetually blown away by the overall quality of baguettes in Paris. Just recently I walked into a semi-random corner bakery to appease my son's late morning munchies, and walked out with the beauty pictured above. It was every bit as good as it looked, and as I pulled it apart for my son and his playground buddies to share, I reflected on how lucky they are to grow up thinking this is what normal bread is like. What's the one local food you're pleased your children (real or prospective) get to experience daily? (And if you don't have access to a good French bakery, though, check out my recipe for stellar homemade baguettes.)
• I've had a couple of delicious lunches at Soul Kitchen, a charming coffee shop in the back of Montmartre that serves a super fresh, daily-changing fare with a vegetarian slant. It's the kind of place so lovely you want to keep it in your pocket like a pretty pebble. Pictured above is a sunny veggie chili with homemade cornbread, and a side salad with quinoa, chickpeas, and orange segments.
• I've been wanting to improve my food photography skills, and have been learning A TON from the Minimalist Baker's Food Photography School. Dana is a generous and relatable instructor, and the courses are broken down into short, easy-to-digest videos, so you can commit to watching just a couple every night — at least that's what I've been doing. The lessons cover a lot of ground, from composing your shot and choosing the right angle and props, to taking action shots, setting the mood, and editing your photos, and it's been amazingly enlightening and empowering. If you're interested, you can sign up here. And you'll have to let me know if you see a difference in my shots! (See my top resources page to see what photo equipment I use.)
• On a day that my son didn't have school, we got to do a little baking together, which we don't do nearly as much as I wish we did: he's only recently reached the right age and maturity for it, but in the meantime a younger brother has been thrown into the mix (not literally, don't call social services) and my good intentions got lost in the shuffle. But that day he and I baked a banana chocolate marble cake, and it was the purrr-fect project for four-hand baking: we each had our own batter bowl, one chocolate, one banana, and did everything in parallel. I'll be sharing the recipe soon! (Plus, it's vegan and gluten-free.) Is there a particular recipe you like to make with your own kids/nephews/godchildren?
Find my top Paris spots on this map of favorites, and follow me on Instagram to see many more food shots and Paris recommendations throughout the month!
Recent reads
5 Cool Links
Follow me on Twitter and like the C&Z Page on Facebook for many more links throughout the month.
Never miss a post!
Sign up for the C&Z newsletter to get my newest recipes and Paris tips in your inbox FREE every month!
Note: This post contains some affiliate links. This means that if you decide to make a purchase using those links, I will receive a commission from the vendor, at no extra cost to you. Your support is greatly appreciated.