Croissants aux Amandes
You will find almond croissants in most all French bakeries. Originally devised as a way to pimp leftover croissants and offer them for sale again the next day, they are simply croissants filled with crème d'amandes (almond cream), sprinkled with sliced almonds, and baked again until the cream has set and the elbows of the croissant have crisped up.
Croissants aux amandes have long been a favorite of mine. When my father took my sister and me to the Latin Quarter to buy bande dessinées (graphic novels) with him on Saturday mornings, he would buy us one each from a now defunct bakery-cum-café, and this was as much a treat as the weekly harvest of comic books.
But bakery-bought almond croissants are often too sweet and too rich for me — after eating one you can't imagine being hungry, like, ever again — so I've taken to baking my own, ecstatic to discover how extraordinarily easy it is to make perfect almond croissants at home.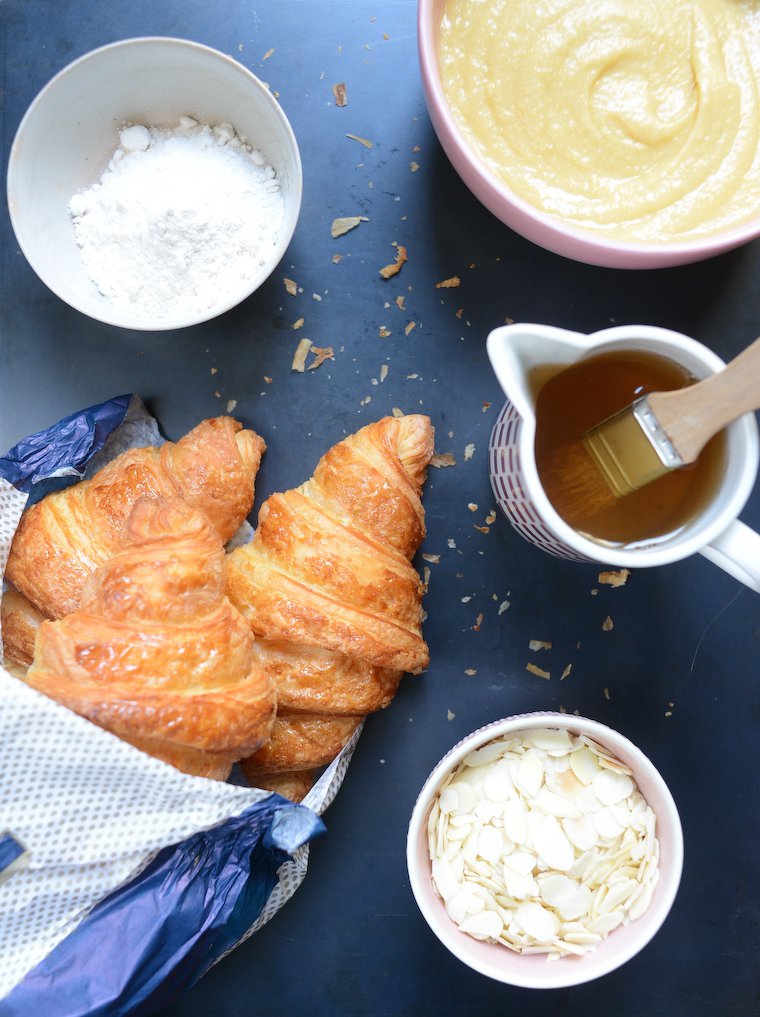 The first step is procuring good-quality croissants, and not eating them. That's hard. But once you've overcome that initial hurdle, all you have to do the next day is brush them with a light syrup, garnish them with a super simple almond cream, add a sprinkle of sliced almonds, and slip them into the oven.
As the croissants bake, the syrup you've soaked them in prevents the shell from burning, while the almond cream slowly sets, creating a slight crust on top, and a moist, buttery filling inside. Said filling is likely to ooze out a bit, forming irresistibly crisp fins on the sides.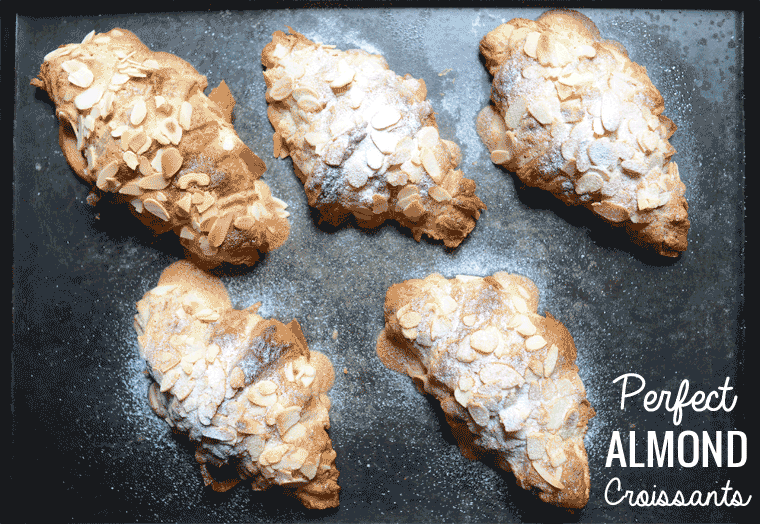 Croissants aux amandes are a perfect make-ahead item for brunch: you can buy the croissants the day before, and prepare the syrup and the almond filling, then simply assemble and bake them in the morning. They are delicious slightly warm from the oven, or at room temperature.
Although the traditional version is remarkable in its divine simplicity, I have toyed with different variations, flavoring the syrup with rose or orange blossom, or, most notably, making chocolate almond croissants, adding cacao powder and chocolate chips to the filling. I recommend it.
Join the conversation!
Have you ever had what you would call the perfect almond croissant? Where was it and what was it like? Do you have access to good-quality French croissants where you live?

Have you tried this? Share your pics on Instagram!
Please tag your pictures with #cnzrecipes. I'll share my favorites!
Ingredients
8 day-old croissants, about 70 grams (2.5 oz) each
70 grams (1 cup) sliced almonds
Confectioner's sugar

For the syrup:

2 tablespoons sugar
3 tablespoons dark rum (optional)

For the almond filling (crème d'amande):

100 grams (1/2 cup) sugar
100 grams (1 cup) almond flour
1/2 teaspoon salt
100 grams (1/2 cup) unsalted butter, diced
1/4 teaspoon almond extract
2 large organic eggs
Instructions
Prepare the syrup: combine 240 ml (1 cup) water, the sugar and rum, if using, in a saucepan. Bring to a simmer over medium heat, and cook for a minute, stirring to dissolve. Remove from the heat and allow to cool.

Prepare the almond filling: in the bowl of a stand mixer or food processor, combine the sugar, almond flour, salt, and butter, and mix until well blended.

Add in the almond extract and the eggs one by one, and process until creamy. (You can also mix the almond cream by hand with a spatula.)

Preheat the oven to 180°C (350°F) and have a cookie sheet ready.
Using a bread knife, slice the croissants open, leaving a "hinge" on one side so they're not completely split in two.
Working with one croissant at a time, brush generously with the syrup, coating the outside, inside, and ends; the croissant should be quite moist.

Spread the inside with two tablespoons almond filling. Place on the prepared cookie sheet, and repeat with the remaining croissants.

Spread the top of each croissant with another tablespoon almond filling, and sprinkle with sliced almonds.

Bake for 12 to 15 minutes, until the almond cream is set and golden. Dust with confectioner's sugar and serve, slightly warm or at room temperature.
Notes
The recipe can be halved if you have fewer croissants to fill.
You can make the syrup and the crème d'amandes up to a day in advance: transfer into (separate) airtight containers, and refrigerate.
If you'd like to make chocolate almond croissants (and who would blame you?) add 3 tablespoons unsweetened cacao powder to the almond filling, sprinkle 1 tablespoon chocolate chips inside each croissant (you'll need 90 g or 3 ounces total), and dust the baked croissants with unsweetened cacao powder.
https://cnz.to/recipes/bread-brioche/almond-croissants-recipe-2/
Unless otherwise noted, all recipes are copyright Clotilde Dusoulier.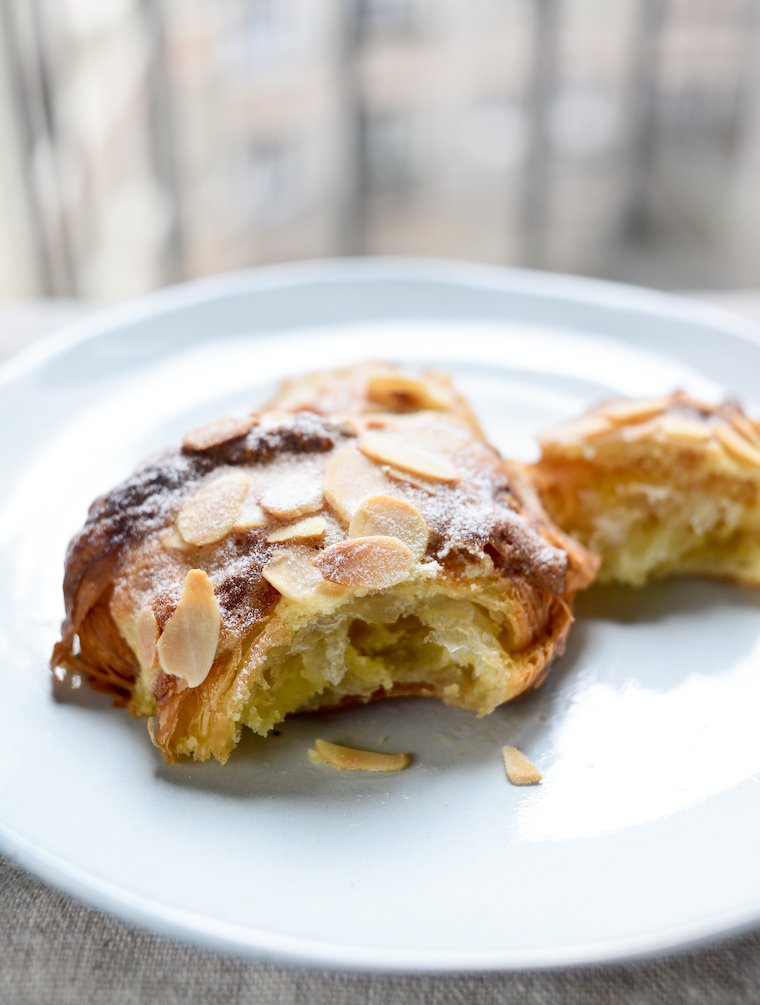 This post was first published in March 2006 and fully updated in January 2016.