I've always liked this odd concept of leap years, and Februaries with twenty-nine days always feel quite special. In addition to its extra length, this February is also the month that I celebrated my second son Mika's first birthday (yogurt cake all around!), boarded the Facebook Live train with enthusiasm (check out my previous sessions and hit "live subscribe" to be notified of future ones), and got to be featured by Michael Harlan Turkell on his Heritage Radio Network show The Food Seen — listen to us chat about my latest cooking adventures in Paris.
Good Eats (and Drinks) This Month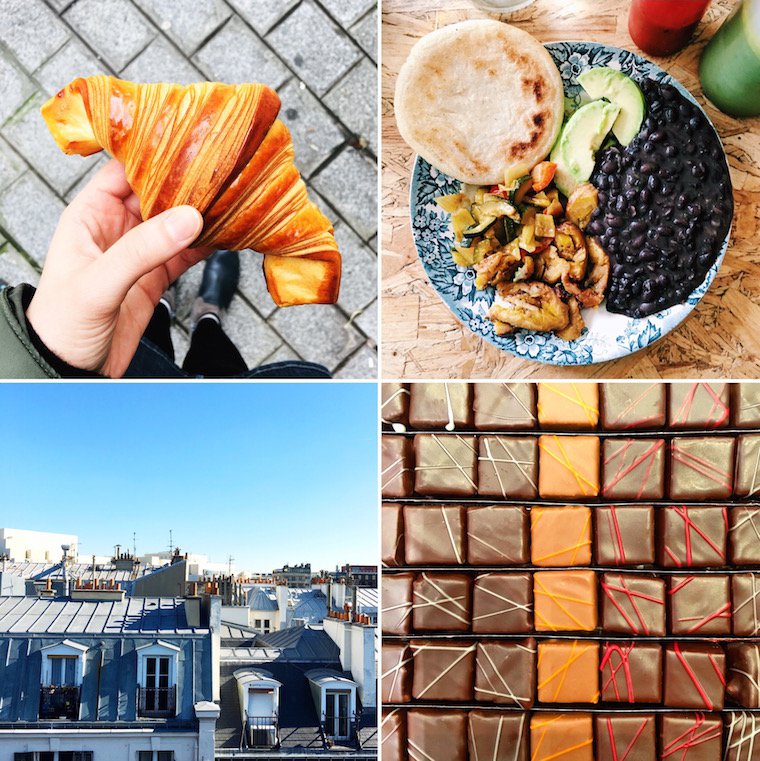 • Terroirs d'Avenir is a French company that started out providing top local ingredients to the best Paris chefs, and they now run a few food shops on rue du Nil, in Paris' 2nd arrondissement. In addition to the fish stand, the butcher counter, and the produce shop — all of them outstanding and absolutely worth a visit — they recently opened a boulangerie, where they bake artisan breads and simple treats (such as the perfectly flaky croissant pictured above) using stone-ground flours made from heritage grains. (More pictures on this French blog post.)
• Bululu Arepera is one of my favorite Montmartre spots for lunch on the weekend. This pocket-sized Venezuelian restaurant serves super fresh arepa plates and delicious homemade plantain chips. I love arepas so much, I bought the proper kind of corn flour and want to try my hand at making them soon. This is the tutorial I plan to use, but please chime in if you have experience and tips of your own to share!
• I attended a green tea tasting organized by Japanese tea company Tamayura on the roof of an apartment building near Bastille, and it was such a gorgeous, perfect day to enjoy the view that I had to pinch myself. We tried the different kinds of teas in the range — sencha, matcha, gyokuro, kukicha, hojicha… My two favorites tastes were: 1- after the third steeping of the gyokuro (the most prized of Japanese teas), eating the leaves with a bit of ponzu sauce, and 2- trying the soba cha, a "tea" of toasted buckwheat that's surprisingly sweet.
• I had a chance to talk with Nicolas Cloiseau, head chocolatier at La Maison du Chocolat, as he was giving a sneak peek of his summer collection. He's come up with an innovative process to fill cute chocolate cubes with a lighter, almost mousse-like ganache filling. There's lemon, raspberry, milk chocolate, plain ganache, and — my favorite! –praliné, all of which you can try for yourself come summer. (Here's my guide to Paris chocolate shops!)
Follow me on Instagram to see many more food shots and Paris recommendations throughout the month.
[sc:seasonal_produce_promote_text_banner]
Latest Reads
More reading recommendations »
5 Cool Links
Follow me on Twitter and like the C&Z Page on Facebook for many more links throughout the month!