Who's with me in the I heart September camp? I enjoy the summer so much, and love it when Paris empties out and we get the city all to ourselves. But this is all to set the stage for that magical month of September: the good resolutions, the exciting new projects, and the very best, most bountiful time for French produce.
I have been cooking up a tornado with my fab assistant Anne, developing and testing five to six new recipes each week for my upcoming book, Tasting Paris. It's been a lot of fun, we have been eating really well, and I can't wait to share with you. (In the meantime, you can follow along through my Instagram stories!)
Best Eats this September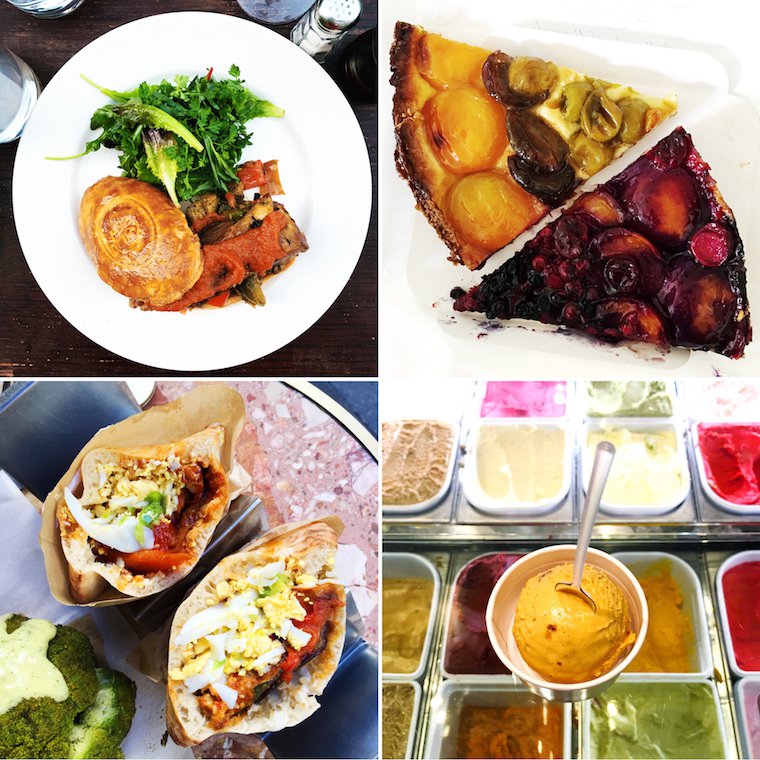 • A lamb shoulder galette at Gilles Marchal's brand new Montmartre restaurant Le Bistrot de la Galette, plus a perfectly dressed mesclun salad. The menu has some bistro classics plus a selection of "galettes", i.e. puff pastry rounds garnished with various ingredients in the style of a vol-au-vent.
(The night we went, the street was being repaved so they had commandeered it as a unique outdoor terrace with a view on the Moulin de la Galette; see above!)
• Seasonal fruit tart perfection at Les Petits Mitrons, a one-of-a-kind, home-style pâtisserie on rue Lepic. The signature crust is sugar-studded and heavily caramelized, but the tartness of the fruit means it's not too sweet at all.
When I do my walking tours of Montmartre (get in touch to hear more!) we often stop by for a slice, and my guests are blown away every time. The recipe is a closely guarded secret but I'm working on a copycat version for my new cookbook. Stay tuned!
(Related: check out my mini cookbook of French tarts, it's free to download.)
• I snatched the single sidewalk table at Miznon and shared ratatouille and egg pita sandwiches with my friend Caroline, plus a "burnt broccoli tree" on the side. I love this place so much!
• The crazy temperatures in Paris early this month called for a scoop of artisan ice cream. I got the crunchy caramel ice cream from Une Glace à Paris: burnt caramel ice cream with crunchy flecks of salted caramel. Ah-mazing.
(What's been your best-loved ice cream flavor this summer? My favorite recipes are here.)
Find my top Paris spots on this map of favorites, and follow me on Instagram to see many more food shots and Paris recommendations throughout the month!
Latest Reads
More reading recommendations »
Loving Right Now
5 Cool Links
Follow me on Twitter and like the C&Z Page on Facebook for many more links throughout the month.