Looking for the best banh mi in Paris? Look no further!
True dining bargains are so few and so far between in Paris that by the time you discover a new one, the previous find has usually turned into an old legend that The Elders like to recount around the fire while the young sit there and wonder if it would be okay to take out their phones.
But when it comes to lunch and fuss-free food, Paris has no shortage of hole-in-the-wall gems; you just need to know where to look. And today, we shall look in the general direction of Belleville and, more precisely, a little street off the general hullabaloo of the boulevard.
There hides a Vietnamese sandwich joint called Saigon Sandwich. Barely larger than my kitchen, it is the workshop of one sandwich-making artist, a middle-aged man who takes immense pride in the quality and freshness of his subs, assembled to order throughout the day.
To those unfamiliar with the Vietnamese sandwich, let me introduce the bánh mì, a deceptively simple combination of meat, crudités (cucumbers, carrots, daikon, onions, cilantro, chili), and some sort of dressing (most often mayonnaise, garlic chili sauce, Maggi sauce, or a combination thereof) on a piece of light-textured baguette — a little souvenir of the friendly presence (ahem) of the French in Vietnam in the 19th and 20th century.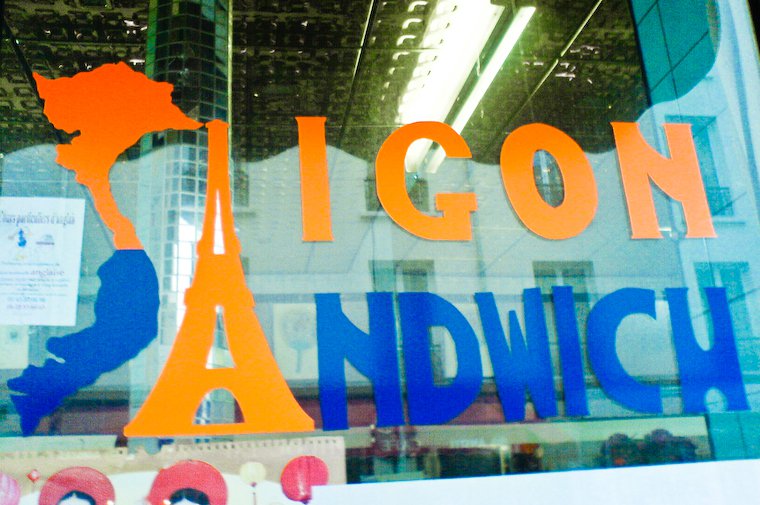 The Vietnamese sandwich can range from dull to divine depending on who makes it, and this particular provider was propelled to the very top of our list when Maxence worked in the neighborhood. He visited on a semi-weekly basis then, he introduced me to the cult, and now that his office has moved to a completely different area, we make the special trip every once in a while, when the craving for the best banh mi in Paris just becomes too much to bear.
The menu at Saigon Sandwich offers just three options — a blessing for the perpetually undecided — to be washed down with coconut or soy juice. The Classique involves sliced pork (jambonneau) and Vietnamese salami; the Spécial adds to that headcheese (fromage de tête) and sliced meatballs; but our favorite is the Poulet, garnished with marinated and steamed chicken.
If you engage the owner in conversation as he puts your lunch together, he will explain how carefully he selects the cuts of meat, how he steams them so the unnecessary fat will drain out without any sacrifice of moisture, how he makes his own mayonnaise (he may even have you taste it on a little round of baguette to prove his point), how he peels and cuts his vegetables in small batches so they won't dry out, and how he goes to the bakery every few hours throughout the day, to get fresh bread as it comes out of the oven.
We like to sit on the low plastic stools and eat our sandwiches as we chat and watch the steady stream of regulars walk in and out, but most people just buy theirs to go. Just don't go too far; once you're done, there is a high chance you will want to buy another one and take it home for dinner.
Saigon Sandwich Map it!
8 rue de la Présentation, 75011 Paris
Mon-Sat 10am-6pm; Sun 10am-2pm