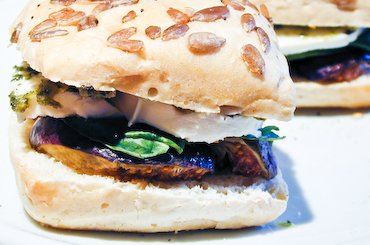 I could eat sandwiches at every meal. This is probably because I adore bread, but also because nothing beats holding your food in your hands and biting greedily into it. Elegant? No. Messy? Yes. But oh-so-satisfying!
Sandwich making, however, is an art that very few food outlets master. Cardboard bread, processed chicken, limp lettuce, mayo overdose, this is what you have to face most of the time. And it shouldn't be that difficult really: decent bread and a few good-quality ingredients, in an interesting and sound combination. Are my expectations too high?
Besides the traditional jambon-beurre (a half-baguette sandwich garnished with butter and ham), I think sandwiches are just not part of the French food culture. Most people think of sandwiches as a way to eat a cheap and fast lunch, setting aside all considerations of quality and taste. And of course a good sandwich, as described above, is not cheap to make, so it may just be a supply and demand thing: if people are not willing to pay for a good sandwich, well, let them eat crap.
So I very rarely buy sandwiches, unless I am in the vicinity of one of my trusted sources (Boulangépicier, Cojean) and I will often take matters into my own hands when the urge strikes. This is how today's featured sandwich came to life: I came home from work, positively famished, with visions of sandwiches dancing in my head, composing themselves with the ingredients I had on hand. Little loaves of bread and figs from the freezer, buffalo mozzarella and pesto from the fridge, and basil from the window sill herb garden. Quickly assembled, quickly baked in the oven, quickly scarfed down.
A moment of pure, scrumptious enjoyment. The bread gets crispy in the oven, and the ingredient combo is simple and beautiful : sweet figs, soft mozzarella, fragrant basil and tasty pesto. This was so earth-shatteringly good that I couldn't get enough of it, and actually made it three times in five days, until I was forced to stop for lack of supplies. Otherwise there's a good chance I'd be eating one as I type.
Fig and Mozzarella Warm Sandwich
– 4 bread rolls (about 60 g each)
– a ball of buffalo mozzarella
– 3 ripe figs
– 12 leaves fresh basil
– 4 tsp thick pesto (a little less if very oily), such as this pesto de roquette
– salt, pepper
(Serves 4.)
Preheat the oven to 200°C (400°F).
Sl the loaves open. Slice the mozzarella. Wash and quarter the figs. Rinse and pat dry the basil leaves. Spread the top half of each loaf with a teaspoon of pesto. On the bottom half of each loaf, lay a fourth of the mozzarella. Sprinkle with salt and pepper. Add three fig quarters and three basil leaves. Put the tops back on.
Transfer the sandwiches to a baking dish, and put it into the oven for about 10 minutes, until they are heated through and the bread starts to get crispy. Let rest on the counter for a couple of minutes, and serve.