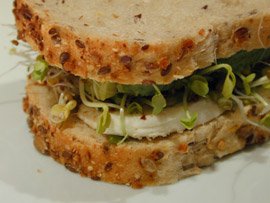 Back when we lived in the Silicon Valley, whenever I ordered a sandwich, I would invariably and happily go for the California sandwich. Not only did it sound most appropriate given the location, but avocado is among my best friends, and sprouts are a fantastic addition, adding the perfect peppery crunch to its comforting and sweet tenderness.
I have had many different types of California sandwiches, with different types of bread and cheese, some vegetarian and some with turkey or even bacon, some with tomatoes and some with roasted red pepper, some without greens and some with spinach leaves.
But to me, the essence of the California sandwich lies in the combination of avocado and sprouts, hugged by excellent good-for-you bread and a mellow kind of cheese.
So when I got avocados in my Campanier order the other day, I quickly started a batch of sprouts. When the avocados were ripe and the sprouts had grown, I bought mozzarella and multigrain bread, for a delighful trip down memory lane, flying on the wings of this simple and scrumptious sandwich.
The Essential California Sandwich
– 2 slices of multigrain bread
– 30 g (1 oz) buffalo mozzarella
– half of a small avocado
– a handful of mixed sprouts
– salt, pepper, piment d'Espelette (or red pepper flakes)
(Serves one. Selfish, I know.)
Slice the avocado and the mozzarella thinly. Arrange the mozzarella one of the bread slices, avocado on the other. Sprinkle both with salt, pepper and piment d'Espelette.
Arrange the sprouts on top of the avocado, and close the sandwich by carefully flipping the mozzarella-lined bread slice over the sprouts.
Press with your hand so everything adheres together. It's best to give the flavors a little time to meld, so wrap the sandwich in pastic wrap and store in the fridge for a few hours if you can. Take out of the fridge about 30 minutes before eating, to bring back to room temperature.