Radish season is in full swing, and I have been buying a bunch a week. I very much like radis roses, the pink, elongated ones with a white bottom that look like so many pink mice, but I don't turn my nose at the red globes, and certainly not at the multicolored bouquets.
(Side note: never sure what's in season when? My seasonal produce guide is for you, and it's free to download!)
In fact, it is not so much the color or shape of the bulbs I pay attention to when I shop, but the color and vigor of their leaves*. First, because they are a telltale sign of freshness, and second, because I eat them as radish leaf pesto, a habit I've taken up in the spirit of frugality, eco-friendliness, and kitchen craftiness.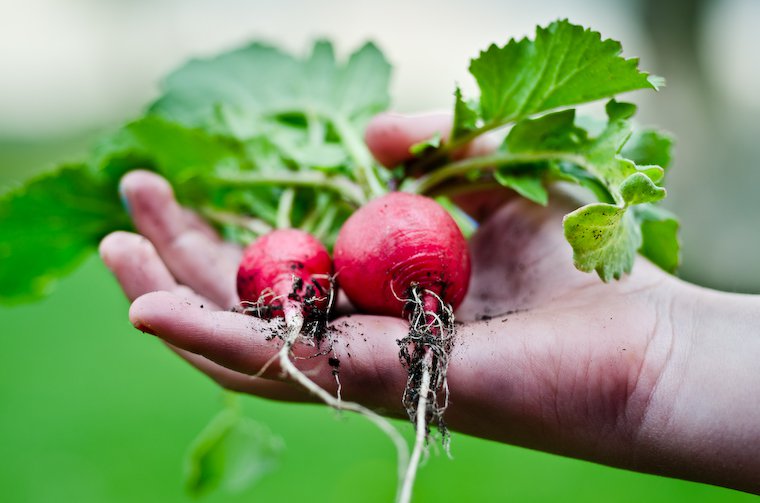 Radish leaves have a flavor I would situate somewhere between watercress and nettles, but a few notches milder. The texture of the larger leaves can be a bit rough so they're not ideal for salads, but they make fine soups and gratins (I add them to my Swiss chard gratin), I like them in pasta, and they work beautifully in pesto, which is what I make with them most often.
When I get back from the market, I separate the leaves from the bulbs. I refrigerate the latter — radishes should be washed moments before eating — while I rinse and dry the leaves like I do herbs, discarding any that are limp or discolored. I then store them in a container in the fridge until I'm ready to use them — but no longer than a day.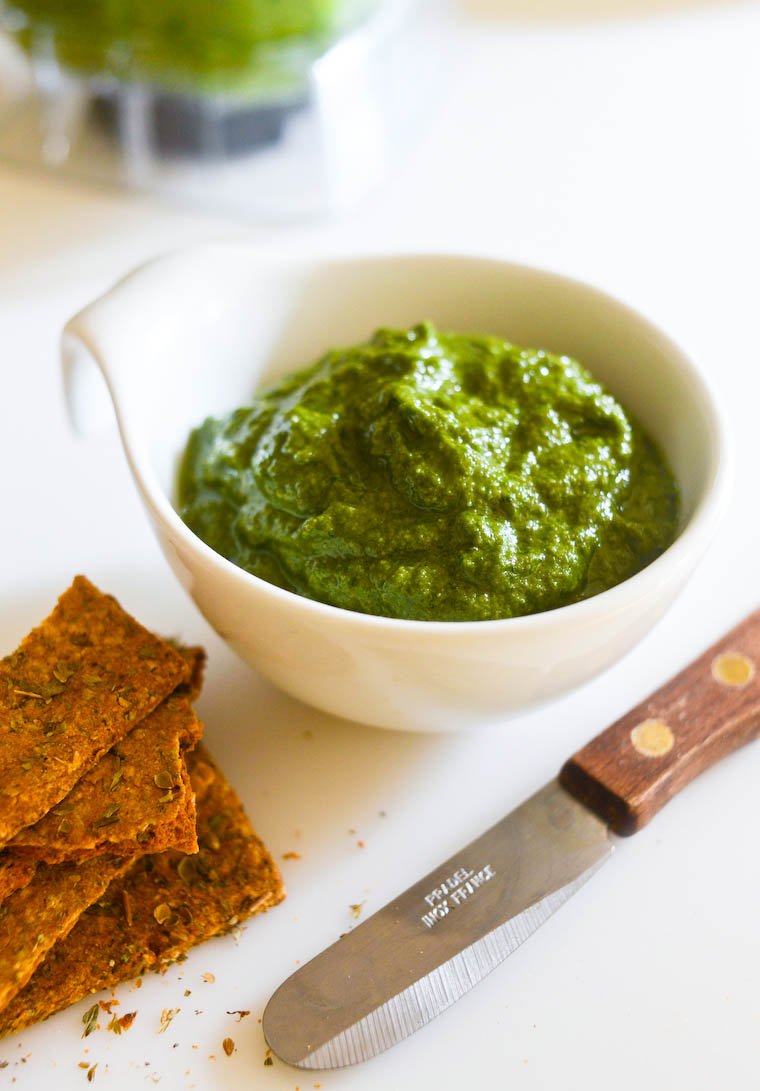 I prefer to remove the stems, so I simply tear them off, and keep only the leaves, which I put in my beloved blender and mix with garlic, pistachios, shavings of pecorino, and olive oil.
A Loose Recipe for Radish Leaf Pesto
The recipe below is really just a guide: the concept of pesto as a purée of greens, hard cheese, and nuts, is very forgiving and can be adapted to what you have on hand. You can use more or less cheese, more, fewer, or no nuts at all, add a little lemon peel, which brightens up the whole, and/or throw in other fresh leafy herbs that need using or pruning.
Depending on the intended use, I make my pesto thick or creamy. I have been using this one to dress bucatini from Rome (I combine the pesto with a little cooking water from the pasta to make an unctuous sauce), to flavor polenta, to line the crust of vegetable tarts, to garnish sandwiches and tartines, to rub a rack of lamb, and to stuff oven-roasted fish. I also have plans to try my hand at potato gnocchi soon, and will likely serve them with radish leaf pesto.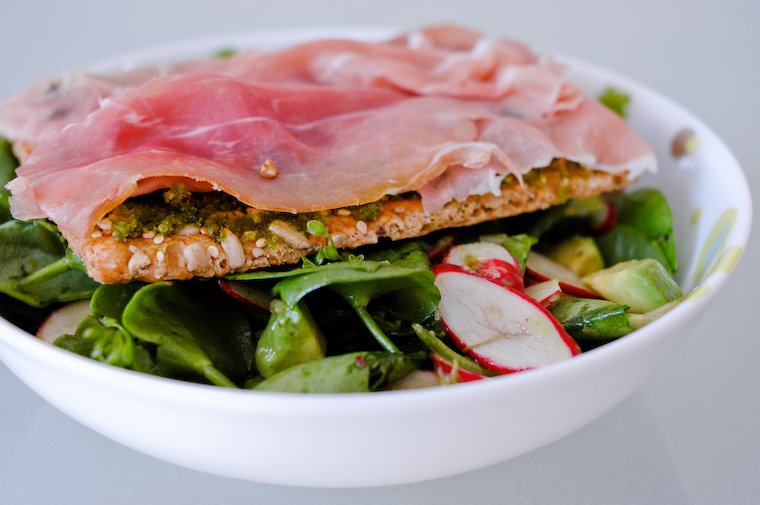 And while we're on the subject of radishes, I'll take this opportunity to remind you of my preferred way of eating them: with mashed avocado and smoked salt. I've also been slicing them thinly (using a mandoline slicer) and adding them to salads for piquancy and crunch. It was particularly successful in the salad of avocado and purslane (a variety called Clayton de Cuba) below, topped with a multigrain cracker, itself spread with radish leaf pesto and very good prosciutto.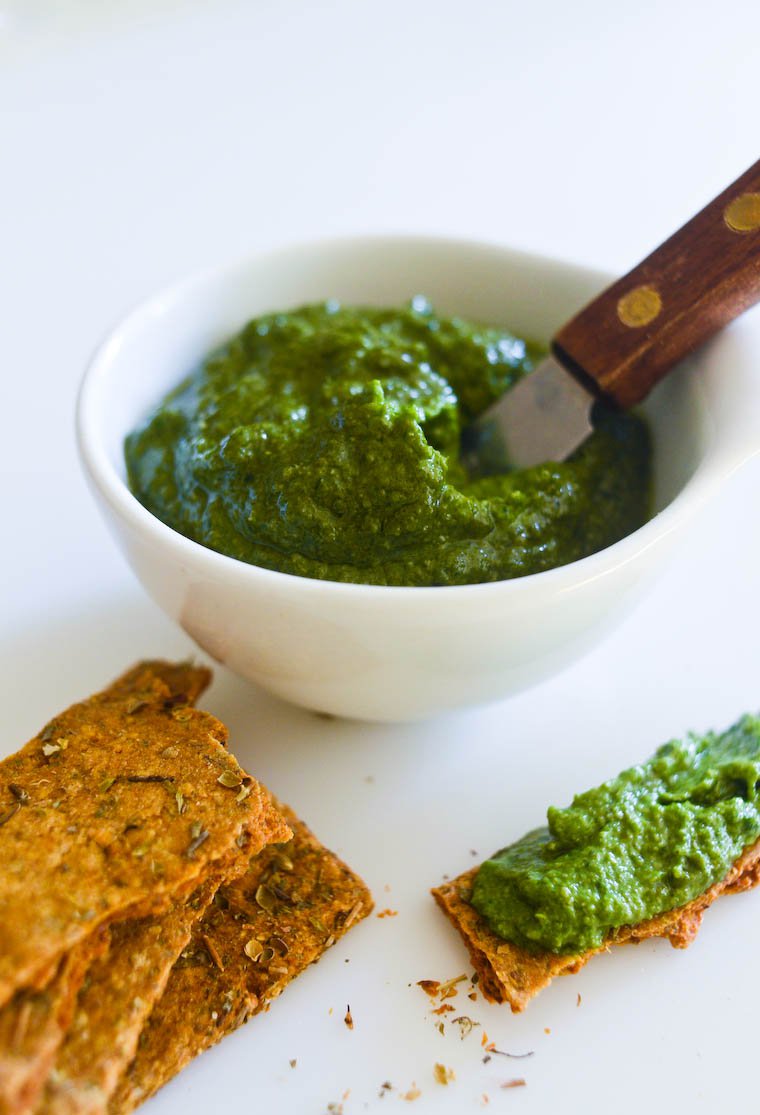 * In French, a leaf is une feuille, but there is another word, une fane, for the leaves of certain plants that are cultivated chiefly for another part, such as carrots and radishes. Radish leaves are thus referred to as fanes de radis.

Have you tried this? Share your pics on Instagram!
Please tag your pictures with #cnzrecipes. I'll share my favorites!
Ingredients
2 large handfuls of good-looking radish leaves, stems removed
30 grams (1 ounce) hard cheese, such as pecorino or parmesan, grated or shaved using a vegetable peeler
30 grams (1 ounce) nuts, such as pistachios, almonds, or pinenuts (avoid walnuts, which make the end result too bitter in my opinion)
1 clove garlic, germ removed, cut in four
a short ribbon of lemon zest cut thinly from an organic lemon with a vegetable peeler (optional)
2 tablespoons olive oil, plus more to get the consistency you like
salt
pepper
ground chili pepper
Instructions
Put all the ingredients in a food processor or blender, and process in short pulses until smooth. You will likely have to scrape down the sides of the bowl once or twice.
Add more oil and pulse again to get the consistency you prefer. (This can also be done with a mortar and pestle; it's great for karma and triceps.)
Taste, adjust the seasoning, and pack into an airtight container -- I use a repurposed glass jar.
Notes
Use within a few days (it will keep longer if you pour a thin layer of oil on the surface) or freeze.
https://cnz.to/recipes/dips-spreads/radish-leaf-pesto-recipe/
Unless otherwise noted, all recipes are copyright Clotilde Dusoulier.
This post was first published in May 2009 and updated in April 2017.