My first brush with tetragon — a.k.a. New Zealand spinach, warrigal greens, sea spinach, and a few assorted nicknames — took place six years ago: Nicolas Vagnon, the chef of the now long defunct La Table de Lucullus, had invited me to join him on his Saturday morning market run at the marché des Batignolles and hang out in his teeny kitchen afterward, watching him cook for the handful of customers who had come to lunch that day.
You can handle tetragon in much the same way you would spinach, keeping in mind that it is a pity to overcook it, even more so than other greens, because you want to retain a slight crispness in the leaves.
Among the things he bought and prepared was an alien-looking plant with diamond-shaped leaves attached to thick stalks. It and I were properly introduced: "Tétragone, meet Clotilde. Clotilde, meet Tétragone — it's a little bit like spinach."
Tetragon leaves are in fact more succulent — thicker, juicier — than spinach, and for someone like me who still hasn't managed to get over a fierce childhood dislike for spinach, it is superior: it tastes green and marine (iodé, as we say in French, like the seaside air, or oysters) but without the bitter metallic aftertaste that bothers me so much in spinach.
Nicolas served it raw that day, drizzled with an olive oil dressing and paired with thinly fileted marinated sardines (see picture below, circa July 2004). And raw is definitely the way to go if the tetragon is young and its leaves spry; it pairs well with fish or shellfish then, but also with cured ham or burrata, and fresh almonds.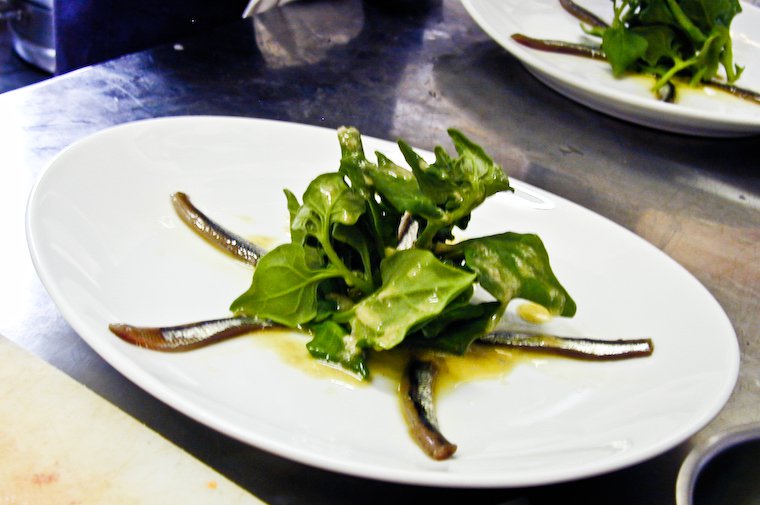 What I do is pluck the leaves off the stalk before I discard it, only retaining the upper part, where it becomes tender. Small sprouting clusters of what would have been more leaves are tipped into the salad bowl as well.
But sometimes you get a bouquet of slightly older tetragon (old tetragon should be avoided altogether) and find that, while the top leaves are delicate enough to be eaten raw, the ones on lower floors have toughened and feel scratchy in the back of your throat. It is preferable to cook those.
You can handle tetragon in much the same way you would spinach, keeping in mind that it is a pity to overcook it, even more so than other greens, because you want to retain a slight crispness in the leaves.
Among the things I've tried and loved, I'll mention adding tetragon leaves on top of a pizza just out of the oven so it will cook in the steam, and this pasta recipe.
It is a sort of variation on the orecchiette alla barese (orecchiette in the style of Bari) that Guillaume Long got from Laura Zavan's book Ma Little Italie and illustrated on his brilliant blog, and which I learned about by way of Patoumi's enthusiastic report.
I was once (just once) able to score the elusive cime di rapa that this recipe calls for (broccoli can be substituted) and I loved the result. The technique stuck with me, and I have since applied the same succession of steps to a variety of short pasta shapes and green vegetables.
It's simple, really, and as quick as pasta gets: while the pasta boils, you cook some garlic, chili pepper and anchovies with olive oil in a skillet. Depending on the vegetable you're using and how much cooking it requires, you either add it to the pasta water or to the skillet. When the pasta is cooked, you add it to the skillet, stir gently over low heat to combine, and serve with a good grating of cheese.
You may have noticed in the top photo that the strands of parmesan are fairly thick: I like to use the large holes in the box grater, because the cheese melts more slowly then and contributes its own texture.
Finally, I'd like to stress the importance of serving pasta in warmed pasta bowls. Eating lukewarm pasta ruins the experience for me, so I boil a little more water in the kettle than I'll need for the pasta, pour a shallow layer of that remaining hot water in each bowl when the pasta's almost done, and (important not to forget) pour out the water just before serving.
Note: I never knew this, but tetragon contains oxalic acid, which some sources say should be removed by blanching the leaves before using (the excess oxalic acid will transfer to the water that you'll discard). Other sources suggest this is only necessary if you are sensitive to oxalic acid, if you're dealing with wild plants or old leaves, or if you're eating tetragon on a frequent basis. If you're worried about it, discuss it with your doctor, and possibly with the vendor who sells you the tetragon.

Have you tried this? Share your pics on Instagram!
Please tag your pictures with #cnzrecipes. I'll share my favorites!
Pasta with Tetragon (New Zealand Spinach) Recipe
Ingredients
200 grams (7 ounces) short pasta (I use fusilli or buccoli, but orecchiette would also be nice)
4 generous handfuls tetragon leaves (a.k.a. New Zealand spinach)
a pinch chili pepper flakes
1 clove garlic, finely minced
4 filets salted anchovies packed in oil, drained and quickly rinsed to remove excess salt
olive oil
freshly grated nutmeg
salt, pepper
parmesan or pecorino, freshly grated, for serving
Instructions
Bring salted water to a boil in a medium saucepan. Add the pasta and cook according to package directions until al dente.
While the pasta is cooking, heat a medium skillet over medium heat. Add a good swirl of olive oil, and when hot, add the chili pepper and garlic, and cook for a minute or two without colouring.
Add the anchovies and crush them with a wooden spoon so they'll dissolve in the olive oil.
Add the tetragon to the skillet, sprinkle it with a touch of nutmeg, stir, and let it soften just a little (not too much!) in the heat. Remove from the heat. (Alternatively, if you wish to blanch the tetragon because you're concerned about the oxalic acid -- see note above --, add it to the pot of pasta during the last 30 seconds of cooking to blanch it instead of sautéing it.)
When the pasta is al dente, drain (not too thoroughly; keeping a little of the starchy cooking water makes it silkier) and pour into the skillet. Toss to combine over low heat and sprinkle with pepper.
Divide between two warmed pasta bowls, top with grated cheese, and serve immediately.
https://cnz.to/recipes/pasta/pasta-with-tetragon-new-zealand-spinach-recipe/
Unless otherwise noted, all recipes are copyright Clotilde Dusoulier.