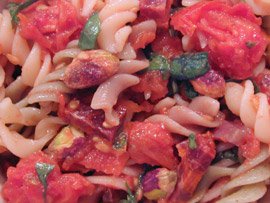 [a.k.a. Tomato Chorizo Pistachio Pasta Salad]
Pasta salads are one of these things I start to crave all of a sudden, when the weather gets warmer. As I've mentioned before, I usually bring my own food to work, and pasta salads are great portable lunches : they're quick to make, they get better as they sit, and they are an easy way to fill up on starch, protein and veggies in one tasty dish.
They're also an excellent companion for lunch on a bench with a book, in the nearby Parc Montsouris : you hold the book in your left hand, prop the tupperware container up against you with your left wrist, hold the fork in your right hand, and dig in voraciously. Maybe not the classiest of postures, but it works, and it also efficiently discourages anyone from interrupting your reating (reading + eating) activities.
I made this particular pasta salad with multicolored quinoa fusilli from the organic store, and combined them with my homemade tomates confites and the rest of the chorizo we had bought in Madrid. I also wanted to throw in some kind of nut, so I rummaged through my stash, and opted for pistachios, which I consider to be grossly underused.
This mix of flavors turned out to work delightfully well, from the spicy-salty chorizo to the crunchy-sweet pistachios, from the tangy-moist roasted tomatoes to the satisfyingly chompy pasta. My only regret? To have made just two servings.
The Pasta Salad That Rhymed With O
[a.k.a. Tomato Chorizo Pistachio Pasta Salad]
– 150 g multicolored fusilli pasta
– 120 g chorizo
– 4 tomates confites (8 halves)
– 5 leaves of fresh flat-leaf parsley
– 5 leaves of fresh basil
– 2 Tbsp pistachios, unsalted
– salt, pepper, olive oil
(Serves 2.)
Cook the fusilli al dente, according to package instructions. Drain, then dump in cold water to stop the cooking and cool them down.
Chop the chorizo and tomatoes. Rinse, pat dry and chop the fresh herbs. Toast the pistachios in a dry skillet until fragrant.
In a medium salad bowl, combine the pasta, chorizo, tomatoes, and fresh herbs. Sprinkle with freshly ground pepper. Toss to coat. Taste, and adjust the seasoning with salt, pepper and olive oil if needed (I didn't add any oil, as my oven-roasted tomatoes already contained some).
As with all pasta salads, this tastes best if it has time to sit a little. Serve cold or at room temperature, sprinkling with the pistachios just before serving (you could also add the pistachios with the rest of the ingredients, they'll just be less crispy).