The black radish is bane of the Parisian locavore's existence: during the winter, the raphanus sativus var. niger pops up regularly in AMAP* subscribers' vegetable baskets, and it can be a challenge to put it to good use.
An ancient variety that dates back to antiquity, this mega-radish has a black, coarse skin and a white, almost translucent flesh that's quite pungent in flavor. It is this characteristic sharpness that earned it the nickname of raifort des Parisiens — Parisians' horseradish — and makes it generally too assertive to eat on its own.
The characteristic sharpness of the black radish has earned it the nickname of "Parisian horseradish" and makes it generally too assertive to eat on its own.
It is, however, a winter vegetable that rewards the eater with lots of nutritional perks — it is a good source of vitamin C, sulfur, fibers and B vitamins, and it is thought to promote digestive health, detoxify the liver, boost the immune system, and fight aging — so much so that its juice is sold in boxes of drinkable phials that you're supposed to down before breakfast (isn't that tempting).
Fortunately, there are ways to tame the sharpness of this superfood and reap its benefits at normal meal hours, and my favorite so far is to grate the flesh and add it raw to all kinds of salads.
Today's salad is a particularly good final destination for the black radishes that make their way into my vegetable drawer: the sweetness of the potatoes tones down the pungency of the black radish, allowing it to simply illuminate the salad like a zesty condiment. A touch of smoked paprika for depth, a scatter of fresh herbs for clarity, and a good sprinkle of walnuts for crunch, and you've got yourself a very satisfying, sunny-winter-day salad.
Next up, I want to try pickling black radishes, tsukemono-style, using directions from Elizabeth Andoh's beautiful book of vegetarian Japanese cuisine, Kansha — I'll let you know how that works out.
And naturally, if you want to share your own favorites uses for the black radish, I'd be very interested to hear them!
* AMAP is the French equivalent to CSA.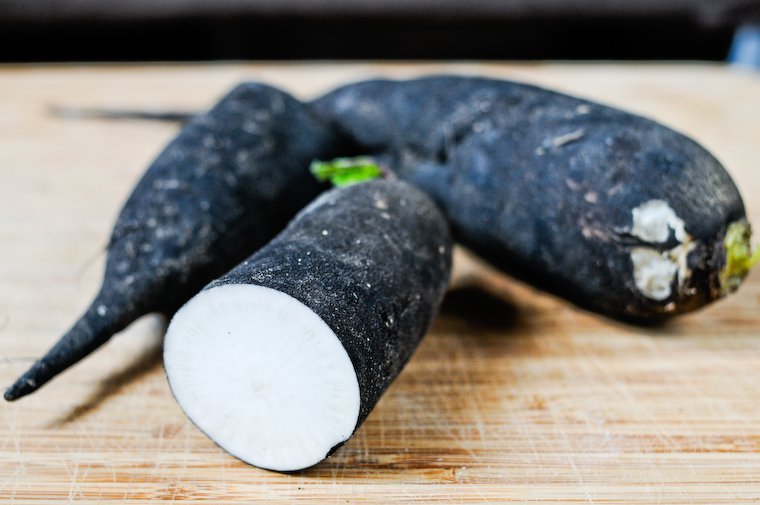 Have you tried this? Share your pics on Instagram!
Please tag your pictures with #cnzrecipes. I'll share my favorites!
Black Radish and Potato Salad Recipe
Ingredients
450 grams (1 pound) small waxy potatoes
1 clove garlic, peeled and smashed with the side of the knife blade
1 medium black radish, about 220 grams (1/2 pound) (when buying, make sure it is firm to the touch, not limp nor soft)
2 teaspoons honey vinegar or other mild vinegar
4 teaspoons olive oil
1 teaspoon smoked paprika
a small bunch of chives, finely snipped
a few sprigs of parsley, leaves roughly chopped
the meat from 10 walnuts, crumbled
sea salt, freshly ground pepper
Instructions
Scrub the potatoes (no need to peel them) and cut them into small chunks.
Place them with the garlic clove in a steamer, sprinkle with salt, and steam for 10 minutes, or until the potatoes are just cooked through (the tip of a knife should meet no resistance).
Scrub the black radish (no need to peel it, unless it is old and its skin is really tough) and carve out any crack or hole that may harbor dirt.
Grate using the large holes of a box grater. Go through the pile of grated radish and check for any brown bits, which may taste unpleasantly earthy.
Place them in a medium salad bowl, sprinkle with salt, toss to coat, and set aside while the potatoes are cooking; the salt will take the edge off the radish.
When the potatoes are cooked, set aside to cool until just slightly warm.
Chop the steamed garlic clove finely and add it to the salad bowl. Add the vinegar, oil, and paprika, and toss to combine.
Add the potatoes and the herbs to the bowl, sprinkle with pepper, and toss gently to combine. Taste and adjust the seasoning.
Top with the crumbled walnuts, and serve. Leftovers keep well until the next day.
https://cnz.to/recipes/salads/black-radish-and-potato-salad-recipe/
Unless otherwise noted, all recipes are copyright Clotilde Dusoulier.