My vegetable basket this week included three black radishes, oblong and rather large. Black radish is another one of those forgotten vegetables, so I was quite happy for the chance to experiment with it.
Last time I had bought a black radish, I had used it raw in a yogurt-dressed salad, and had been rather unimpressed. I realize in hindsight that it probably wasn't very fresh: it was much limper than the crisp and vigorous ones I got this week. Still, I wanted to try them in their cooked form this time.
One of them I cut up in matchsticks and added to an Asian stir-fry, to very good results. And I decided to bake the two remaining ones: baking is my favorite cooking method for root vegetables, as it brings out their sweetness in a delightful way.
These oven-baked black radish chips turned out really well: their natural pungency is toned down by the baking, yet the edge remains, and they proved quite addictive.
In slicing them up, I also discovered how beautiful this vegetable is, with the white on white sunray pattern on each slice. Afterwards, I thought it would have been even nicer to leave half of the peel on, in stripes, so that each of the slices would have dashes on the rim.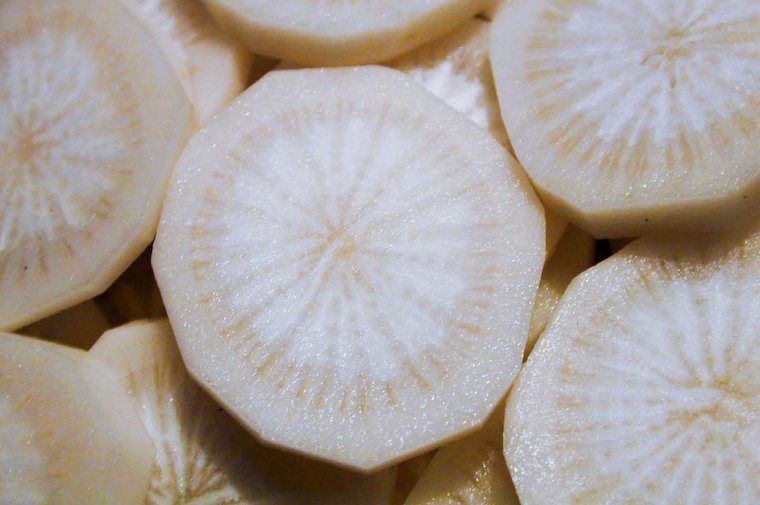 Have you tried this? Share your pics on Instagram!
Please tag your pictures with #cnzrecipes. I'll share my favorites!
Black Radish Chips Recipe
Ingredients
2 large black radishes
olive oil
balsamic vinegar
salt, pepper
piment d'Espelette (optional, substitute chili flakes)
Instructions
Preheat the oven to 200°C (400°F). Grease a baking dish (unless it is non-stick).
Wash and scrub the radishes. Peel them with a vegetable peeler, leaving half of the peel in stripes if desired.
Slice the radishes thinly -- very thin slices will be more chip-like, slightly thicker slices will be moister -- and put the slices in the baking dish.
Pour a little olive oil and a little vinegar, and sprinkle with salt, pepper and piment d'Espelette. Toss to coat. Adjust the amounts so all the slices look comfortably dressed, but not drenched.
Put in the oven to bake for about 20 minutes, until the chips are golden and their edges start to crisp up. Serve warm, as an appetizer or a side.
https://cnz.to/recipes/vegetables-grains/black-radish-chips-recipe/
Unless otherwise noted, all recipes are copyright Clotilde Dusoulier.