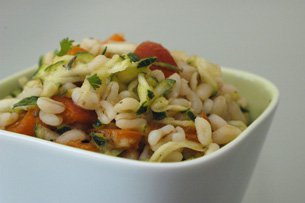 [Soft Wheatberry Salad with Zucchini and Apricots]
I am a great lover of all things grain. Quinoa, bulgur, kamut, buckwheat, barley, amaranth, millet — each of them nutritious, filling and tasty in its own personal way (although they all seem to be indifferently described as "nutty" on the package, or un goût de noisette in French). I also love that most of them can be traced all the way back to ancient civilisations — you know, way before instant rice and microwave popcorn, when myths and legends saw them as a gift of the gods.
Organic, "natural food" and ethnic stores are usually your best bets to find interesting grains, and I like it when they offer them by the weight in bulk bins (or huge cloth bags in ethnic stores), so that you can buy as much or as little as you need to play and experiment with.
One type of grain that I particularly like is the soft wheatberry, a.k.a. spring wheat, pastry wheat or blé tendre in French. A wheatberry is a wheat kernel from which the outer hull has been removed, and the soft wheatberry is just one variety of wheat, the kind from which pastry and cake flour is made. Pasta on the other hand is usually made from durum wheat, a harder kind of wheat which has more gluten, offers a higher protein-to-starch ration, but takes forever to cook. The soft wheatberry, as sold in France under the Ebly brand (and widely distributed in grocery stores), takes ten minutes to cook and blossom into plump little nuggets — tender, yet offering a nice, slightly chewy bite.
Soft wheatberries are a great side to serve with both meat or fish, you can flavor them with herbs or blend in vegetables, and I think they work particularly well cold, in salad form. I improvized this fresh and pretty variation for lunch the other day, tossing the cooked berries together with raw grated zucchini, a bit of garlic and some chopped cilantro — cilantro I love you so — and then, on a whim, adding in a few of the tan apricots that were lazying around on the counter.
[More info on grains and wheat.]
Salade de Blé Tendre, Courgette et Abricot
– 1 C (120g) uncooked soft wheat berries (you can use the brand, available in some European countries)
– 2 small zucchini
– 4 fresh ripe apricots (substitute dried apricots if fresh are out of season)
– a small bouquet of cilantro (about 20 stems)
– 1 garlic clove
– 1 Tbsp walnut oil (substitute olive oil)
– 1 Tbsp balsamic vinegar
– piment d'espelette or ground chili, to taste
– salt, to taste
(Serves two as a main course, four as a starter or side.)
Cook the soft wheat berries according to package instructions. Drain and let cool in colander.
Grate the zucchini using the large holes of a cheese grater. Dice the apricots. Pluck the cilantro leaves and chop them roughly. Chop the garlic clove thinly or crush it with a garlic press.
Combine cooked wheat berries, zucchini, apricots, cilantro and garlic in a medium salad bowl. Add in the olive oil and vinegar, toss to coat. Season with piment d'espelette and salt.
Refrigerate for a couple of hours so the flavors will have time to develop, or serve immediately if very hungry.