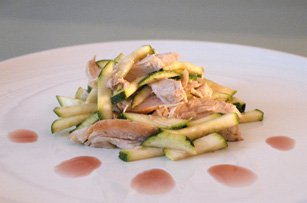 [Zucchini and Chicken Salad with Raspberry Vinegar]
Ever since I served raw zucchini sticks with my anchoïade a few weeks ago and experienced a private tastebud epiphany, I have felt it my personal mission to let the world know how incredibly delicious and subtly sweet zucchini tastes in its most natural simple naked state.
It is best to keep this treatment for the freshest zucchini, slender young things with smooth skin and firm flesh that feel heavy for their size, and summer's a good time to find them at the elitist farmers' market nearest you — if you're lucky they will still be wearing their pretty yellow flower hat — or in your own garden if you belong to the happy zucchini growers' club, in which case you should fedex me a crate, thank you so much.
This salad is a lovely use for leftover roasted chicken: I also like to buy cold roasted chicken from my rôtisserie on rue des Abbesses, as they sometimes sell in the afternoon what's left from the lunch rush, for the mere price of 5€. The salad also features my newly acquired and much treasured bottle of raspberry vinegar, which complements the moist chicken and the snappy zucchini in a beautifully colorful and tangy way.
~~
On an unrelated note, if you are a food blogger living in Europe, it's not too late to join us in the Blogging by Post event that's taking place this week-end: send a small care package, receive one, and blog about it!
Salade de Courgette et Poulet au Vinaigre de Framboise
– 4 small, young zucchini
– leftovers from a roasted chicken, roughly the equivalent of one breast and one thigh — if you don't have leftover chicken, you can simply sauté two chicken breasts in a skillet
– 3 Tbsp raspberry vinegar
– 2 Tbsp walnut oil (you can substitute olive oil)
– freshly-ground pepper, salt
(Serves 2.)
Cut the zucchini in matchsticks using a mandoline or your expert knife skills. Cut the chicken in strips. Combine the zucchini and chicken in a medium salad bowl, season with raspberry vinegar and walnut oil, toss to coat, and sprinkle with salt and pepper to taste. Cover and refrigerate for half an hour (or up to a day) before serving.