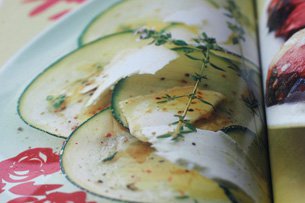 [Zucchini Poppy Carpaccio]
As promised, here is the recipe for the first course in the flower menu I created for the French edition of ELLE (issue #3154, June 12, 2006). My thanks to Catherine Roig for allowing me to reproduce the recipes here. The picture above is a shot of the magazine page: the food styling is by Valérie Lhomme, the photography by Edouard Sicot.
Where does one find poppy vinegar? In Paris, it can be purchased at Izrael (30 rue François-Miron in the 4th). In other parts of France, you can order it online through the Chocolaterie Des Lis in Nemours. Elsewhere, try your luck at your favorite gourmet-and-quirky-stuff shop. If you can't find it, substitute raspberry or sherry vinegar.
For the rest of the menu, see:
~ Lavender-crusted duck magret,
~ Raspberry and violet tartlets.
Courgette au Coquelicot en Carpaccio
2 small firm zucchini, about 400 grams (14 ounces)
60 grams (2 ounces) semi-dry goat cheese, crumbled or cut in thin shavings
2 tablespoons poppy vinegar (substitute raspberry or sherry vinegar)
3 tablespoons fruity extra-virgin olive oil
2 teaspoons fresh thyme flowers, or 1 teaspoon dried thyme
Fleur de sel, freshly ground pepper
Serves 4.
Cut the zucchini in paper-thin slices with a mandoline or a very sharp knife. Arrange the slices on four plates in a circular pattern starting from the outside, each slice overlapping the previous one. Top with cheese, drizzle with vinegar and oil, and sprinkle with thyme, salt, and pepper. Cover and let rest for 10 to 15 minutes somewhere cool (but not the fridge) before serving.
What do I do with the remaining poppy vinegar? Use it in a marinade for sea bass or scallops, to deglaze the juices of a roasted chicken, to spike up a green lentil salad, or as a reduction for a salad of sliced strawberries.