I pulled the produce drawer of my fridge open, and realized with delight that I had everything I needed to make ratatouille.
I can't think of this iconic dish from Provence without thinking of my grandmother, who lived in the South of France for much of her adult life. She spoke with exquisite fondness of the summer vegetables that she would buy at the greenmarket there, and how she cooked each separately and with loving care until they glistened with her good olive oil, and reunited in the pot like long-lost friends.
But my grandmother was not a snob, and I know she didn't think less of me when I laughed, and admitted that when I make ratatouille, I just arrange all the vegetables on a baking sheet, and let the oven do the work for me.
While unconventional, this method yields excellent results, and requires very little effort beyond prepping the vegetables.
Assuming you're not going to do things my grandmother's way (let's be real here), you could decide to cook your ratatouille in a pot with all the vegetables together. But it can be hard then to get all the vegetables to cook properly, so that the eggplant ends up a little bitter and spongy, and the whole thing is somewhat waterlogged. And if you try to compensate by stirring frequently, you risk of making the vegetables mushy.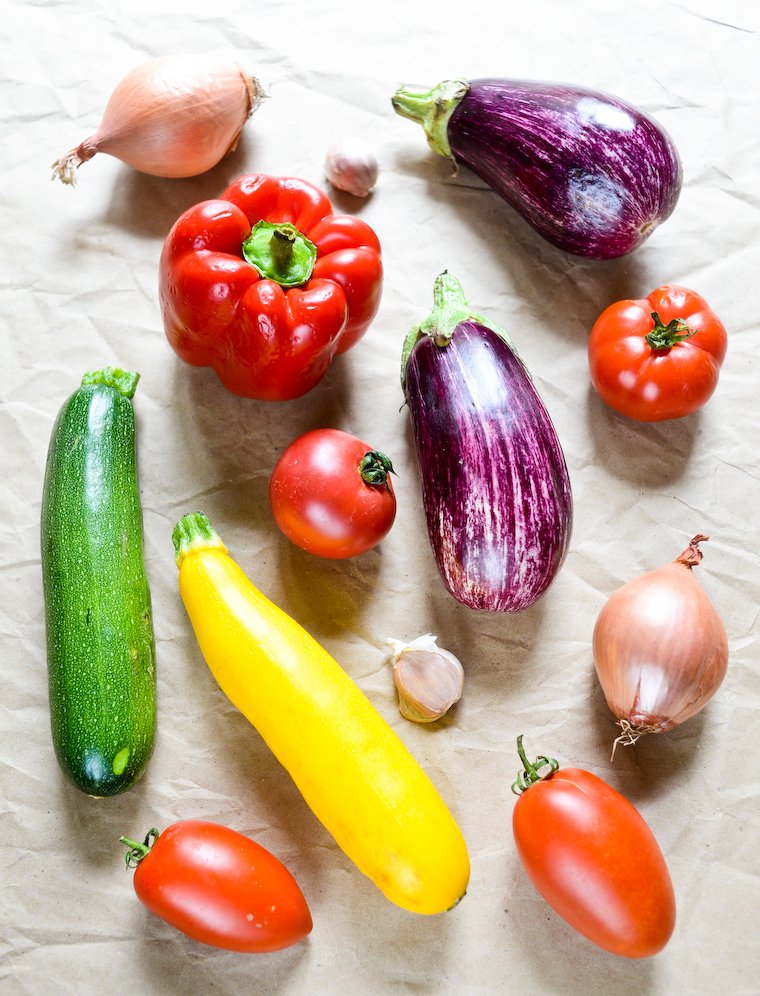 No such pitfalls here. My oven-roasted ratatouille turns out delightfully tasty every time, almost sweet with a wonderful roasted flavor, the texture so rich and pleasing it almost feels like you're eating dessert.
I will note that this is a summertime-to-early-fall dish par excellence. Even if your grocery store sells those vegetables year-round, ratatouille tastes exponentially better with truly sun-ripened produce. My grandmother would not have compromised on that part.
I like to eat ratatouille with eggs, poached or fried, the velvety yolks melding with the juicy vegetables, but it is also a fine side that goes with practically everything — grilled meats, steamed fish, a bowl of pasta or brown rice.
A bonus feature of ratatouille is that it gets even tastier the next day and the day after that. And since it is equally good hot, at room temperature, or cold, it's an ideal make-ahead dish. (And it freezes really well, too!) (I'll stop now.)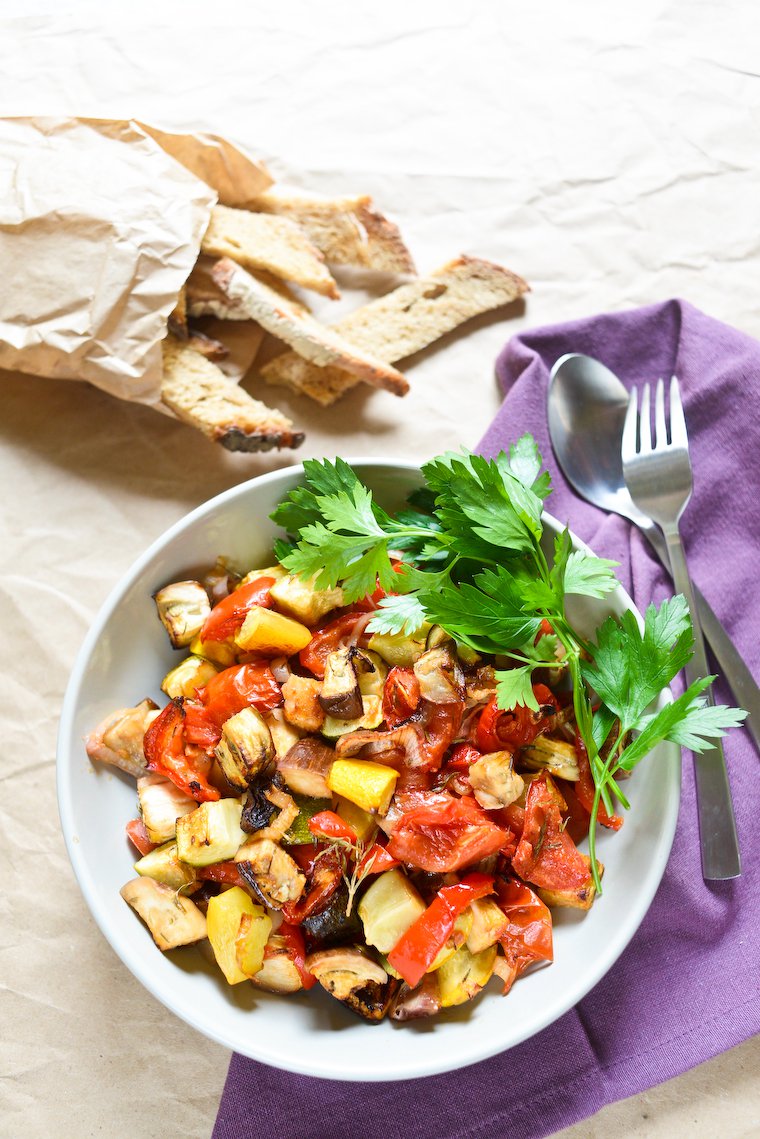 Have you tried this? Share your pics on Instagram!
Please tag your pictures with #cnzrecipes. I'll share my favorites!
Oven-Roasted Ratatouille Recipe
Ingredients
2 medium eggplants, about 450 grams (1 pound), cubed
2 medium zucchini, about 450 grams (1 pound), cut into bite-size chunks
4 ripe tomatoes, about 450 grams (1 pound), cut into bite-size chunks
1 red bell pepper, about 200 grams (7 ounces), seeded and sliced
2 medium onions or shallots, about 250 grams (9 ounces), thinly sliced
2 cloves garlic, crushed with the flat of your knife
2 sprigs of fresh rosemary (or 1/2 teaspoon dried)
2 sprigs of fresh thyme (or 1/2 teaspoon dried)
60 ml (1/4 cup) olive oil
1 1/2 teaspoons fine sea salt
Instructions
Preheat the oven to 180°C (350°F).
Put all the vegetables and herbs on a rimmed baking sheet.

Drizzle with the olive oil, sprinkle with the salt, and combine with your (clean) hands. Make sure the garlic is buried under the vegetables so it won't burn.

Cover the vegetables loosely with a piece of foil, and bake for 45 minutes. At this point, the vegetables should be cooked through but not colored.
Remove the foil and bake for another 30 minutes, keeping an eye on the progress, until the vegetables have browned to your liking.

Serve immediately, or allow to cool to room temperature and refrigerate until the next day.
Notes
Notice that I use the same weight of eggplant as zucchini and tomato, and that this equals the weight of the onions and bell pepper combined. Useful to remember if you want to scale the recipe up or down, or make this without a recipe next time.
https://cnz.to/recipes/vegetables-grains/oven-roasted-ratatouille-recipe/
Unless otherwise noted, all recipes are copyright Clotilde Dusoulier.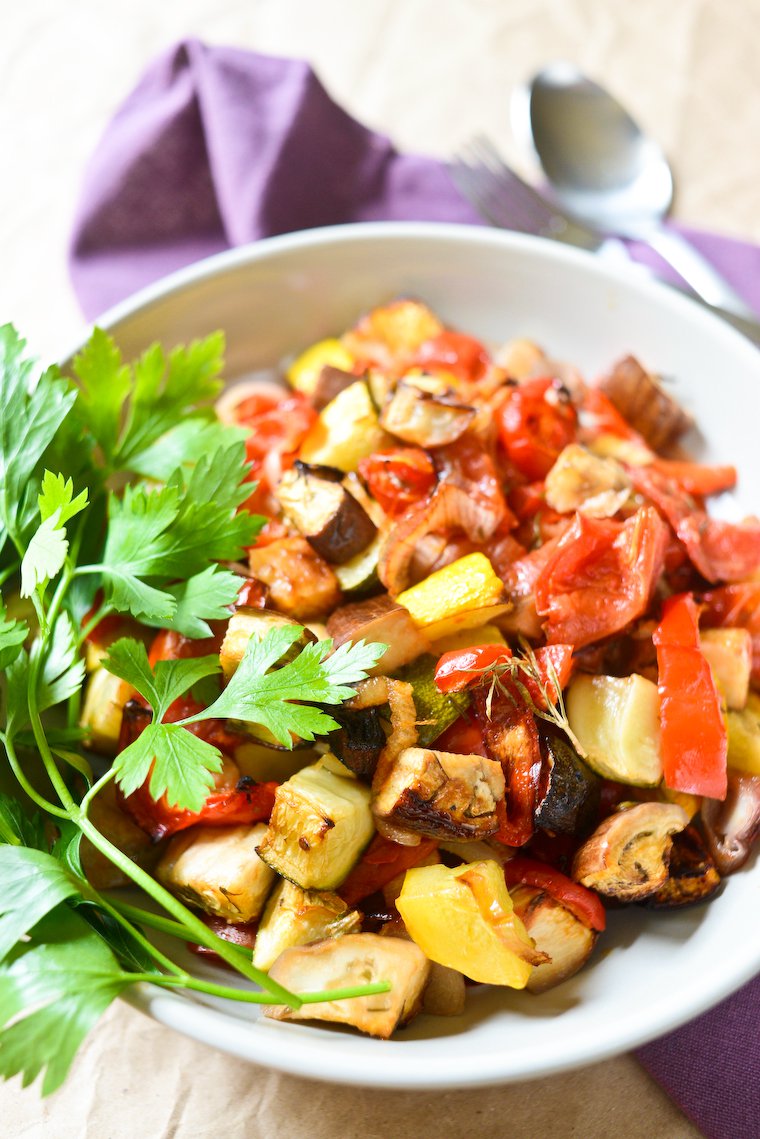 This post was first published in April 2005 and compleeeetely updated in July 2016.