Happy spring! I hope you're enjoying the longer days, the switch to daylight saving time, and the first springtime crops that are starting to appear on market stalls. Asparagus, strawberries, and tender greens! Such a bright, exciting time of year, it warrants three exclamation marks in the same paragraph!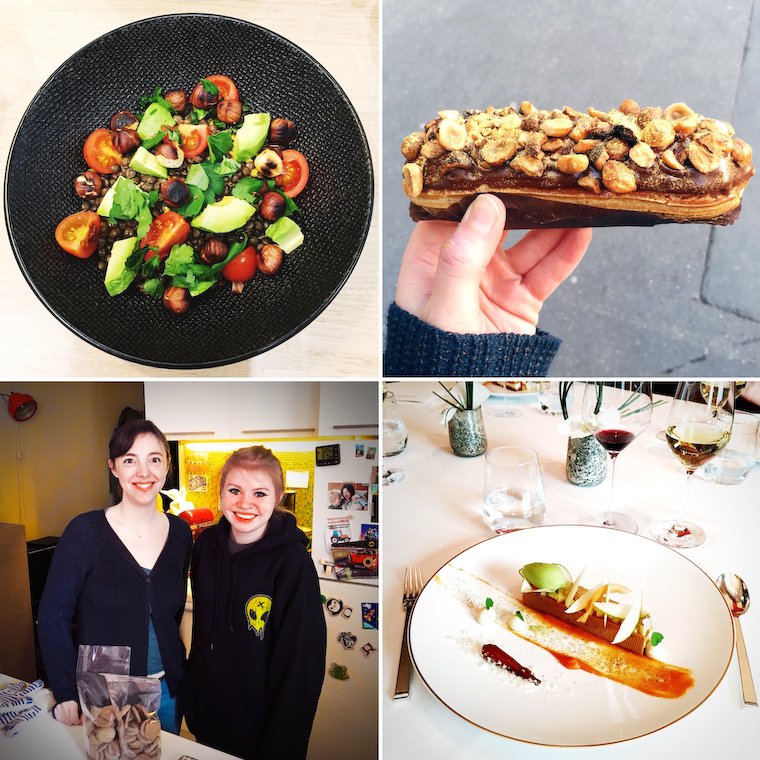 Good Eats
• I had the freshest, most lovely lunch at Health Inside, a vegetarian juice bar that recently opened on rue Charlot in the 3rd, an area that's heaven for people who like that kind of veg-happy food (see also: Wild &The Moon, Café Pinson, Nanashi, Rose Bakery, the list goes on). I especially enjoyed my lentil salad, made with French green lentils and chunks of avocado. The dressing had a touch of honey in it, but what made the dish were the still-warm, just-roasted hazelnuts scattered on top. What's your favorite kind of lentil salad? I'm also in love with this one.
• I was blown away by the sheer magnitude of the gianduja éclair I bought at Boulangerie BO in the 12th — intensely flavored, not too sweet, and generously studded with caramelized hazelnuts. (March was hazelnut month for me apparently!)
• I also had a very special guest in my kitchen: Mariah, a high school senior from Minnesota, was flown to Paris with the support of the Make-A-Wish Foundation to pursue her passion for baking. She was whip-smart and super sweet, and I was honored to bake my favorite French sablés with her.
• A sunny lunch at Taillevent ended on a wondrous note with an green apple and carrot plated dessert created by the young and talented François Daubinet. An inventive pairing he ran away with, expressing it with fresh and bright flavors.
Perpetual Giveaway!
Starting this month and every month after that, every subscriber of the C&Z newsletter will be automatically entered to win a copy of one of my books. He or she will be offered to choose between Chocolate & Zucchini, Clotilde's Edible Adventures in Paris, The French Market Cookbook, and Edible French, which I will ship to any mailing address in the world.
This is my way of showing my appreciation for your support and loyal readership. If you don't yet subscribe, you can sign up now. Keep your fingers crossed and good luck! I will announce the winner in the next monthly newsletter.
Loving this
For years and years I've wanted to incorporate a meditation practice into my daily routine, but I could never make it stick until I got a meditation headband as a holiday gift last December.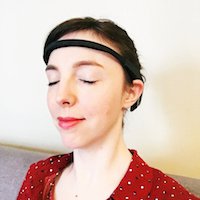 It's a digital device that analyzes your brain activity, and gives you gentle feedback to help quiet your mind: you choose a soundscape (I like the rainforest and the desert best) and start meditating. When you're completely calm, you start to hear birds chirping; when you are losing focus, the wind picks up and the weather gets gradually more intense, which reminds you to let go of your active thoughts, and bring your mind back to your breath.
It works in conjunction with a smart phone application that logs your meditation sessions and provides tips and encouragement as well.
The irony of buying something to engage in a minimalist activity that should only require one's brain is not lost on me. But for those of us who have trouble committing to the practice without some sort of structure and accountability, this has proven to be a great tool to overcome my curiously powerful resistance.
I anticipate I will no longer need it after a while (and will give it away or resell it then), but for now I am enjoying my Muse band very much, and never before have I been so consistent with the practice. Do you meditate? If so, how do you do it? If not, is it something you're curious about?
French food cheat sheet
Will you be visiting France soon? I have put together a printable cheat sheet of French terms and useful phrases to help you navigate the food scene like a pro. You are welcome to download it here; I hope you find it useful!

5 Cool Links