You are looking at my current breakfast bliss. Green smoothie bowls have become a favorite of mine, and starting my days with these nutritious, delicious, energy-filled bowls shines a bright winter sunlight on my mornings.
Surely you've heard about green smoothies and how they're taking the Internet world by storm. The idea is to add greens and various superfoods to your fruit smoothies to make them extra good for you, and to give you a headstart on your daily consumption of fresh produce. Beyond the inherent nutritional benefits of the green smoothie, aficionados report a halo effect that steers them toward healthier food choices throughout the day.
I was very tempted to get on board, but I've always been more inclined to eat my calories than drink them, so I could never quite warm up to the green smoothie. That is, until I discovered the concept of the green smoothie bowl, wherein you give it a thicker consistency so you can eat it with a spoon and — perhaps more important — sprinkle on all kinds of goodies for added texture.
How to build a green smoothie bowl
There are endless ways you can make a green smoothie bowl, but I typically build mine like this, with an emphasis on immune-boosting ingredients: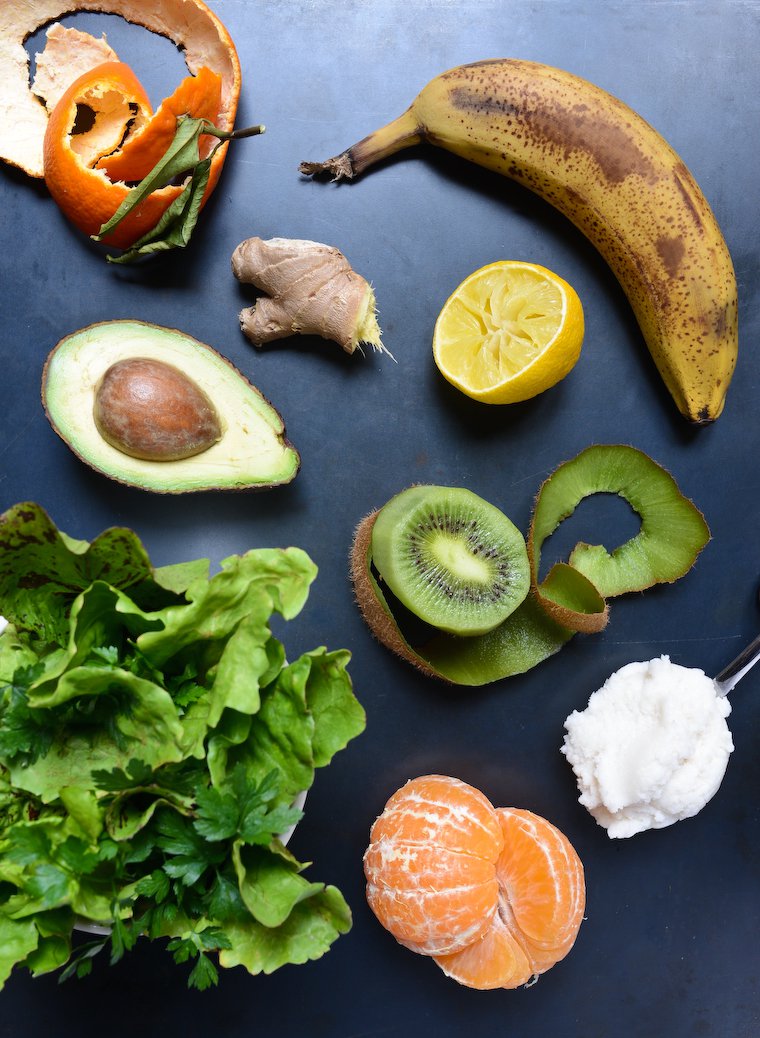 A foundation of greens, ideally a mix, and in rotation to maximize the benefits: spinach, Romaine lettuce, kale, Swiss chard, tetragon, beet leaves, parsley, celery leaves, cilantro…
A couple of fruits for flavor: many of the smoothie recipes I see out there rely heavily on tropical fruit (mangoes, pineapple) or berries (blueberries, raspberries, strawberries) but for my wintertime green smoothie bowls I try to favor more seasonal fruit such as pears, apples, kiwis, and tangerines.
A banana (preferably quite ripe, as in the photo) for sweetness;
Half an avocado and/or some coconut butter for the creaminess, healthy fats, and staying power;
A piece of ginger for flavor, plus a boost to my energy and immunity;
Citrus juice for flavor, vitamins, and alkalinizing action.
You blend all of these together with a few ice cubes (or frozen cubes of puréed vegetables if you have leftovers from your baby switching to solids) until you get something that's a bit like soft-serve ice cream, incredibly flavorful and zesty. The formula is quite flexible of course, and you can play with it according to your preferences and what's available to you; for instance, I like to throw in a couple of small carrots, a stick of celery, roasted winter squash, or a piece of raw beet if I have them on hand.
Favorite toppings for my green smoothie bowl
As for toppings, these are the ones I particularly like: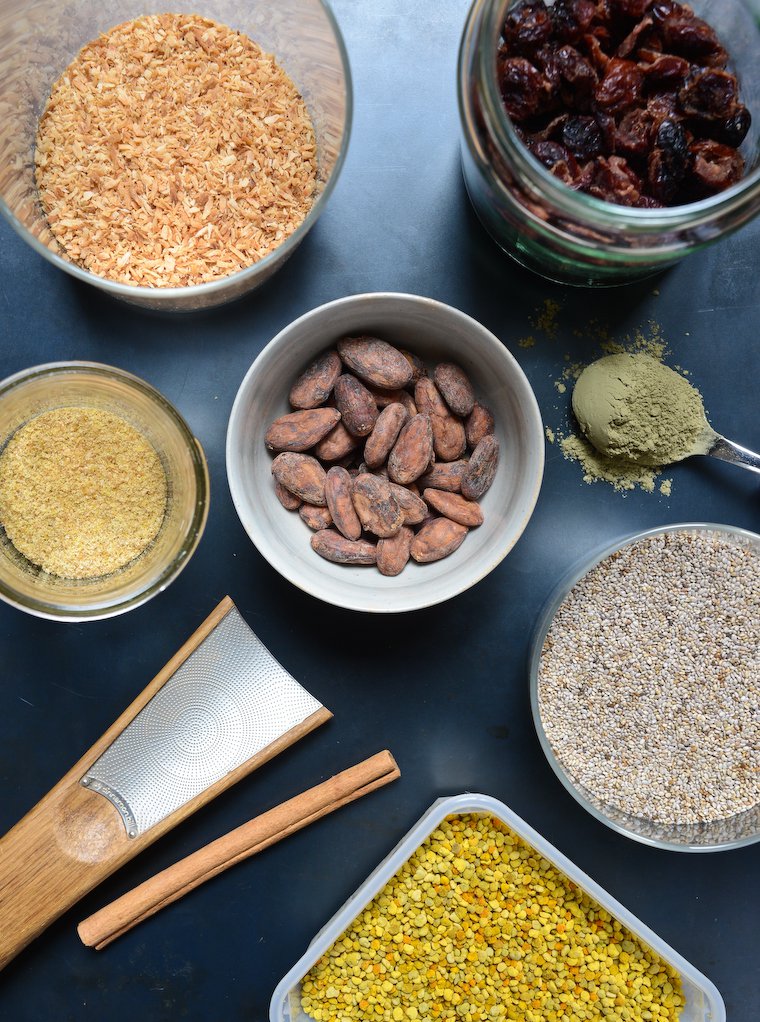 Raw cacao beans, which I buy whole and chop finely, or roasted cacao nibs;
Flax meal, i.e. flax seeds that I grind fresh weekly in a coffee grinder I dedicate to seeds and spices;
Unsweetened grated coconut that I toast in the oven (about 8 minutes at 180°C, watching closely and stirring halfway through);
Dried berries, such as blueberries, cherries, or cranberries, for chewiness;
A touch of matcha (green tea powder) for color and caffeine!
Chia seeds for the texture and omega 3 fatty acids;
Fresh bee pollen (not vegan) for the flavor and the immune-boosting qualities (I buy this fresh from a beekeeper and keep it in my freezer);
Cinnamon, freshly ground with my fab grater .
The whole thing is very quick to make, especially if you clean your greens ahead of time (see how I keep my greens fresh). Then it's just a matter of peeling a couple of fruits and throwing them into the blender; if you're able to invest in a high-speed blender (see more below about the one I own) you can just toss everything in without doing any chopping.

And with that, you can kiss the winter doldrums goodbye, and keep those energy-sapping colds at bay!
Watch me demo my green smoothie bowl!
I like this recipe so much I've made it into a video. Got 1:40? Then watch me prepare my morning smoothie bowl in my Paris kitchen!
Join the conversation
Have you hopped onto the green smoothie train yet? Do you have a favorite recipe to share? Or do you like green smoothie bowls better, and what are your favorite ingredient and topping combos?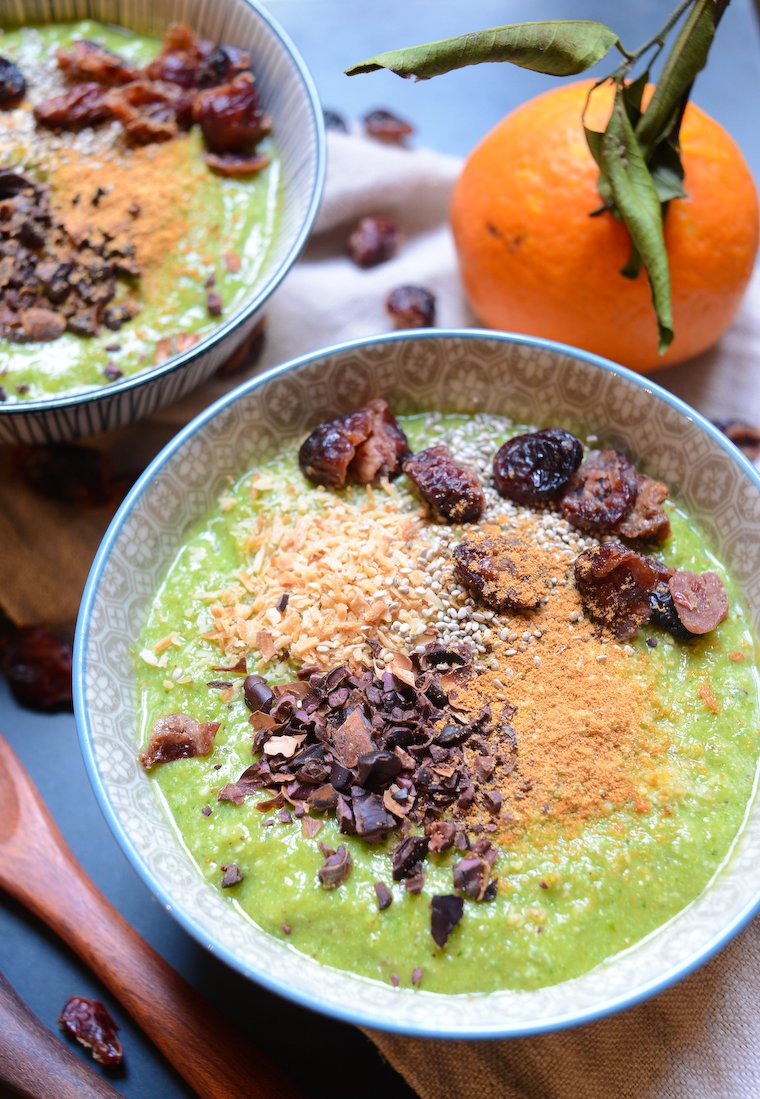 About my high-speed blender
After years and years (and years) of yearning for a high-performance blender — to make really smooth soups, quick sauces and marinades, nut butters and milks, and of course smoothies — I have finally gotten one. Based on my research, I have picked an Optimum blender from Australian brand Froothie as an alternative to the better-known Vitamix or Blendtec. It's just as high-performing, if not more so; the Optimum is a 2,611-watt blender with 6 stainless steel blades and a single 2-liter (2-quart) jug that works for both dry and liquid ingredients.
(I have been so happy with it I entered into a partnership with the brand and have a discount to offer. If you're interested in buying a Froothie blender for yourself, use promo code CD-Optimum-Blender-20 to get $20 off your purchase of the Optimum 9400 or 9200A on the US store. The same code will get you 20€ off on the French site, the Belgian site, or the Luxembourg site. For my Canadian friends, the code is CD-Optimum-Blender-25 and you'll get CA$25 off on the Canadian site.)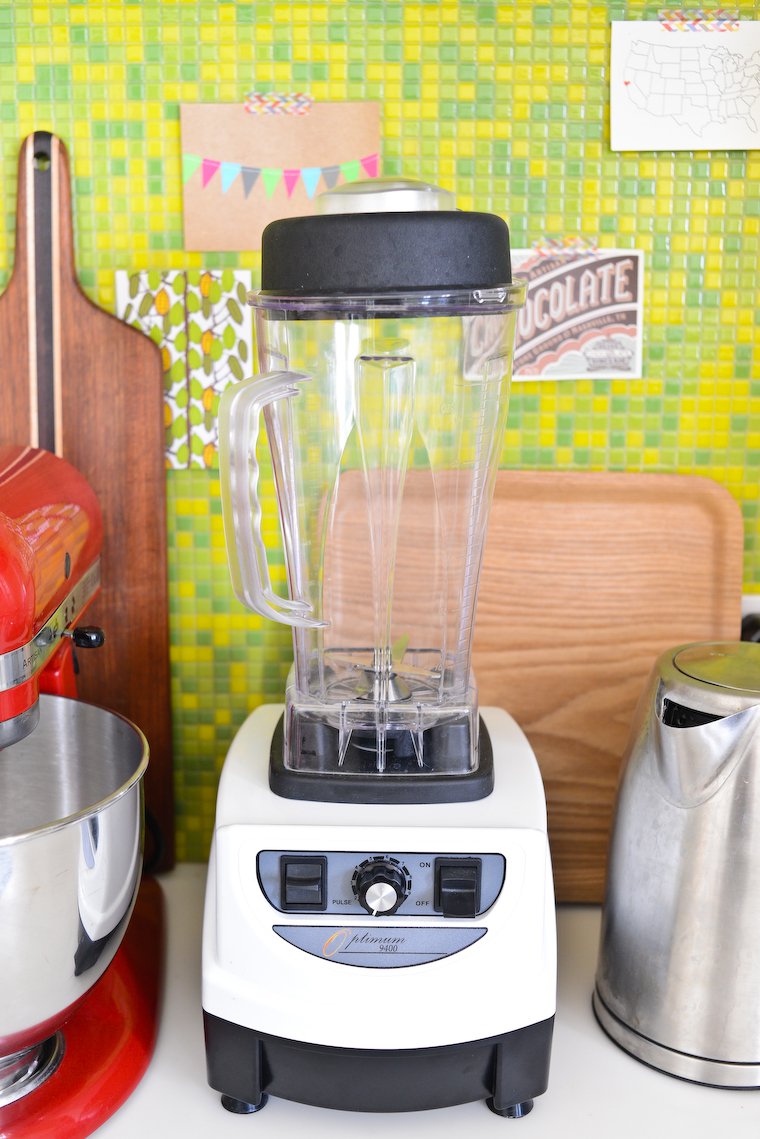 Have you tried this? Share your pics on Instagram!
Please tag your pictures with #cnzrecipes. I'll share my favorites!
Immune-Boosting Green Smoothie Bowl Recipe
Ingredients
For the smoothie base:

The juice of 1/2 lemon or lime
1 thumb-sized piece of ginger, peeled
2 cups greens, from your choice of: spinach, Romaine lettuce, kale, Swiss chard, beet leaves, parsley, celery leaves, cilantro...
1 ripe banana
1/2 ripe avocado
1 kiwi, peeled
1 tangerine or clementine, peeled
1 heaping tablespoon of coconut butter

If you prefer a drinkable consistency for your green smoothie:

240 ml (1 cup) flavorful liquid such as almond milk, rice milk, coconut water, or 120 ml (1/2 cup) coconut milk or yogurt thinned with 120 ml (1/2 cup) water

For topping, your choice of:

Raw cacao beans, finely chopped, or cacao nibs
Flax meal (i.e. freshly ground flax seeds)
Toasted grated coconut (unsweetened)
Dried berries (unsweetened)
Matcha (green tea powder)
Chia seeds
Fresh bee pollen
Freshly ground cinnamon
Instructions
If your blender is not a high-speed blender, chop the smoothie ingredients into bite-sized pieces, including the greens.
At the bottom of the blender, place 3 ice cubes with the lemon juice, ginger, and greens at the bottom of the blender. Blend well.
Add in the banana, avocado, kiwi, tangerine, and coconut butter.

Blend again until completely smooth. The consistency should be like soft-serve ice cream.

If you prefer a drinkable consistency for your green smoothie, add in the liquid and process again until fully blended.
Divide among two bowls, sprinkle with the toppings of your choice, and enjoy !
https://cnz.to/recipes/drinks/immune-boosting-green-smoothie-bowl-recipe/
Unless otherwise noted, all recipes are copyright Clotilde Dusoulier.