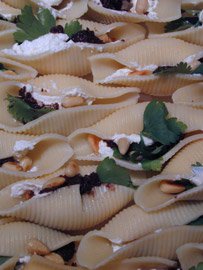 [Pasta Shells Stuffed with Ricotta and Tapenade]
Last Tuesday, my sister Céline and I met for lunch. The plan was to eat at Rose Bakery, but it was closed for the holidays, so we went down the rue des Martyrs to Fuxia instead, a really nice Italian restaurant, hip yet friendly, where we had truly excellent salads. After that, we spent the afternoon strolling around the neighborhood, enjoying the unexpectedly sunny weather, and running various errands, which culminated in the buying of great fabric and crafts material at the Marché St Pierre, a huge discount fabric store at the foot of the Sacré-Coeur.
At one point, we went into a little store that the Fuxia people just opened, an Italian fine goods store and trattoria called Fuxia l'Epicerie. It's open everyday till 10 pm, and sells a variety of Italian goodies (pasta, biscotti, condiments and the like) as well as freshly made antipasti and main dishes to go, which you can also eat at the small counter – comptoir de dégustation. Nice.
From one of the shelves, I distinctly heard a pack of conchiglie, big shell-shaped pasta, calling my name with their many little voices. Hmm, thought I. Stuffed shell pasta! Great finger food for the new year party! Back home, I took out a cookbook in which I remembered seeing something like this, but the recipes, though nice, didn't appeal to me very much at the time (chicken-tomato, salmon-dill and ham-béchamel), so I made up my own.
Coquillages Farcis Ricotta et Tapenade
– 30 big pasta shells
– 250 g ricotta
– 100 g black tapenade
– 40 g pinenuts
– a little bunch of fresh herbs — I used parsley and cilantro
(Makes 30 pieces.)
In a large saucepan, bring some salted water to a boil, dump the pasta in, and cook the shells al dente, mine took about 8 minutes. Drain, rinse under cold water to halt the cooking, and drain again. You can cook the shells ahead to assemble later, in which case it's best to leave them in a bowl of cold water to prevent them from sticking together.
Prepare the fillings. Toast the pinenuts in a dry skillet, set aside. Wash the fresh herbs, dry and keep the leaves only (I've read that the discarded stems can be used to flavor soups or sauces). Set aside. Beat the ricotta with a spoon to fluff up a bit, leave the spoon in. Open the tub of tapenade and stick another spoon in it. Prepare a dish to put the shells on.
Assemble the shells : take a shell in your left hand, curled lip to the right, holding it open with the heel of your palm and your fingers. With your right hand, take a walnut-sized spoonful of ricotta, put it inside the shell, using the curled lip to scrape the ricotta. Add a hazelnut-sized spoonful of tapenade. Put one or two leaves of herb in, sprinkle a few pinenuts on top, and deposit the shell on the dish. The shells should be arranged close to one another to help them stay upright.
In addition to being pretty and intriguing, this is a great finger food, fresh and tasty. The flavor and texture combination is delicious. It's also amusing, as you pass the plate around, to watch your guests assess the size of the shells, and opt for a one-bite or a two-bite strategy. Either way, the next step is likely to be an exclamation of delight.
Fuxia
25 rue des Martyrs
75009 Paris
01 48 78 91 64
L'Epicerie Fuxia
51 rue des Martyrs
75009 Paris
01 48 78 07 50
Marché St Pierre
2 rue Charles Nodier
75018 Paris
01 46 06 92 25