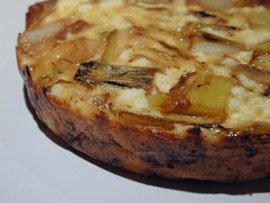 Food never tastes as good as when you are really hungry. And although the temptation is strong to just grab and scarf down the first thing that crosses your path (tasty or nasty, edible or otherwise), it's a much better move to resist the urge, and pay attention : what does your stomach yearn for, what appeals to you the most, what would really fill that void, hit the spot?
If you do that, and if the demands of the grumbling monster inside can be reasonably met (I mean, sure, I want caviar too), this is when food tastes best.
When I found myself in that situation the other night, I opened the fridge, and spotted a bunch of leeks that needed to be used up (mmmm, leeks!), the opened package of ricotta (oooh, ricotta!) and a few eggs (yum, eggs!). I put a hand on my stomach and murmured : "Ricotta and Leek Frittata? How does that sound?". A long, guttural growl of approbation echoed. I immediately got to work.
Sure enough, instant gratification it is not – but do you really see me running down the street to Le Mac Do? However, I have also found that once I let the monster know it shall be fed, once it sees I am indeed busying myself to do just that, it usually calms down and keeps quiet until the food is ready.
In passing, frittata means omelette in Italian (the stress is on the first syllable). I'm sure some of you can tell me more about the real way the Italians do it, but what is commonly called frittata outside of Italy is an oven-baked omelette : you usually start it in an oven-proof skillet, and then you flip it and put it in the warm oven to finish cooking. I skipped the skillet step, and I guess what I made could be considered a crustless quiche, but calling it a frittata is much more fun.
Besides, who could possibly resist the pleasure of saying…
"La frittata è fatta!" *
* An expression which means – I am told – "that's torn it!", "the damage is done".
Leek and Ricotta Frittata
– 5 medium leeks
– fresh herbs of your choice (parsley, chives, …)
– 4 eggs
– 100 g ricotta
– salt, pepper
– piment d'espelette or red pepper flakes
(Serves 2.)
Wash the leeks, discard the ends and the tough green leaves, and chop into small logs. Heat up a little olive oil in a large skillet, add the leeks, sprinkle with salt and pepper, and cook over medium heat for about 15 minutes, covered, until softened, stirring occasionally.
Preheat the oven to 200°C (400°F). Line the bottom of a small cake or tart pan with a circle of parchment paper and grease it lightly.
While the leeks cook, rinse the fresh herbs under cold water, dry them with a paper towel and chop them. Beat the eggs with the ricotta in a medium mixing bowl. Add the chopped herbs, a little salt and pepper, and piment d'espelette to taste.
When the leeks are cooked, add them to the egg mixture, and stir to combine well. Pour in the pan and bake for 15 to 20 minutes, until a little puffy and golden, but not completely set.
Cut in two, and enjoy with a slice of bread. This can be served hot right out of the oven, but also cold, or at room temperature, as part of a brunch buffet.