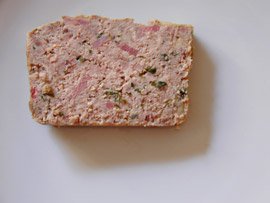 [Ricotta Meat Terrine]
I have a file of recipes I've clipped out from the numerous cooking magazines I read. When I'm trying to come up with a menu, this is my number one source of inspiration : I like leafing idly through the colorful pieces of paper in all shapes and sizes, I like the patchwork pattern they form, and how as a whole they reflect my cooking tastes and interests.
And somehow, since I often go through that file, I've gotten to know it and its contents quite well, and you could say that it has become one of my most trusted cookbooks. It does lack a sturdy binding, but its annoying ability to spill out and scatter all over the couch is certainly part of the charm.
The interesting thing is that many of those clippings have acquired a flavor and a personality of their own. And among these, is the particular group of the almost-made-its, those recipes I have really and sincerely considered making and almost elected numerous times, but that never quite made it into a selection, because something more glamorous or shiny was demanding my immediate attention.
This terrine belongs to that category : it had been in my file for a while, out of a Biba article on "mozzarella, ricotta & co.". I had often considered it for its appealing concept, but for some reason had never quite gotten to trying it. Until my birthday party that is, when I realized that my menu was dangerously bordering on the vegetarian, and I needed to balance it out with some kind of animal protein, in order to please everyone. I also liked the idea of a terrine, which can and should be made some time ahead, a convenient trait when you're planning a party.
And the little terrine delivered, I think, and proved worthy of the chance I finally gave it : it was pleasantly moist from the ricotta, tasty from the different kinds of meat and herbs, and well-seasoned, which is always a challenge with terrines as you can't very well taste the raw mixture. It also lent itself nicely to being cut in cute little cubes and passed around to the hungry crowd.
Terrine de Viande à la Ricotta
– 500 g ground veal
– 100 g ground pork
– 100 g ham, diced
– 150 g ricotta
– 50 g grated parmesan
– 2 eggs
– two handfuls of mixed fresh herbs, rinsed, patted dry and chopped
– 1 tsp salt
– 2 pinches of nutmeg
– freshly ground pepper
– a dab of butter to grease the loafpan
Preheat the oven to 180°C (360°F).
In a medium mixing bowl, whisk together the ricotta, eggs, nutmeg, salt and pepper. Add in the meat, the chopped herbs and parmesan, and mix it all with a fork until thoroughly combined.
Grease a small loafpan or terrine dish with butter, and pour in the meat mixture. Cover with the terrine dish's lid if there is one, or with foil, and put into the oven to bake for about 30 minutes. Take out the dish (leave the oven on) and remove the cover : the terrine should still be light in color, it should have shrunk in size, be firm to the touch, and the juices should run clear : if not, cover again and put back into the oven for five to ten more minutes.
Remove the terrine from the terrine dish or loafpan, and transfer it into a baking dish. Return into the hot oven, and leave for another 20 minutes, flipping and turning the terrine every once in a while to make sure all sides are golden.
This can be served warm right away, but it is better to let it cool completely, then wrap it tightly in foil or plastic wrap and let it rest overnight or for two days. As with all meat terrines, this will allow the flavors to develop fully.
When ready to serve, cut the terrine in slices and serve cold or at room temperature with a salad. Alternatively, cut in cubes and serve as a finger food, possibly skewered on a little toothpick, with a cherry-tomato half and/or a small piece of cheese.