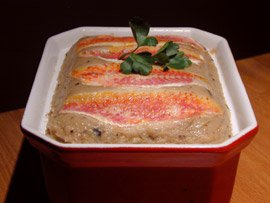 [Goatfish Terrine]
Every once in a while I get cooking cravings – the sudden desire to tackle a new sort of dish or technique. About six months ago, I decided I really needed to try and make terrines. I promptly bought myself a little recipe book, simply called "Terrines", by Catherine Quévremont. It contains thirty easy and tempting recipes of meat, fish or vegetable terrines, and even a couple of dessert terrines.
I then embarked upon the difficult quest for the perfect terrine dish. I wanted a rectangular one, so the slices would all be of equal shape and size, with a lid. I thought this a simple need, but apparently, it was not. I combed every kitchen store in the city and found an impressive array of terrine dishes in all shapes and sizes : oval with a lid, yes. Rectangular with no lid, no problem. But rectangular with a lid? Not a single solitary one. Thankfully, I went to spend a few days with my parents in the Vosges (a mountain range in the East of France), and a visit to the incredibly resourceful Catena store (simple concept : they have everything) ended the search by way of a beautiful bright red ceramic terrine dish with a lid. I was so happy I threw in silicon molds to make financiers and a cool zester, too.
My terrine-making urge first produced a meat terrine for a picnic at the Buttes-Chaumont (terrine d'agneau aux fruits secs et aux épices — a spiced lamb terrine with dried fruits), then a vegetable terrine for a luncheon with Maxence's mom and grandparents (ratatouille en terrine — a layered terrine with zucchini, eggplant, tomato, arugula and tapenade). Although somewhat time consuming, especially the veggie one, they were both fun to make and I was very happy with the way they looked and tasted.
The food at our new year's eve party was going to be served buffet-style, and I thought a terrine would be a good idea. I wanted to make a fish one this time, and my book had a recipe for a goatfish terrine that looked really good, so this is what I set about to do, making a few modifications here and there. The recipe relied on the potatoes only to hold the terrine together, but I found that this made the final product a bit messy to serve, as the slices sort of collapsed. So the recipe below is the one I would use next time, using gelatin to help the terrine hold its own.
Terrine de Rougets
– 500 g goatfish (about 16 fillets)
– 2 fennel bulbs
– 2 onions
– 4 firm-fleshed potatoes (I used the Roseval variety)
– 2 TBSP black tapenade
– 4 sheets of gelatin
– olive oil
– salt, pepper
(Needs to be prepared a day ahead. Serves 12.)
Cut the fennel and onion in small chunks. Heat up some olive oil in a large skillet, add the chopped vegetables, season with salt and pepper, and cook slowly until soft, about 30 minutes.
Put the potatoes in a saucepan of cold salted water. Bring to a boil, and let simmer for about 20 minutes, until the potatoes are thoroughly cooked (a knife inserted in the middle will meet no resistance). Let the potatoes cool, then peel and dice them.
In a large skillet, heat up some olive oil, and lay the fish fillets in one layer, skin side down. Season with salt and pepper. Cook for a few minutes, then flip cautiously (you want to keep the skin intact, at least for four or five of them) and cook for a few more minutes, until the fish is thoroughly cooked, but not dry.
The steps up till this point can be made a few hours ahead, but once you start adding the gelatin, the terrine has to be assembled.
Put the sheets of gelatin in a bowl of cold water for 5 minutes to soften. Press dry with your hands. In a food processor, mix together the fennel mixture, the potatoes, the tapenade and the gelatin. Adjust the seasoning to your taste.
Set aside the four or five most beautiful of your fish fillets. Oil the sides and bottom of a terrine. Arrange a layer of fish, skin side down, at the bottom. Spoon some filling over in an even layer, pressing gently to fill all the space. Repeat with the rest of the fish and the filling, ending with a fish layer made with the fillets you set aside.
Cover the surface with plastic wrap, and cautiously press down, using the lid of your terrine if it has one, or any flat and heavy object you have on hand (your boyfriend's vintage Macintosh Human Interface Guidelines book is not a good option). Put the terrine in the fridge, weigh it down with as much stuff as fits on top. Let rest at least overnight, a whole day is better. Ten bad points if you peek.
Decorate the terrine with a little parsley sprig, make sure all your guests (the ones who care) have seen how nice it looks, then cut and serve it in slices, using a serrated knife that will "bite" into the fish fillets without pressing them down too hard. Serve with a salad and some crusty baguette.
I got a lot of compliments about this terrine, it is very sophisticated in both looks and taste, and was even better as leftovers over the next couple of days. I will definitely make this and other fish terrines again!