Longtime readers may remember the post I wrote about sustainable seafood a few years ago. The issue is still very much at the forefront of my mind, I carry around the pocket seafood guide issued in French by the WWF (check this list for your local equivalent), and I generally eat little fish — meaning both "not a lot of it" and "not very big ones".
I'm not perfect, and although my conscience tells me I should give it up, we still go out for sushi (we like Enishi in the 18th) once in a blue moon — versus every week or two, as we used to in our oblivious days.
But when I buy fresh fish at the greenmarket, maybe once a month on average, it is usually one of two green-checkmark choices in the WWF guide*: either sardines, provided the poissonnier has filleted them, opening them up flat like tiny prayer books with tails, or mackerel.
My go-to cooking method for mackerel is to roast it in the oven, which is the simplest and most foolproof way to cook whole fish.
The mackerel I buy whole, and take up the fish guy's offer to gut it for me. ("Gratté vidé ?" is the standard question you'll be asked in a similar situation; "Oui, s'il vous plaît !" you'll respond.). He also gives the option of keeping the heads on or having them cut off, Louis XVI-style, but to me a whole fish is a whole fish, and I've never been squeamish about my dinner looking me in the eye.
My go-to cooking method for mackerel is to roast it in the oven, which is the simplest and most foolproof way to cook whole fish.
Sometimes I'll merely place the fish in a dish with a drizzle of olive oil and a glug of white wine, but my preference for mackerel goes to rubbing it with strong mustard, which heightens its flavor, and roasting it on a bed of vegetables.
The trick is to pick vegetables that will be ready in about the same time as the mackerel, and an excellent choice for that is fennel, sliced into shavings with a mandoline: as it cooks in the fish juices, it becomes tender and moist but still retains a little bit of snap. Fennel is a winning pairing for any fish, but its subtle aniseed notes work particularly well to round out the mackerel's assertive flavor.
What's your favorite way to prepare and cook mackerel?
* Provided they come from the northeast Atlantic; sardines from the Mediterranean are in the "not recommended" category. There is, however, new concern about the stocks of mackerel due to a dispute over fishing quotas between the EU and Iceland. Conservationists are now leaning toward an "eat occasionally" recommendation.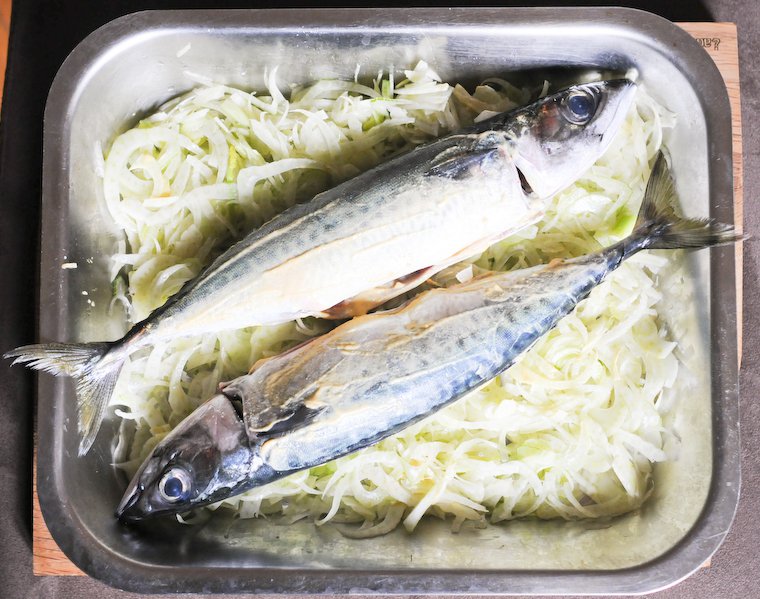 Have you tried this? Share your pics on Instagram!
Please tag your pictures with #cnzrecipes. I'll share my favorites!
Roasted Mustard Mackerel with Fennel Recipe
Ingredients
2 whole fresh mackerels, gutted
2 teaspoons strong Dijon-style mustard
2 sprigs of thyme, preferably fresh
450 grams (1 pound) fennel bulbs, about 2 medium
1 shallot, peeled (substitute a quarter of a medium onion)
fine sea salt
olive oil
3 tablespoons white wine (substitute 3 tablespoons water)
steamed rice, for serving
lemon juice, for serving
Instructions
A couple of hours before you begin, rinse the fish under fresh running water, and pat dry. Spread each fish, inside and out, with a teaspoon of mustard. Place a sprig of thyme inside the cavity. Reserve in the fridge.
Preheat the oven to 180°C (360°F).
Trim the stems off the fennel bulbs and save in the freezer for your next stock-making session. Using a mandoline or a well-sharpened knife, slice the fennel very thinly. When you get close to the tougher core of the fennel, it may be harder to feed through the mandoline, so push it at an angle then, and be very careful not to slip. Slice the shallot thinly in the same fashion.

Combine the fennel and shallot at the bottom of a baking dish that's large enough to accommodate the fish. Sprinkle with salt, and drizzle with olive oil and the white wine. Arrange the fish on top of the fennel.
Bake for 20 minutes, until the fennel is cooked but still retaining a bit of crunch, and the fish is cooked through: to make sure, cut a slit through the thickest part of the fish down to the bone, and check that the flesh separates easily from the bone.
Serve immediately, with rice and a touch of lemon juice.
https://cnz.to/recipes/fish-shellfish/roasted-mustard-mackerel-with-fennel-recipe/
Unless otherwise noted, all recipes are copyright Clotilde Dusoulier.