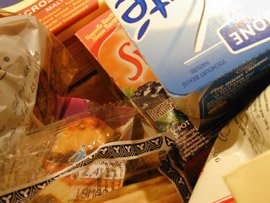 With the amount of food shopping I habitually engage into, you'd think I would know better than to go to the grocery store with my stomach rumbling so loud it could be heard over the loudspeakers' cheesy music.
Having come in with the intention to buy just plain yogurts to start a batch of homemade ones, I managed to walk away with two other types of yogurts, my favorite Krisprolls (the "Special" flavor with sunflower seeds), two different gâteaux au fromage blanc (the French cheesecake, light and moussy), malt swirl crackers, chocolate covered biscuits, the crêpes and the little pains au lait Maxence likes for breakfast, and a loaf of raisin bread. Can you tell it's carbs I crave when hungry?
I am always very curious of what other people are buying, and waiting in line at the register is no hassle to me : it just gives me plenty of time to study, with sideway glances, the contents of the baskets and carts around me. It's a fascinating window onto people's lives, and I love to imagine what it suggests about them : whether they're grazers or bulk eaters, who they may be throwing this party for, what recipe could possibly involve buying five boxes of pink lentils, and how many kids it will take to eat all those packets of Petit Beurre.
And then when my turn comes to unload my purchases on the conveyer belt, I try to have the same kind of remote look (it's only fair) and wonder what they say about me. Usually an excellent indication of the mood I'm in at the time, it's interesting to see on which side the selection leans more heavily : Chocolate or Zucchini?