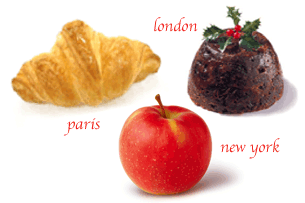 No one needs to be reminded that food is an essential part of the holiday celebrations, and for this second part of our tri-city series, let me recommend a few places to eat some of the delicacies that epitomize Christmas in Paris.
Oysters!
A traditional treat to open a holiday feast is the platter of oysters, freshly delivered from the ocean and freshly opened by whoever is brave enough to risk slashing his left palm open. Oysters are most often served in the shell on a bed of crushed ice — although some purists argue that this dulls their flavor — with thin slices of rye bread, salted butter, and lemon juice. Besides the many classic Parisian brasseries which proudly display their selection on sidewalk stands, a good place to eat oysters is L'Ecaille de la Fontaine in the 2nd. It is owned by the über-famous actor Depardieu, who also operates La Fontaine Gaillon, just a few steps away. L'Ecaille is the marine annex to this pricier venue, and offers a daily selection of ultrafresh shellfish and related dishes. Their oysters can be tasted in the 19€ formula (9 oysters, a dessert and a glass of wine) or in the larger variety platter (62€ for 2). The restaurant is closed on Dec. 24 and Dec. 25, but they will be open for New Year's Eve with an 80€ menu (make your reservation asap).
L'Ecaille de la Fontaine
15 rue Gaillon, 75002 Paris
01 47 42 02 99
Closed on Sat-Sun.
Game!
The hunting season officially opens in early September and closes in late February. Regardless of how you feel about hunting — a higly controversial topic, I know — the discerning palate will appreciate the unique flavors that game provides, whether it's deer (daim or biche), boar (sanglier or marcassin), wild ducks (col-vert or sauvageon) or other birds (palombes or cailles). Two excellent restaurants feature those animals prominently on their seasonal menus: Chez Michel in the 10th, which mainly focuses on Brittany-inspired cuisine, and L'Ami Jean in the 7th, a South-West gastro-bistro.
Chez Michel
10 rue de Belzunce, 75010 Paris
01 44 53 06 20
Closed on Sat-Sun and Mon. for lunch.
L'Ami Jean
27 rue Malar, 75007 Paris
01 47 05 86 89
Closed between Dec. 24 to Jan. 3.
Bûches de Noël!
"Christmas logs" are the typical dessert to end a holiday meal. Traditionally topped with super-kitsch plastic decorations that children will noisily fight over — little Santas, dwarves or raindeers, tiny sleds or saws — they are either made of ice-cream (bûche glacée) or with sponge cake and buttercream. Any corner pâtisserie will offer a selection over the holiday season, but if you want to go the haute-couture route, you can opt for one of the six different bûches that will be available from Pierre Hermé boutiques starting on Dec. 19: Azur (chocolate and yuzu), Dune (praline and pistachio), Envie (blackcurrant, violet and almonds), Ispahan (raspberry, rose and litchi), Plénitude (chocolate and caramel) or Sarah (chestnuts, green tea and passionfruit), these are log versions of some of the delicious cakes from his fall/winter collection. I recommend the Vaugirard location, much less crowded than its Bonaparte counterpart — and while you're at it, try the new chestnut and dog-rose macaron which will make its appearance on Dec. 10.
Pierre Hermé
185 rue de Vaugirard, 75015 Paris
01 47 83 89 96
or 72 rue Bonaparte, 75006 Paris
01 43 54 47 77
(The bûches cost 30€ for 3/4 people, 52€ for 6/8.)
Chocolate!
If you ask me, the whole point of the holidays is to guiltlessly eat large amounts of quality chocolate bites. Patrick Roger is not the best known chocolate maker in Paris — probably because his first shop was in Sceaux and he didn't open his Paris location until recently — yet true connoisseurs include him without hesitation in their list of top chocolate artists. He is a talented chocolate sculptor, and he likes to offer a new take on classics by playing with unexpected flavor combinations, which earned him the distinguished title of Meilleur Ouvrier de France in 2000. In his Saint-Germain-des-Prés boutique, where the staff is very friendly and the heady scents will knock you right over, you'll likely have trouble deciding what to get — ganaches, pralines, orangettes, truffles or simply tablettes — but whatever you choose you will be pleased with your selection, neatly arranged in the signature green ballotin. Over the holiday season, starting on Dec. 10, don't miss his delicious fir-trees made of chocolate, caramelized almonds and orange rind.
Patrick Roger
108 bd St-Germain, 75006 Paris
01 43 29 38 42
Chestnuts!
Few smells evoke Christmas to me like that of roasted chestnuts, bought from sidewalk stands. Paris is not really a city of streetfood — Parisians like to sit down for their meals — but crepes and roasted chestnuts are a notable exception. While the former are available year-round, the latter sprout up as soon as the weather gets chilly, especially on busy boulevards in the vicinity of department stores. The chestnuts are roasted on crude metal drums until tender, and for a euro or two you will get a nice serving — piping hot — in a paper cone, which you can peal messily and gobble up while you resume your shopping. And if you prefer glazed chestnuts, the above-mentioned Patrick Roger and Pierre Hermé offer superior ones, freshly-made and heavenly.
Note: For more restaurant choices, Le Guide du Fooding — to which I contributed with the 4th arrondissement reviews is now available online (in French).