Inspired by a recent episode of the Happier podcast on the most valuable advice listeners had ever been given, I put out a call on Twitter and Facebook for Chocolate & Zucchini readers to share the best cooking advice they have ever received.
Here are the 40 nuggets of wisdom that resonated with me the most. Thank you so much to everyone who contributed, and please add your own best advice in the comments!
On Cooking
Your hands are the most important tool in the kitchen. (Mark)
Buy the best ingredients and utensils you can afford.
Always use a bigger bowl/pot/cutting board than you think you need. (Susannah)
Always be tasting.
Clean up as you go.
"There's flavor in the brown!" by Carla Hall (Kristen)
Botching up a recipe is actually a great way to learn and do better next time. (Camille)
Use a recipe as a guide, and make it your own. (Bea)
Invest in good knives and treat them well. (Catherine)
Keep it simple. Don't drown great food in unnecessary sauces — unless you screwed up and need to hide the evidence. (Elaine)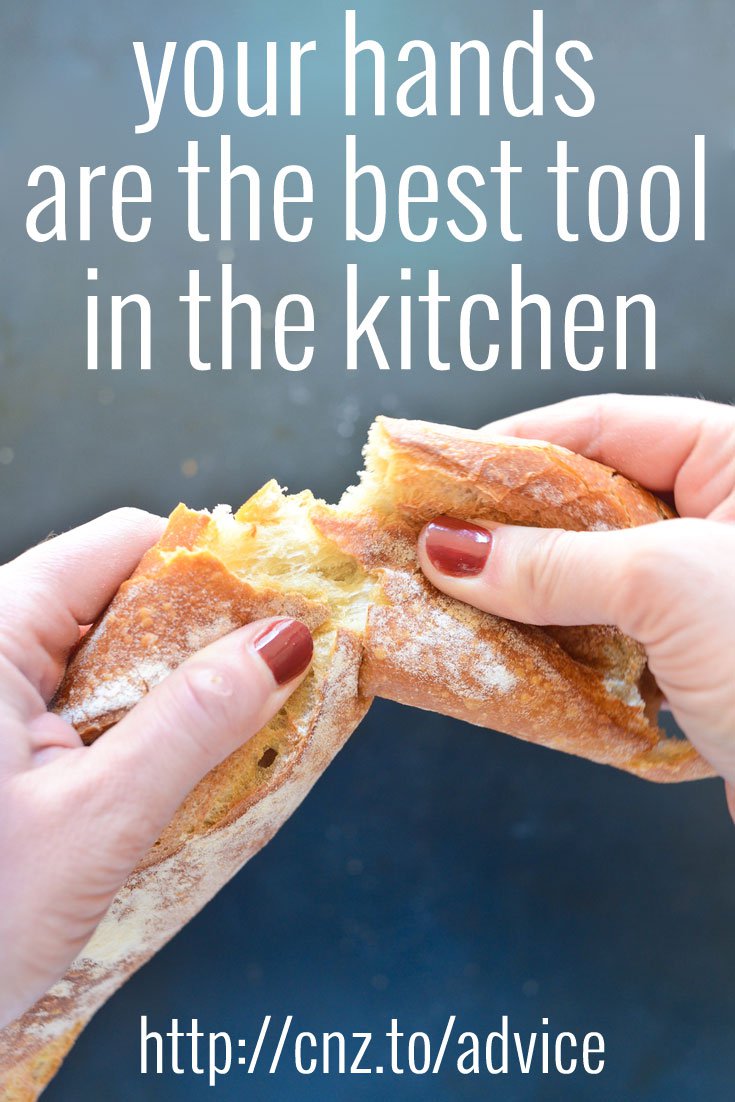 If you can read, you can cook! (Annabel)
Trust your senses: instead of relying on a timer, learn to hear the just-done sizzle, smell the toast from the nuts, and see the crust forming — it will add to your joy of cooking. (Ruth)
Favor fresh, local produce. (Hailles)
Don't cook with wine you wouldn't drink. (Mike)
Think of "agak agak" (literally, "more or less") — a Malaysian term for cooking with intuition. (Vermillion Roots)
Don't add too many ingredients, the fewer and the simpler the better. Three main flavors are enough for a single dish.
Add spices sparingly: you can always add, but you can't take away. (Gill)
Learn the beauty of mise en place. (DeVonna)
Don't use maximum heat except to boil water. (Avril)
It's amazing how a little sea salt makes almost anything better — especially vegetables! (Jenna)
Grow your own herbs, fruits, and vegetables — it gives you a deeper understanding of food, its seasons, and its flavors. (Frances)
Don't be afraid. (Margaret)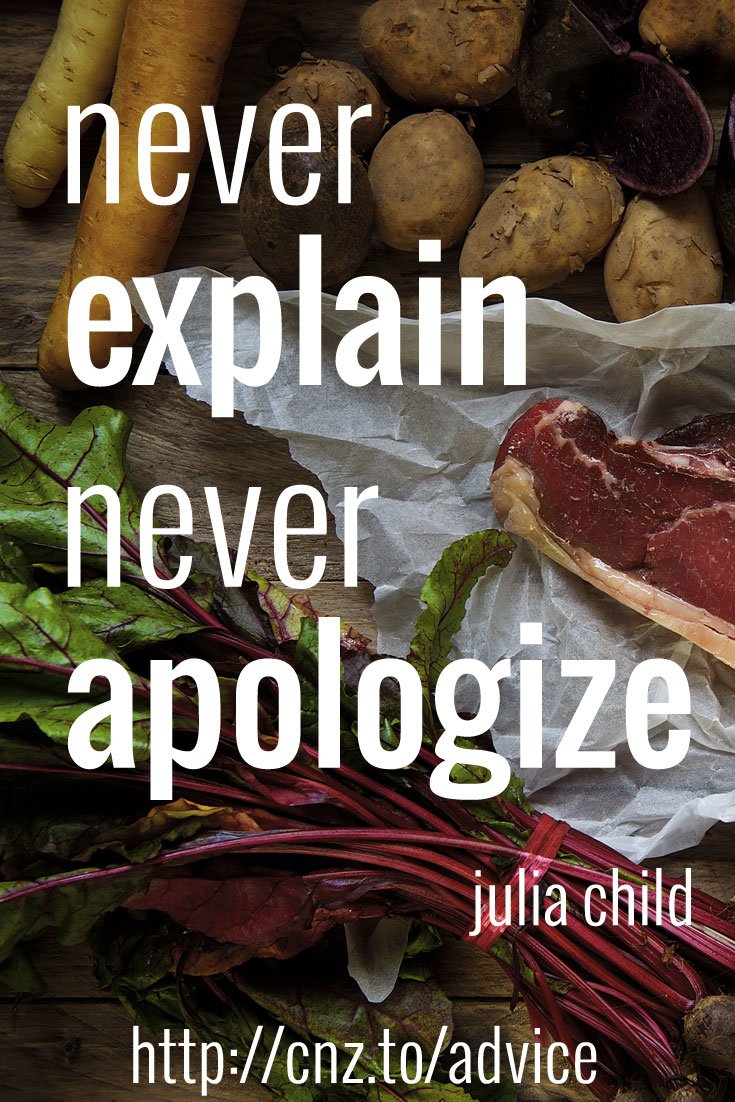 On Entertaining
Never explain; never apologize. (Julia ;)
Nice people make up for horrible food; nice food doesn't make up for horrible people. (Bren)
Always give yourself extra time. Always. (Alyce)
Create a feeling of abundance so guests feel like they can indulge in seconds. (Shannon)
Make dessert first! (Ray)
Serve just enough of something to make people want more, not so much that their palate gets tired of it. (Joyce)
Cook with your guests' tastes in mind.
Never serve something you would not eat yourself. (Gill)
Stop fussing and start relaxing at least 15 minutes before people arrive. (Steph)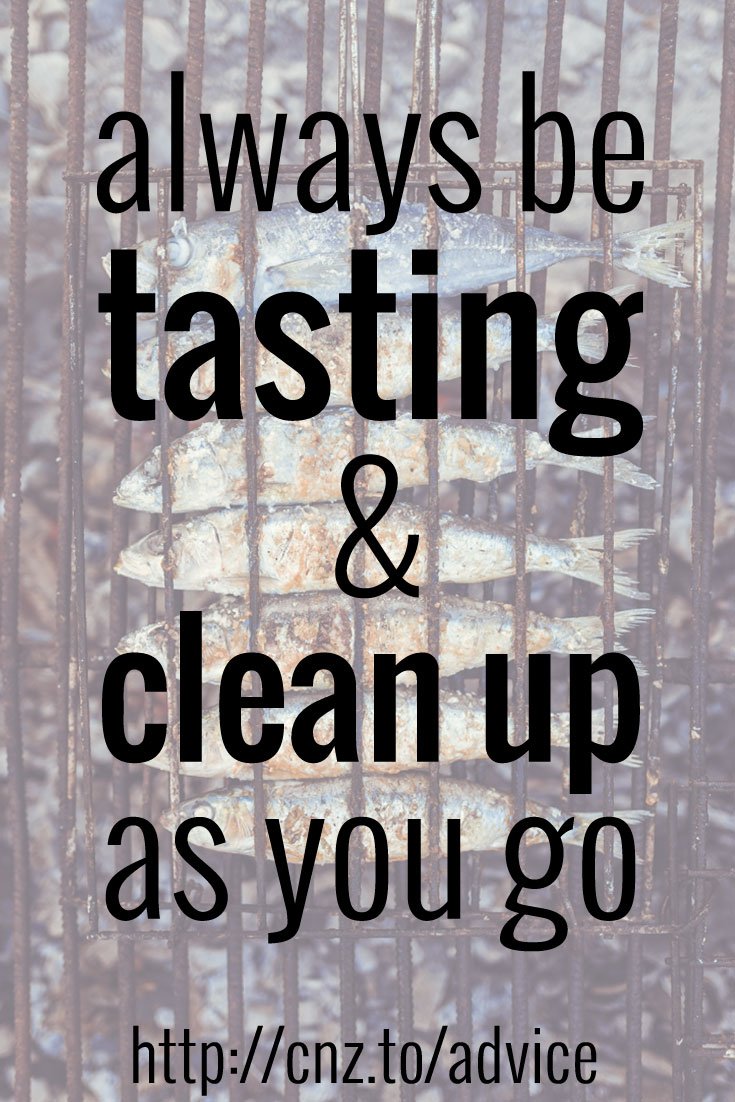 Prepare all your ingredients in advance and plan out the timing of each dish. Once you start cooking you don't need chaos and distractions. (Bud)
Aim for a few dishes that don't have to be served hot out of the oven, that can sit around for a while or be reheated. (Giulia)
Always keep a well-stocked bar and serve great wines. (Blaise)
Don't use untested recipes. (Katherine)
[Or] Use entertaining as an opportunity to try new recipes, and make too many items. (Betsy)
Presentation is key; take the time to garnish and wipe edges of plate clean. (Pola)
Make sure you have complementary colors on your buffet and in your dishes. (Ingrid)
When buying dishes always consider how they'll look with food on them (imagine spaghetti). The last thing you want is to have your cooking undermined by plates trying to steal the show. (Kat)
Cook with love. (Barbara)
Pay it forward
Do you know a budding cook who would benefit from this cooking wisdom concentrate? Please share this post!