Do you know what Otium means? Otium is the Latin word for virtuous leisure, a time free of obligation that is spent in contemplation, and the cultivation of one's spirit.
This is a concept that resonates with me deeply, as I have become more and more interested in personal development and mind management these past few years, a passion that has led me to create a podcast and a life coaching practice, for which I am about to get certified.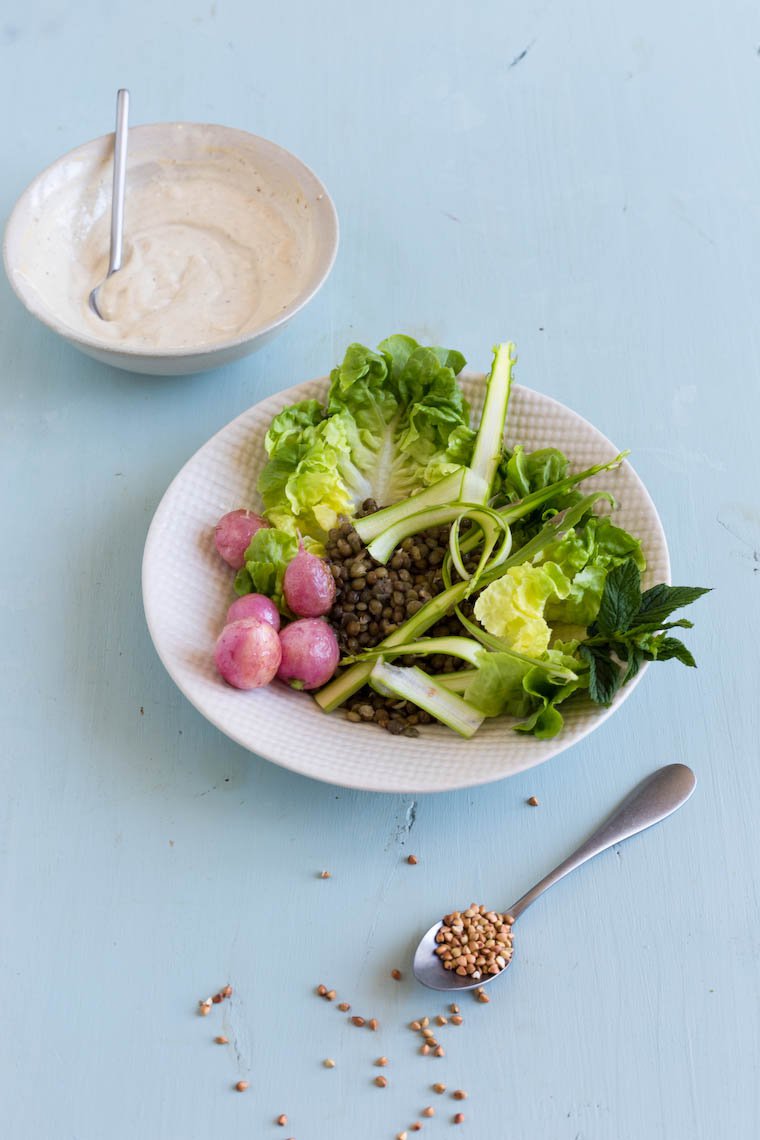 Otium is also the name of a small vegetarian café in the 9th arrondissement of Paris, in the SoPi neighborhood (more about that here), on rue de La Rochefoucauld, a seventeenth-century writer who is known for clever maxims that would certainly keep your mind productively occupied during your otium time.
I first stumbled upon it some months ago, and thought the space stylish and the food very very good. And because it isn't far from my shared office space, I occasionally treat myself to a bowl of something that will keep me energized and blush-cheeked, such as this here salad I loved so much on a recent spring day.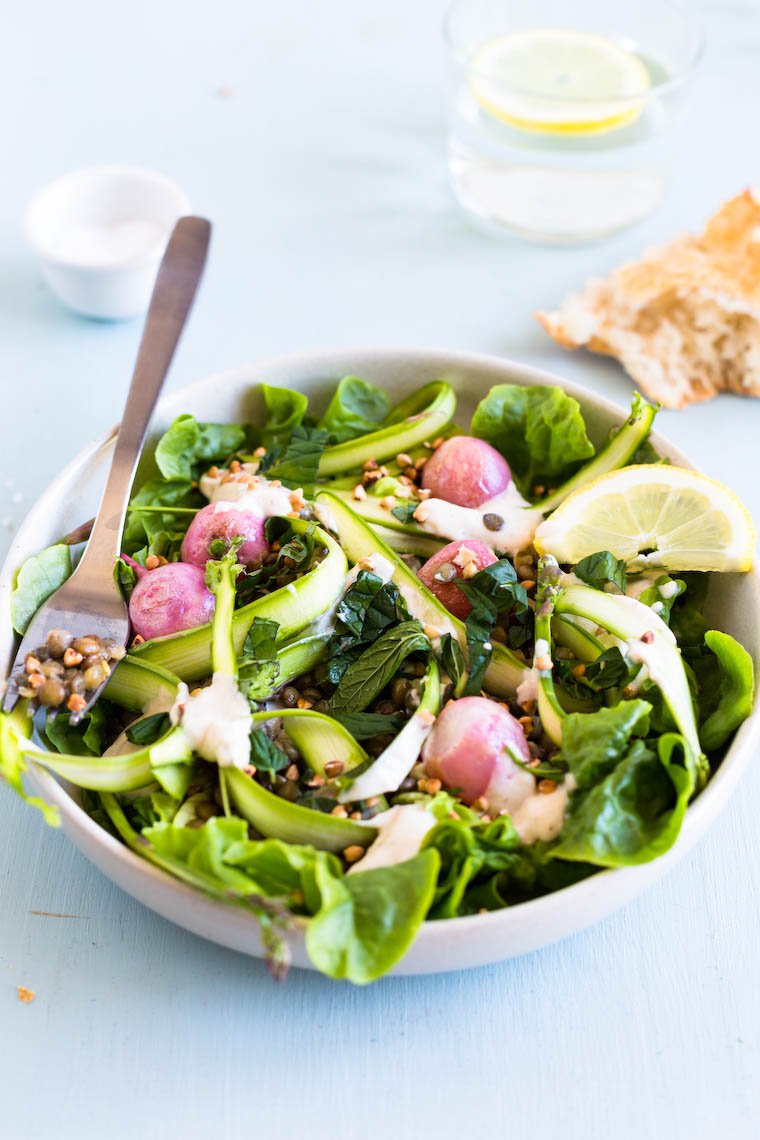 I call this Otium Salad because it's the recipe I came up with inspired by that day's salad, and I don't know a more appropriate name to call a green salad topped with roasted radishes, shaved asparagus, lentils, toasted buckwheat, mint, and a lemony yogurt dressing. So I just think of it as my salade otium, and invite you to do the same.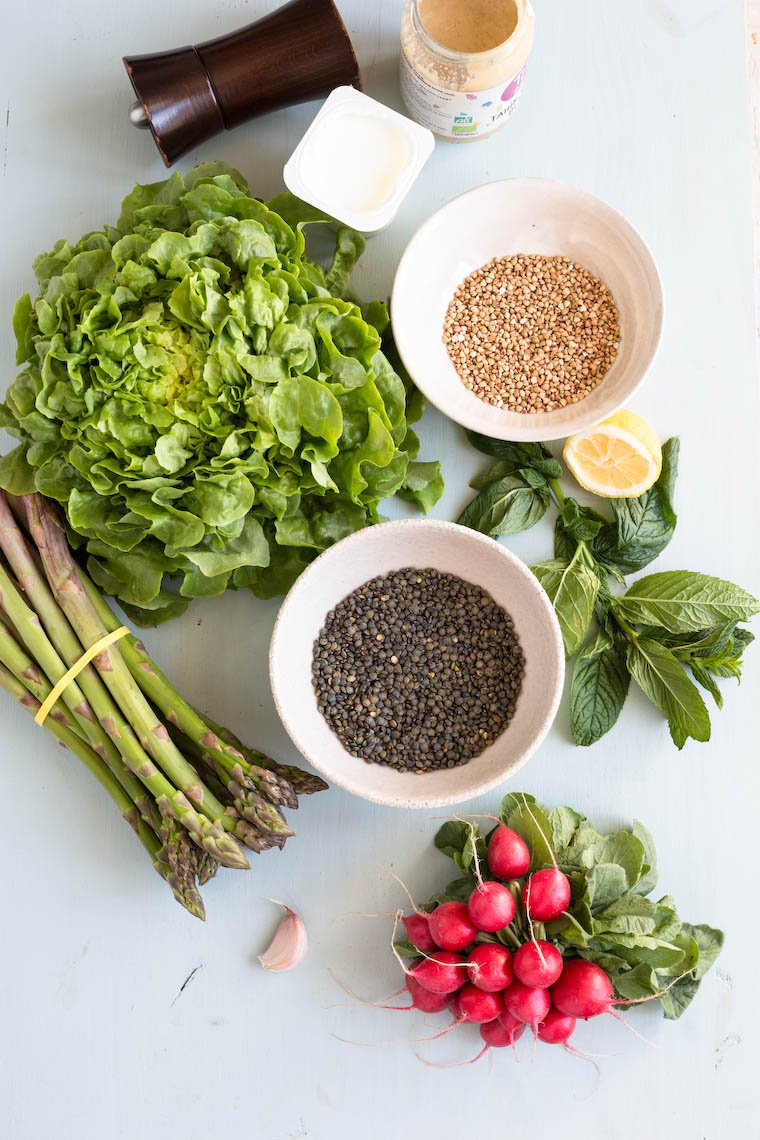 It is not a signature salad of theirs exactly, since their offerings change every couple of weeks, but it is in their signature style: all organic, all fresh, simple and generous, with a judicious balance of flavors and textures, raw juxtaposed with cooked.
One of the clever tricks of this salad, I will note, is that it features roasted radishes (usually eaten raw) and raw shaved asparagus (typically eaten cooked) so it feels both familiar and surprising.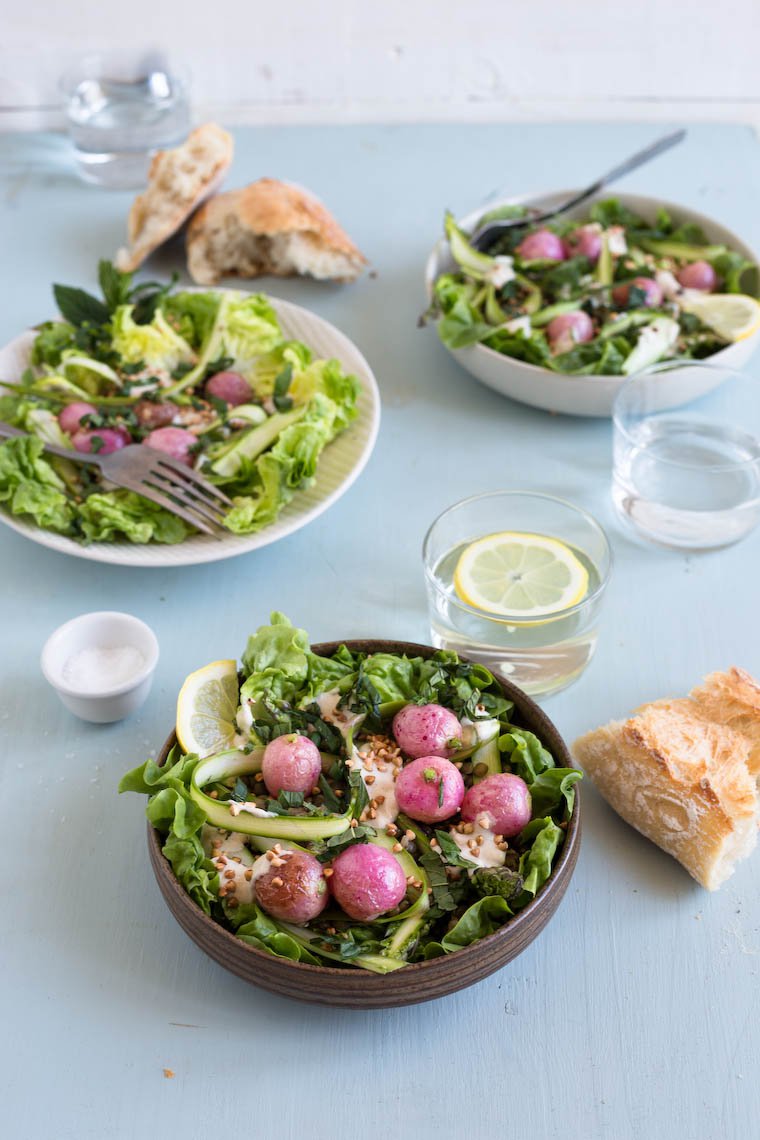 It is the kind of salad you want to take selfies with; the kind of salad I would gladly live on, and do. Nothing fussy about it, either. Just an inspired mix of bright, springtime flavors I might not have thought to combine in this way, but totally made sense when I did.
Will you try it?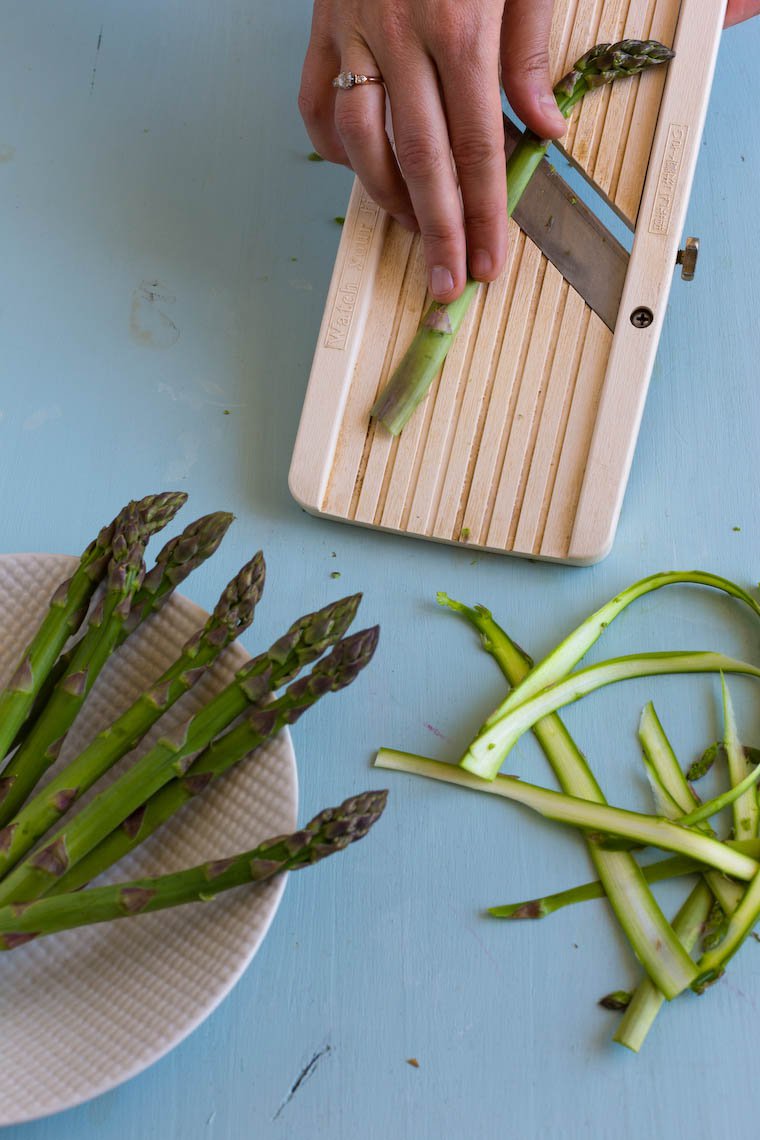 Photography by Céline de Cérou.

Have you tried this? Share your pics on Instagram!
Please tag your pictures with #cnzrecipes. I'll share my favorites!
Otium Salad with Roasted Radishes and Shaved Asparagus Recipe
Ingredients
100 g (1/2 cup) uncooked green lentils, rinsed
1 head of lettuce
A dozen red radishes
8 spears green asparagus
4 tablespoons raw, untoasted buckwheat groats (the pale greenish ones)
8 mint leaves, chopped
Fine sea salt, freshly ground black pepper
Olive oil

For the lemony yogurt dressing:

125 ml (1/2 cup) plain unsweetened yogurt
2 tablespoons tahini
1 tablespoon lemon juice
1 clove garlic, pressed through a garlic press or finely chopped
Fine sea salt, freshly ground black pepper
Instructions
The day before, place the lentils in 300 ml (1 1/4 cups) cold water, bring to a simmer and cook for 20 minutes, until the lentils are tender. Drain, rinse and season with 1/4 teaspoon fine sea salt. Refrigerate in an airtight container until the next day.
On the day, preheat the oven to 200°C (400°F) (see Note). Arrange the radishes on a rimmed baking sheet. Drizzle with olive oil and sprinkle with a pinch of salt, insert in the oven and roast for 10 to 20 minutes, depending on the size of your radishes, until they are cooked through and tender.
Make the yogurt dressing. In a mixing bowl, combine the yogurt, tahini, lemon juice, pressed garlic, a pinch of salt and pepper, mixing well. Stir in just a little water, if needed, to get a creamy but pourable sauce. Taste and adjust the seasoning. (The dressing can be prepared up to a day ahead, and kept in the fridge in an airtight container.)
Wash the lettuce and dry carefully in a salad spinner then a clean kitchen towel.
Toast the buckwheat in a dry skillet, stirring frequently, until the groats are lightly brown.
Trim the bottom of the asparagus, just to remove the woody part. Using a mandolin slicer or a vegetable peeler, shave the stalks lengthwise into long, thin ribbons.
Assemble the salad in 4 shallow bowls. Arrange the lettuce leaves first, then divide the cooked lentils, roasted radishes, asparagus ribbons, and chopped mint. Add a drizzle of yogurt dressing, sprinkle with the toasted buckwheat, and serve.
Notes
You can cook double or triple the amount of lentils and freeze the extra.
You can add one poached or soft-boiled egg per person.
Ideally, the radishes should be roasted before or after another baked dish, such as a cake or bread. If you have no other reason to heat your oven, you can also slice the radishes into paper-thin rounds using a mandolin slicer, and add them raw to the salad.
https://cnz.to/recipes/salads/otium-salad-with-roasted-radishes-and-shaved-asparagus-recipe/
Unless otherwise noted, all recipes are copyright Clotilde Dusoulier.