The story of this mushroom buckwheat soup starts with a dinner date with Maxence.
With two little boys and rich work lives, we make it a point to book baby-sitters on a regular basis, in order to enjoy an evening just for us grownups. Sometimes we go see a movie (a movie! in an actual movie theater! oh, the thrill!), sometimes we catch up with friends (uninterrupted conversations! swearing allowed!), sometimes we go to a party (an actual party! with music! and dancing! this is too much!), but most of the time, we have dinner just the two of us at a restaurant in our neighborhood, which — lucky for us — is rife with wonderful places.
I get ridiculously excited about those evenings. I think it is one of the many convoluted gifts life hands you along with small children: yes, time for yourself becomes pretty scarce. But when it does come, you drink it up and bathe in it and cherish every drop like it's the very nectar of the Gods.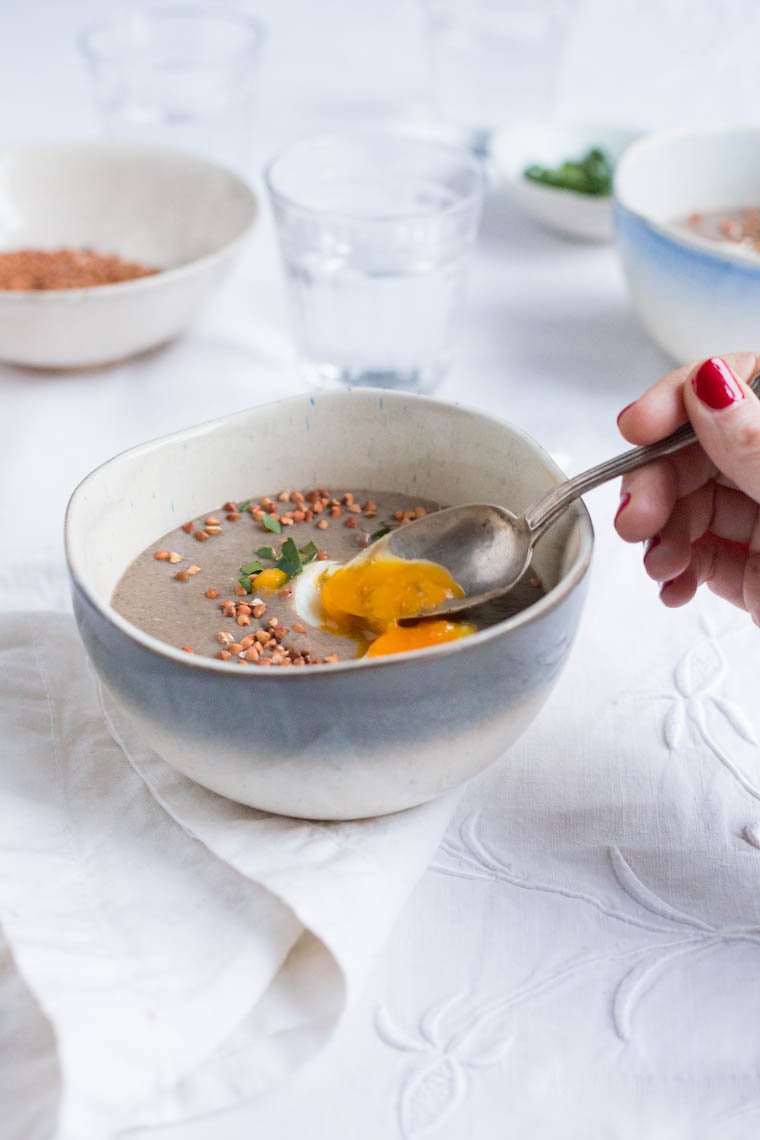 On that particular night, we decided to go to Le Pigalle. This is a hip little hotel in an area dubbed SoPi (South of Pigalle), a nickname that started out as a joke twelve years ago but has, against all odds, stuck. (Though I've never seen anyone actually use it in a sentence without simultaneously rolling their eyes, shrugging a blasé shoulder, or calling air quotes to the rescue. But maybe I hang out with the wrong crowd. Not that I hang out with any kind of crowd. I'm not a fan of crowds.)
Anyway. The ground floor of Le Pigalle operates as a café, bar and restaurant, but it's not one of those intimidating hotel lobbies where you step in and the quality of the air changes and you feel like any minute someone is going to ask to see some kind of tax return to show you belong. No. This is a hip, but casual restaurant that offers simple, small dishes made with ingredients from neighboring artisans, such as cheeses aged by the cheesemonger at the bottom of rue des Martyrs, and the robust sourdough bread baked by Thierry Breton on rue de Belzunce.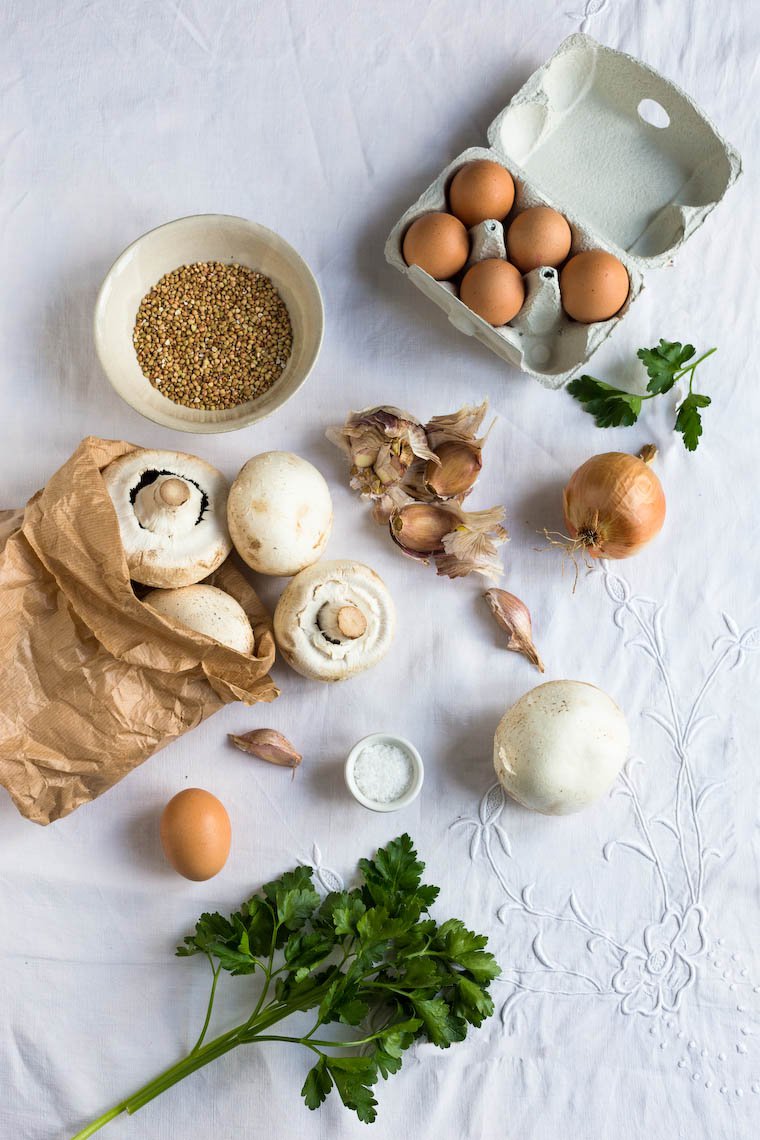 The menu claims that the food is more cuisine d'assemblage ("assembly cooking") than actual cuisine, and it was soon apparent that this was just their way to underpromise and overdeliver. The plates we tasted that night were delightful, vibrantly fresh and perfectly seasoned, a mix of French classics with a twist, humble and straight to the point.
The dish that stole my heart was the mushroom and buckwheat soup with a poached egg. Such a simple, such a winning combination! The smoky buckwheat notes matched the earthiness of the mushrooms, and there was the sweet velvet of the poached egg, and the crunchy toasted buckwheat to keep you entertained right down to the bottom of the bowl.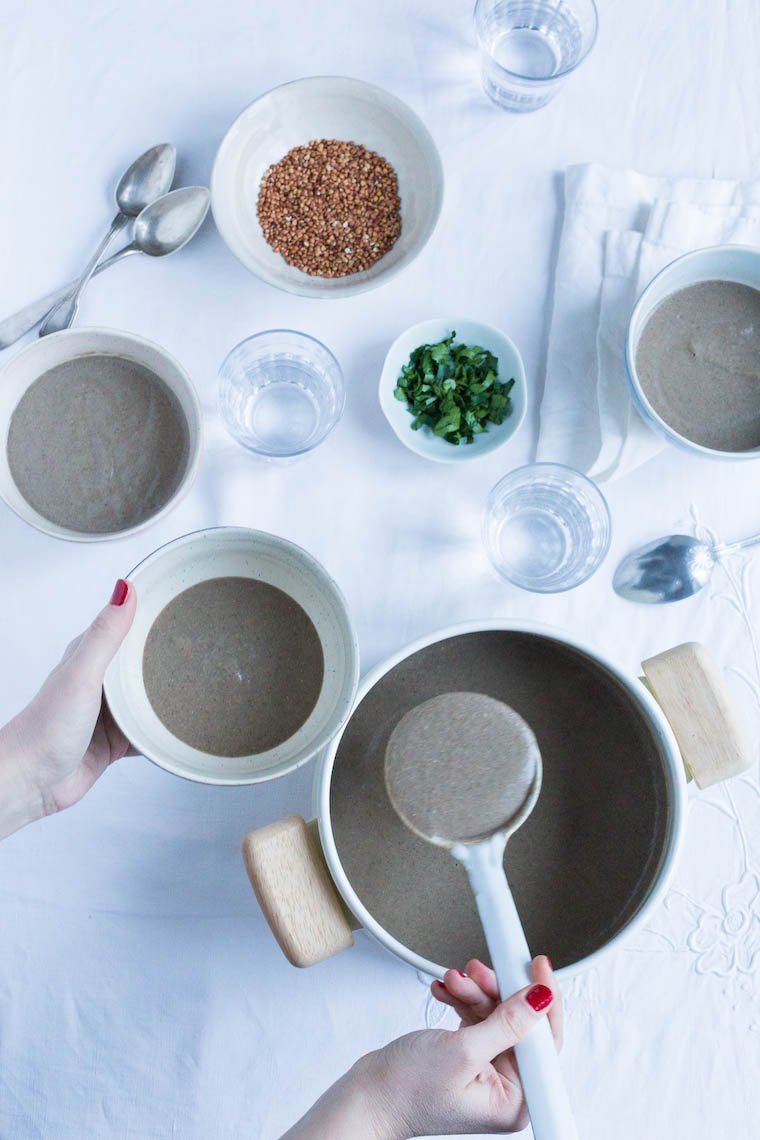 This is the kind of dish I live to cook in my kitchen, and it wasn't long before I made a version of my own, which I give to you today.
Nothing simpler than this soup; I even give you permission to use frozen mushrooms to cut down on prep time.
I recommend you use untoasted buckwheat groats (the light green ones) as opposed to kasha (the reddish-brown ones) for a more delicate flavor that won't overpower the mushrooms. Also: this was my first time toasting buckwheat to use as a topping, and it won't be the last: what a neat way to add crunch to a soup!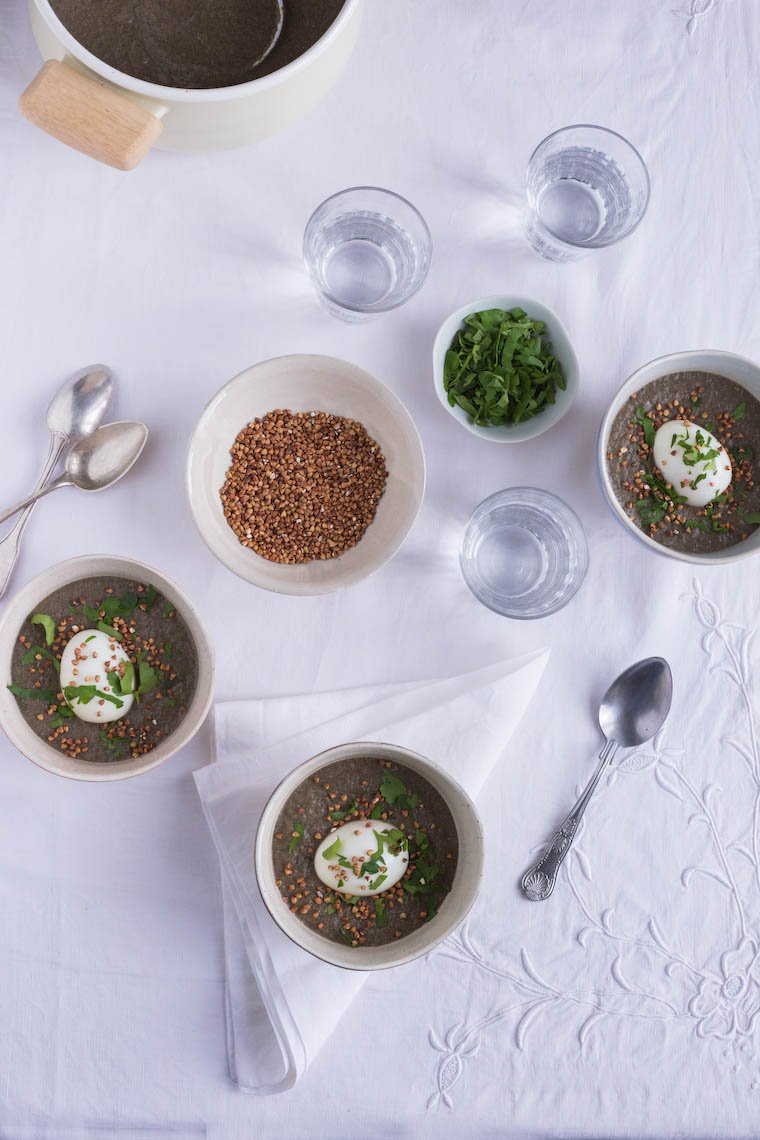 Have you tried this? Share your pics on Instagram!
Please tag your pictures with #cnzrecipes. I'll share my favorites!
Mushroom Buckwheat Soup Recipe
Ingredients
1 tablespoon olive oil or other cooking fat
1 medium yellow onion, thinly sliced
1 clove garlic, halved
1 teaspoon fine sea salt
800 grams (1 3/4 pounds) brown mushrooms, quartered
150 grams (3/4 cup) untoasted buckwheat groats (the pale greenish ones, not reddish-brown kasha)
480 ml (2 cups) vegetable stock or chicken stock, preferably homemade
6 poached or soft-boiled eggs, for serving
A few stems flat-leaf parsley, finely chopped, for serving
Freshly ground black pepper
Instructions
Heat the olive oil in a heavy-bottomed pot, add the sliced onions, garlic, and salt, and cook for 3 to 4 minutes, stirring frequently, until softened.
Add the mushrooms, stir to combine, and cook for 5 minutes, until lightly browned, stirring regularly.
Add in the 100 grams (1/2 cup) of the buckwheat (reserve the rest for sprinkling), pour in the stock and 480 ml (2 cups) water, cover, and bring to a simmer.

Once at a simmer, cook for 12 to 15 minutes, until the mushrooms are cooked through and the buckwheat has "bloomed".
In the meantime, toast the remaining buckwheat in a dry skillet over medium heat until lightly browned. Transfer to a bowl, add the finely chopped parsley, and set aside.
Transfer the soup to a high-speed blender and process until completely smooth (alternatively, use an immersion blender straight in the pot). Add a little more water, as needed, to get a nice velvety consistency. Taste and adjust the seasoning.
Divide among six shallow bowls and lower an egg in the middle of each. Sprinkle with the toasted buckwheat and parsley, grind on some black pepper, and serve.
https://cnz.to/recipes/soups/mushroom-buckwheat-soup-recipe/
Unless otherwise noted, all recipes are copyright Clotilde Dusoulier.
Photography by Céline de Cérou.