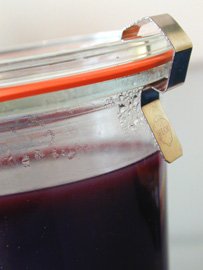 [Pomerol Wine Jelly]
I am a religious reader of a handful of carefully selected cooking and women's magazines. Some I subscribe to, some I buy at the marchand de journaux (self-respecting magazines are not sold at the grocery store in France). New issues are welcomed with a tiny whoop of joy, carrying the promise of relaxing entertainment and a new set of colorful nuggets — the latest fashion, gossip, book, trend, store or recipe.
In women's magazines, one of my favorite sections is — need I spell it out — the cooking section, usually tucked away in the last pages of the magazine, the perfect place for me because I always work my way from front to back, and I am definitely a save the best for last kind of girl.
One of my absolute faves is a magazine called Biba, a magazine féminin I have been reading for years, without skipping more than a month here and there. I even went so far as to subscribe from the US, even though the issues took weeks to reach me. I strongly suspect they were slipped in bottles and thrown in the ocean, fingers crossed, in my general direction. By the time I got them the hottest news were barely lukewarm and the summer diet made little sense in the fall — but still, each new issue was cherished as a heart-warming little whiff of France, and I would read it slowly, savoring every page. After all, who knew when the next issue would make it across?
Now that I'm back in Paris, even though it's not quite the same ritual, I am still partial to Biba, in part because of the great cooking section *. In particular, their What do I do with… article, focusing on a different ingredient every month, always proves handy and inventive. In the latest issue (this is when you start to see what in the world I'm getting at), this article was about leftover wine, and offered a recipe for wine jelly, to serve as a condiment with cold meat.
I loved the idea, clipped the article, and when I happened to have a little 1999 Pomerol left from dinner with my family the other night, I gave it a try. The recipe is incredibly easy, and the result is this beautiful ruby jelly, with a deep wine flavor and a surprising tanginess that tickles the palate. We tried it with leftover roasted chicken and loved it, so I will definitely make it again. I did think it lacked a bit of sugar and was a little too solid, so below is the modified recipe, as I will make it next time.
It would also make a great and unusual food gift for the holidays (although I am not sure how long it will keep).
[* I must however raise my voice in protest against their slacking off in the past few issues, buying content from the British edition of Delicious and translating it rather sloppily.]
Gelée de Pomerol
– 200 ml Pomerol wine (substitute any other wine)
– 2 tsp sugar
– 2 sheets of leaf gelatin (or one half envelope of powdered gelatin)
If you are using leaf gelatin, put the sheets in cold water to soften. Bring the wine and sugar to a boil in a small saucepan, and boil for two minutes. Squeeze the sheets of gelatin dry in your hand, take the saucepan off the heat, and stir in the gelatin until completely dissolved. Pour into a clean glass jar, close the lid, let cool for 15 minutes on the counter, then transfer into the fridge until set — it should take about two hours. Serve as a condiment for cold meat.