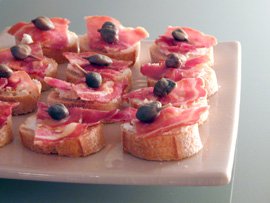 On Saturday night, we had the pleasure of meeting Derrick and his wife Melissa. They were in Paris for a few days on their way back from a wine-intensive trip to Germany, and I had invited them over for dinner. Derrick's An Obsession with Food was the very first food blog I ever laid my eyes on back in 2002 — and wow, does anyone know where these last three years went? — and he was part of my inspiration to start C&Z. After years of emailing and commenting back and forth, I was particularly happy to finally meet him in person.
Now, I don't know if you've ever read about the three-star dinner parties that Derrick and Melissa throw, but if you have you may understand the slight pressure one is under when one has put oneself in the situation to cook for them. But I quickly decided not to overthink it, shrugged away any looming sign of KPAS (Kitchen Performance Anxiety Syndrome), and simply followed my instincts, planning a menu just like I usually do for my friends.
I like to start casual dinner parties with an appetizer served at the bar facing our open kitchen. I like that moment when the guests arrive, we serve them a drink, they sit on the bar stools, and we can chat while I put the finishing touches to the meal. I will usually serve two or three different kinds of nibbles, and this often serves as the first course, so that when everyone sits down at the table, it is to enjoy the main course. I used to serve an appetizer and a first course, but I found that 1/ it was a lot of work, and 2/ it was difficult to determine the right quantities to serve, and this often left too little room for cheese and dessert afterwards.
These pancetta and capers crostini were one of the two "bar course" items I served on Saturday night. I wanted to make some kind of crostini (little toasts with a topping) because they are easy enough to assemble, they look pretty and they make a very satisfying finger food. Since they are eaten in just one bite, simplicity is key and it is best to stick to two or three ingredients at the most, so that all the flavors can express themselves.
I had been wanting to try pancetta (which could be shortcut-defined as "the Italian bacon") after reading about its crispy properties on Pascale's blog. I was certainly grateful for the tip: we loved the salty-nutty taste, and it was a great change from the charcuterie that's most often used here. The capers pairing idea came from spotting an attractive bowl of salt-packed capers, large and moist with delicate tails, at the Italian deli (l'Epicerie Fuxia, rue des Martyrs). Crostini usually need a somewhat creamy component as well, so I added a thin layer of fresh cheese, stabilizing the pancetta on the bread (very important), rounding out the texture and making each bite taste fresh and delightful.
Pancetta and Capers Crostini
– one ficelle (a thin baguette — alternatively, use a regular baguette or slices of Italian bread)
– 6 slices of pancetta (about 10cm or 4" in diameter)
– 100g (3.5oz) large capers, packed in salt (make sure this yields at least 36 capers)
– 60g (2oz) fresh cheese (like fresh goat cheese or cream cheese — I use the "Mme Loïc" brand)
(Yields 36 pieces.)
The night before, put the capers in a bowl of fresh water. Soak for two hours, then drain and refill with fresh water. Leave overnight to soak, drain and set aside.
In a dry skillet over medium-high heat, cook the pancetta for a few minutes on each side, until they reduce in size and get golden. Let cool between paper towels to absorb extra fat, then cut each slice into 6 fan-like pieces (like you would cut slices in a cake). Set aside.
Cut the ficelle in 36 slices, about 1cm thick (1/3"). If you are using slices of another kind of loaf, cut the slices into smallish pieces. If the bread is very fresh, use it as is. If not, put the slices on a cookie sheet, put under the broiler for a minute to toast them, and let cool.
Assemble the crostini: on each slice, spread a thin layer of fresh cheese, then top with a piece of pancetta and one caper. Arrange on a pretty platter and serve immediately, or keep in the refrigerator for an hour or two before serving.