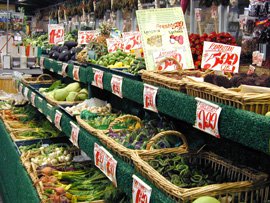 Besides eating out at restaurants, what is the other capital dimension through which to explore a city and its food scene? Food shopping! Show me your grocery stores, and I'll try to guess how you eat at home when no one's looking, how you cook and how you feed your friends.
As in all other respects, New York did not disappoint. I loved the hyper-luxurious Dean & Deluca in Soho (rarely have I seen such a beautiful — and insanely pricey — store) and the exotic stalls of Chinatown, its amazing array of fresh fish and its buckets of live, though none-too-cheerful, toads.
I paid my respects to Whole Foods for the sake of old times — the Whole Foods of Cupertino and Palo Alto were regular haunts of mine — but fled as fast as I could for fear of being stomped by the weeknight crowds.
I walked around the Chelsea market built inside an old Nabisco factory (enjoying the industrial architecture at least as much as the stores), as well as the Union Square Greenmarket, with its profusion of lush and vibrant greens (such variety!) to be plucked at the foot of skyscrapers, while sipping on a glass of fresh and delicious, no-sugar-added, raspberry-apple cider.
I spent a few happy hours elbowing my way through the aisles of Fairway and Zabar's (my preference clearly going to the latter), hovering over the prepared food counters and the deli cases, wishing I could just stay and set up camp right there, to taste my way through the incredible selection.
And through all this, the exhilarating feeling of being Alice in Cornucopia, dizzy with the abundance and the variety. Sure, Paris is not too shabby a place for the avid food shopper, but it is of course (I'm not complaining mind you) familiar, and nothing beats a whole new environment filled with appetizing intriguing quirky and exciting products. I suddenly recognized exactly what had first sparked my interest in food and cooking when I arrived five years ago in California. And at the very same time, the heartbreaking awareness that I had little time, no kitchen to play in, and that I couldn't fit the whole city in my suitcase.
I did, however, find a little room for:
– two unreasonably large jugs of maple syrup, one Grade A from Vermont, one Grade B from New Hampshire,
– a box of Ruby Sipper infusion (blood orange and pear) by Serendipitea — I was a big fan of the Passion blend by Tazo but thought I would give this a whirl,
– a jar of Murray's Hot Jerk Sauce,
– a box of Peanut butter puffins — cinnamon puffins are my favorite breakfast cereal in the whole wide world and beyond, and I just had to try this flavor (verdict: it is really good, but cinnamon still wins),
– a jar of old-fashioned chunky peanut butter made by Once Again Nut Butter — just whole unblanched peanuts and salt, no sugar at all and fabulously tasty,
– last but not least, a Totally Bamboo cutting board (the Molokini model) purchased on the second floor at Zabar's — I've never seen bamboo cutting boards here in France, I loved the look of them, and the small wooden one I had split right in two a few weeks ago.
Dean & Deluca
560 Broadway (At Prince Street)
(212) 226-6800
[Several other locations]
Chelsea Market
75 9th Avenue (Btwn 15th and 16th Street)
Union Square Greenmarket
Union Square (At 14th Street and Broadway)
Fairway
2127 Broadway (Btwn West 74th and West 75th street)
(212) 595-1888
[Several other locations]
Zabar's
2245 Broadway (At 80th Street)
(212) 787-2000
Whole Foods
4 Union Square South
(212) 673-5388
[Several other locations]