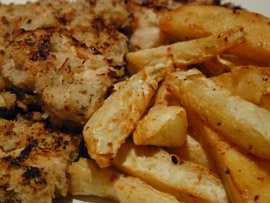 A Take on Chicken Nuggets and Fries.
My sister Céline came to have dinner with us the other night. She has recently started working for a major French car company, and part of the integration process for new hires is to go through four weeks at one of the factories, working the line just like the other workers. This is a trying experience to say the least (a loss of 6 pounds, a large bruise on the hip, a swollen and bandaged wrist – how's that for good working conditions?), and the end of the day sees her thoroughly exhausted and achy, her head spinning from the infinite chain of cars she has worked her way through.
This sounded like the perfect time to provide a little comfort with a mock fast-food dinner, home-made and healthy.
The three of us ate these chicken nuggets and root vegetable fries with pleasure – and our fingers -, chatting away until Céline's fight against her shutting eyelids and general sleepiness became a lost cause. At which point she dragged herself home, a couple of metro stations away, for a few hours of deep and blissful sleep.
A note on variations : I made the root vegetable fries with potatoes and celery root because that's what I had on hand, but they would work equally well with any and all types of root vegetables, including carrots, sweet potatoes, turnips, parsnips, beetroot, etc. Mix 'n match to your heart's content! You can also experiment with the spices you sprinkle on, as well as the spices that you add to the chicken breading : cumin, paprika, ginger, onion flakes, celery seeds…
Chicken Nuggets
– three chicken fillets
– one egg
For the marinade :
– 2 Tbsp olive oil
– 1/3 C white wine
– 2/3 C water
– 1 Tbsp balsamic vinegar
– salt, pepper, garlic, herbes de Provence
For the breading :
– 1/2 C panko (Japanese breadcrumbs. Substitute regular breadcrumbs. If using seasoned breadcrumbs, adjust the seasoning accordingly.)
– herbes de provence, garlic powder, salt and pepper
(Serves 4.)
In a medium bowl, whisk all the marinade ingredients together. Trim the fat off the chicken fillets, and cut in chicken-nugget-sized cubes. Put the cubes in the marinade, stir to coat, cover and reserve in the refrigerator for at least half an hour and up to a day (the longer the better).
In a bowl, break and beat the egg. Put the breading ingredients in a shallow plate, and toss to mix.
Heat up some olive oil in a large skillet. Take the chicken out of the fridge. Dip each piece of chicken in the egg quickly, roll it in the breading to coat, and transfer to the skillet. Cook the chicken for about ten minutes over medium-high heat, turning them regularly for an even browning of the breading, until the meat is thoroughly cooked and no longer pink inside.
Root Vegetable Fries
– a head of celery root
– two large potatoes
– olive oil
– salt, pepper
– herbes de provence
– piment d'espelette (substitute red pepper flakes)
(Serves 4.)
Preheat the oven to 230°C (450°F). Grease a baking dish lightly.
Wash and scrub the vegetables. Peel them and cut them in fries. Put them in the dish, pour a little olive oil, and season generously with the other ingredients. Toss with a wooden spoon, and add more oil and seasonings if it seems like there isn't enough to coat all the fries.
Bake for one hour, stirring half-way through and keeping an eye on them, until the fries are golden and a little crisp at the edges.
Serve the nuggets and the fries with an array of condiments to dip them in (BBQ sauce, ketchup, chili sauce, mustards…).