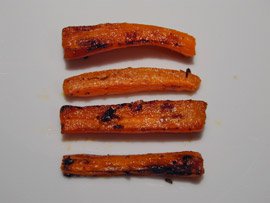 [Spiced Carrot Fries]
Winter is the blessed season of root vegetables. Since it is noticeably drawing to a close here – longer days, sunny and mild weather, daffodils all around -, now's the time to make the most of the kind of carb comfort our winter friends have to offer, before we turn the page and say hello to nature's spring collection.
Having a bunch of carrots to use up, I decided to go for my favored cooking method for root vegetables, oven-baking. I considered cutting them in slices, but in the end decided faux fries were the way to go.
The faithful readers among you will certainly notice that this recipe is but a variation of the root vegetable fries I talked about recently, with the additon of honey and carrot-friendly spices (cumin and ginger). Baking carrots really concentrates their sweet taste and underlines their depth of flavor. Carrot fries are pretty and fun to eat, and are also very easy to make, although they do take a little while to cook.
On an unrelated side note (I love these), I went to the Belle & Sebastian concert at the Grand Rex yesterday, and had the most wonderful time. I do wish they had sung Like Dylan In The Movies, but I guess Get Me Away From Here I'm Dying more than made up for it…
Frites de Carottes aux Epices
– 1 kg (2 lbl.) carrots
– olive oil
– balsamic vinegar
– 1 tsp honey
– cumin, ginger
– salt, pepper
Preheat the oven to 200°C (400°F).
Wash, srub and peel the carrots. Trim the top and bottom of each carrot, and cut in fries. Put the carrots in a baking dish, spoon in the honey, and pour a dash of olive oil and balsamic vinegar. Toss with a wooden spoon to coat. Add more oil and vinegar if necessary. Sprinkle cumin, ginger, salt and pepper generously, and toss again.
Put the dish in the oven to bake for roughly an hour, checking on the progress regularly after the first half hour, tossing the carrots from time to time for an even browning. The carrot fries are ready when they are thoroughly cooked, and start to get a little crisp at the edges.