Every summer when the good local tomatoes arrive, I think I will never ever get enough of them. I picture myself diving into a ball pit filled with tomatoes and paddling about for hours like kids do at IKEA.
But then after a few weeks of tomato frenzy, I am suddenly faced with what seemed utterly impossible before: we have too many tomatoes to eat them all.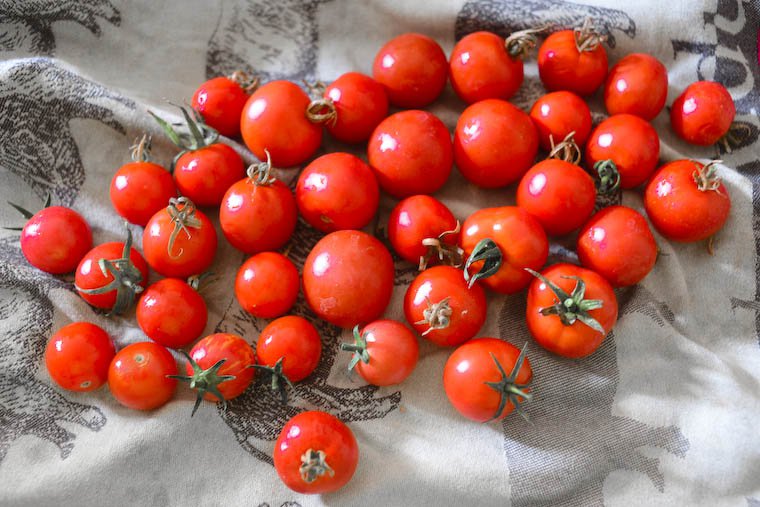 And that's when I start making batches of slow-roasted tomatoes — tomates confites in French — which are a fine way to eat them, in salads, sandwiches, and pasta dishes, and also freeze really well.
Contrary to what some recipes have you do, I don't skin the tomatoes before roasting because I don't mind the skin and who wants to skin plum tomatoes in the summer heat?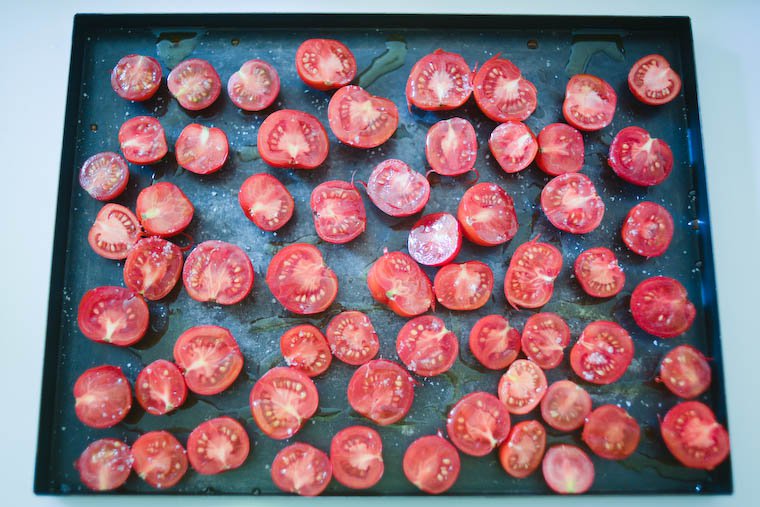 It usually take two and a half hours in my oven to get the tomatoes to the consistency I'm looking for, the edges wilted and curled, but still the memory of plump flesh. This is quite different from sun-dried tomatoes, which tend to be a bit leathery for my taste.
Slow-roasting concentrates the tomato flavor in subtle and beautiful ways, and accentuates their sweetness.
I typically choose to season my slow-roasted tomatoes with salt and pepper, and sometimes ground chili pepper or dried herbs. It depends if I want to make "plain" tomates confites, and add my choice of herb when using them in a dish, or want them pre-seasoned.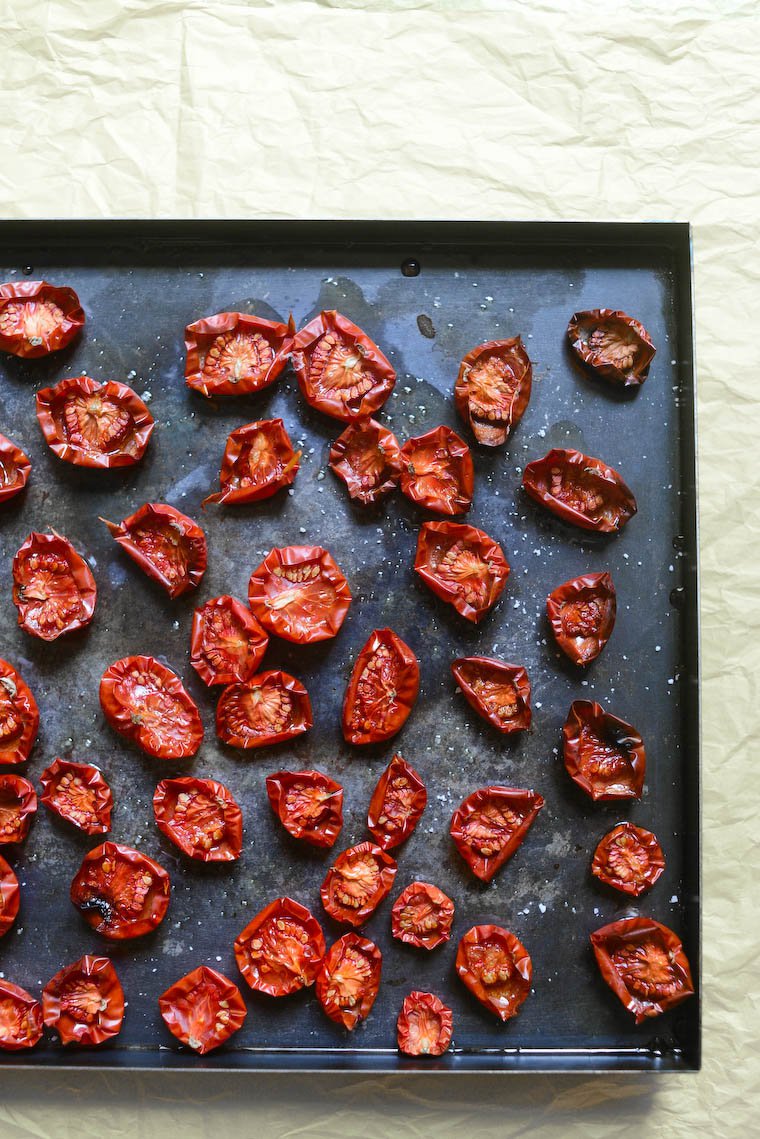 Have you tried this? Share your pics on Instagram!
Please tag your pictures with #cnzrecipes. I'll share my favorites!
Slow-Roasted Tomatoes Recipe
Ingredients
Ripe tomatoes -- roma, plum, cherry, or similar, firm with little juice
Fine sea salt
Freshly ground pepper
Ground chili pepper (optional)
Dried herbs such as thyme, rosemary, oregano... (optional)
Olive oil
Instructions
Preheat the oven to 100°C (200°F).
Halve the tomatoes, and run your thumb in the cavities to remove the juice and seeds (save and filter the tomato water for drinking). Roma, plum, and cherry tomatoes have a very thin stem that you can leave in, but if the tomatoes you're using have a tougher stem, carve it out.
Place the tomato halves, cut side up, on a well oiled baking sheet. Sprinkle lightly with salt, pepper, ground chili pepper, and dried herbs if using. Drizzle with olive oil.
Put into the oven and allow to slow-roast for 2 to 3 hours, keeping an eye on them, until you reach the desired consistency.
Notes
To freeze without clumping, arrange the tomatoes in a single layer on a clean baking sheet lined with parchment paper, and place the baking sheet in the freezer. After a couple of hours, you can transfer them to a freezer-safe container. (Save the parchment paper for another use.)
https://cnz.to/recipes/vegetables-grains/slow-roasted-tomatoes-recipe/
Unless otherwise noted, all recipes are copyright Clotilde Dusoulier.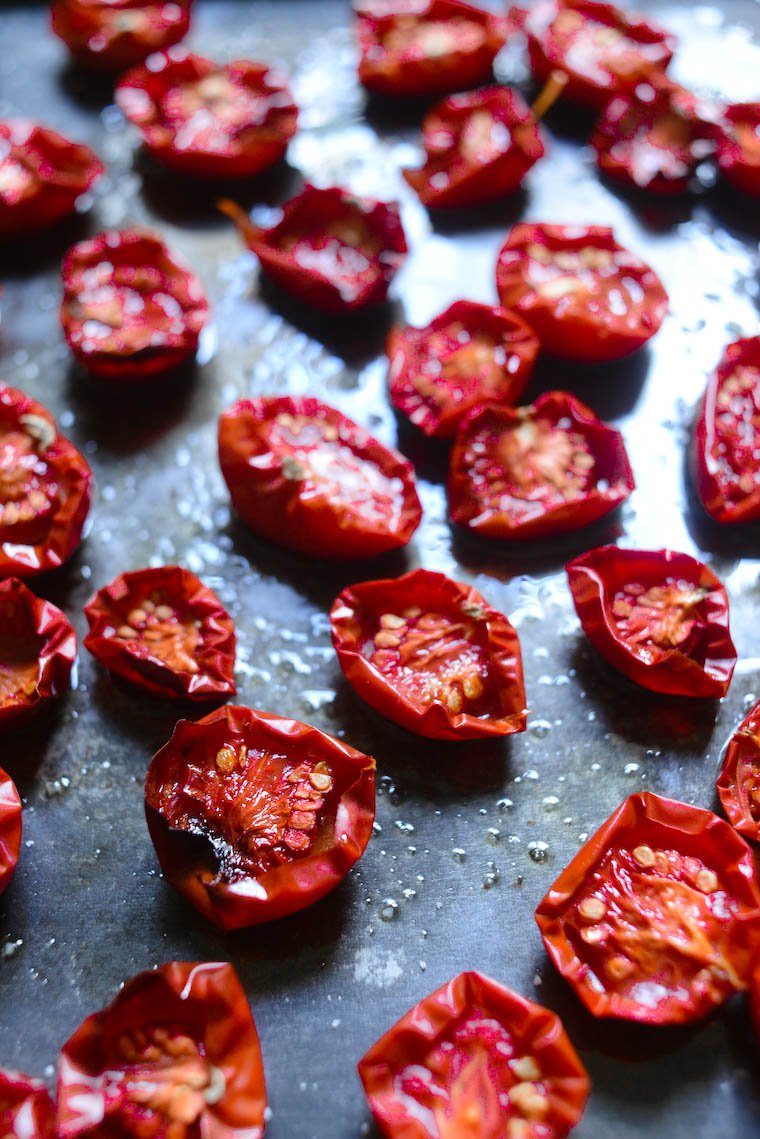 This post was first published in May 2004 and updated in August 2017.