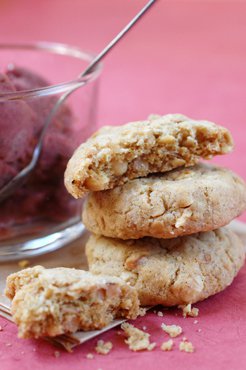 If you're the observant type, you may have noticed the walk-on actor in the fig sorbet picture two weeks ago. And you know what happens to walk-ons when they're talented and good-lookin' and lucky: they graduate to leading roles. Today is the cookie's big break; today, the cookie gets to be the hero of the post.
The recipe comes from Laurence Salomon's cookbook, Fondre de plaisir
*, which I purchased after reading about it on so many French food blogs that it seemed like the right thing to do.
"Who is Laurence Salomon?" you may ask — and a valid question it is. She's the chef of Nature & Saveur (need I translate?), a restaurant in the town of Annecy. She trained as a naturopath before she became a chef, and her cuisine, which I hear is outstanding, focuses on whole ingredients, health, and balance.
I was 100% sold on the idea, but I can't say the book had me jumping up and down with excitement, or feverishly earmarking recipes. Don't get me wrong: it is a good book, full of valuable tips and information, but it feels a little too ascetic for me, the voice of the nutritionist a little too present. I'm holding on to it because I feel it has things to teach me, but it's not the sort of book that I crack open with a grumble in my stomach, rubbing my hands and thinking, "So! What's for dinner tonight?"
Small wonder then, that the first recipe I try from it should be a cookie. The recipe can be found on page 156, where it features as a crumble-like topping over the Compotée pommes-abricots au yaourt de soja vanillé et coulis de noisette (stewed apples and apricots with vanilla soy yogurt and hazelnut coulis).
I might not have noticed the recipe at all if it weren't for Claire, who had used it as a sorbet accessory last June. And I'm immensely grateful she did, because these are the best sablés I've made in a long time — my live-in taste-tester would tell you as much if he didn't have his mouth full.
I modified the recipe a little bit (ahem) to use butter (instead of margarine), spelt instead of oats (it's what I had on hand), pepper instead of cinnamon (cinnamon bores me, while a dash of pepper exalts the flavor of hazelnuts like no other), and rose water in place of plain water: the cookies were to be served with my fig sorbet, and rose and fig are notorious flavor pals.
And as a final bonus, let me share the following life-altering tip. Have you ever chopped hazelnuts with a knife? Is it not maddening how they go flying every which way, so that you end up with more hazelnuts lurking amongst your spice jars and rolling underfoot, than on your cutting board? Fret no more, for there is a better way: equip yourself with a sturdy food storage bag and a heavy-bottomed pan. Place the hazelnuts, whole, inside the storage bag. Zip the bag shut, place it on a cutting board, and bang on it with all your might. Feel better now?
* Fondre de plaisir translates roughly to "melting from pleasure", which can be understood as shedding pounds while still eating well. It isn't a diet book at all, but I'm guessing the publisher didn't mind the ambiguity.
Biscuits Croquants Poivre et Noisette
– 100 grams (3/4 cup) whole hazelnuts
– 200 grams (1 2/3 cups) whole wheat flour (I used a mix of T65 and T110)
– 70 grams (2/3 cup) rolled spelt (or other old-fashioned rolled grains, such as oats)
– 120 grams (1/2 cup + 2 tablespoons) unrefined cane sugar
– 1 teaspoon baking soda
– a good pinch salt
– 1/4 teaspoon freshly ground black pepper (substitute 1/4 teaspoon curry powder or 1/2 teaspoon good cinnamon)
– 130 grams (1/2 cup + 2 tablespoons) butter, chilled and finely diced
– 2 tablespoons rose water, orange flower water, or just plain water, plus a little more as needed
Toast the hazelnuts in a dry skillet until fragrant. If the hazelnuts are still in their papery husks, you can remove some of it by rubbing them in a clean dishcloth while they're still warm; you don't have to, though. Let cool and chop roughly (see tip above).
Combine the hazelnuts with the rest of the dry ingredients, from flour to pepper, in a medium mixing bowl. Stir with a wooden spoon until blended.
Add the diced butter and rub it into the dry ingredients with your fingers or a wire pastry blender until the mixture resembles coarse meal. Add the rose water and stir it in until the dough comes together just enough that you can gather it in two balls. If it's not enough, add a little more rose water, little by little, until the dough reaches the desired consistency.
Cover the bowl with a dishcloth and set aside somewhere cool for 1 hour.
Preheat the oven to 150°C (300°F) and line a baking sheet with parchment paper. Shape the dough into balls a bit larger than walnuts, flatten them slightly, and place them on the prepared baking sheet, leaving them a little elbowroom to expand.
Bake for 25 minutes, until golden and set. Let stand for 5 minutes on the baking sheet before transfering to a rack to cool completely.
Adapted from Laurence Salomon's Fondre de plaisir
.