Sometimes, when I have a minute, I sit back and think about the world of food, how vast it is, and how many rivers, hills, and valleys still remain uncharted to me. I don't find the idea overwhelming, far from it. I find it encouraging, I find it promising, I find it comforting: as long as I can read books and move around a kitchen, my life will see no shortage of inspiring ideas, happy discoveries, and exciting projects.
Just this week, I received two emails from readers offering their recipes and knowledge, should I want to explore the cuisines of their home countries (Argentinian and Turkish, no less), and a review copy of the most inspiring book I've seen in a while, Moro East, in which practically every page now wears a sticky tag on its lapel.
Muhammara is best made with pomegranate molasses: the sweet and acidic syrup bridges the sweetness of the peppers and the bitter edge of the walnuts.
Another example is this muhammara. I don't remember how the concept fell into my lap — did I read about it on a website? in a book? — but this Middle-Eastern spread, made from roasted bell peppers and walnuts, appealed to me instantly. It was novel to me, I had never tasted it anywhere, but my mind's taste buds could barely contain their enthusiasm.
Part of the attraction was the fact that muhammara is best made with pomegranate molasses, a popular ingredient in Lebanese and other Mediterranean cuisines that has become rather trendy of late*. Here, this sweet and acidic syrup is called for to bridge the sweetness of the peppers and the bitter edge of the walnuts.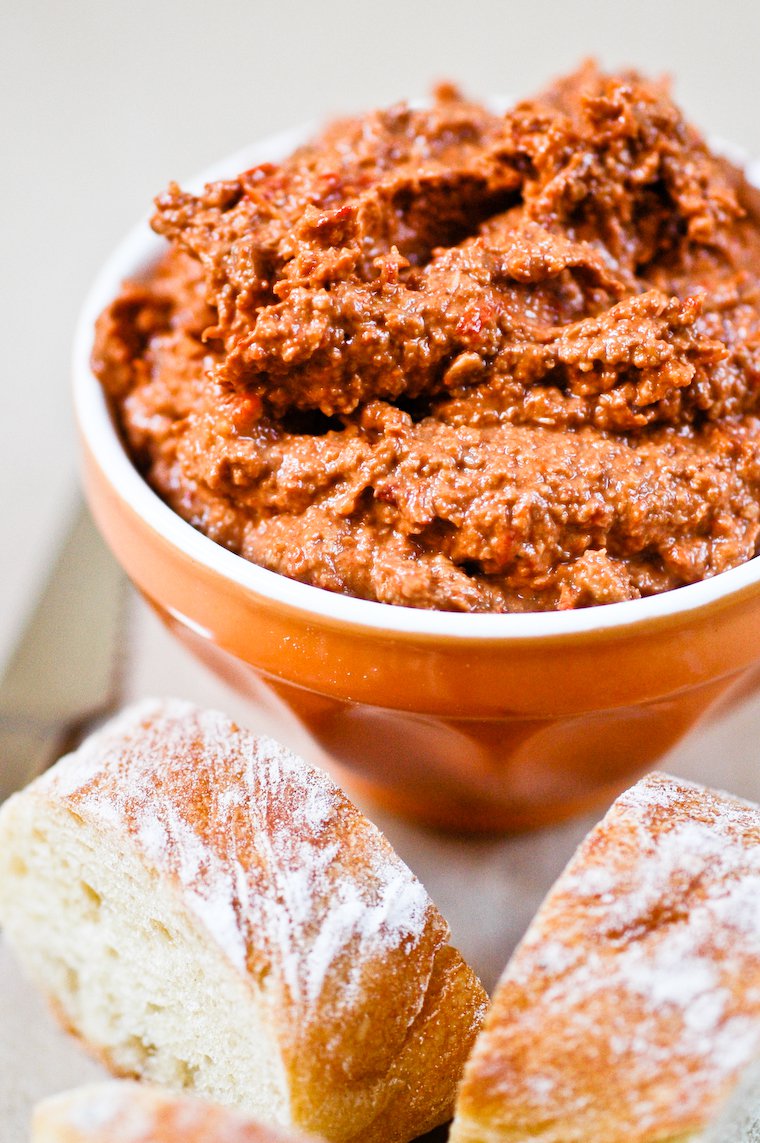 I, like most suggestible cooks who read magazines, have acquired my very own bottle of pomegranate molasses from Heratchian Frères a few months ago, but a little goes a long way, and I'm always looking for different productions to cast them in. This muhammara is, so far, the unchallenged winner, and I have officially named it my new favorite for a make-ahead apéro spread.
The recipe below is the product of my usual recipe research method (gather-combine-tweak-shake-shake-shake), and the fact that I got confused about the amount of nuts to peppers. This forced me first to use cashews in addition to my too short supply of walnuts (this worked so well I will do the same in the future) and then to roast two additional bell peppers** when I realized my spread was too nutty (yes, there is such a thing; it came as a surprise to me, too).
As a consequence, my first batch yielded way more muhammara than I needed for that one dinner party, but I froze the leftovers in two little tubs that I whipped back out on two subsequent occasions, with no loss of flavor and to just as much acclaim, so I wholeheartedly recommend that modus operandi. One sleeps so much more soundly with an emergency dose of muhammara in the freezer.
The most typical way of serving muhammara is with pitas or lavash, but it is just as good on sliced baguette, and it is an absolute delight plopped onto thickish slices of cucumber.
* Pomegranate molasses, sometimes called pomegranate syrup (mélasse de grenade or mélasse de pomme de grenade in French), can be found in Middle-Eastern stores (get some zaatar while you're at it). In France, it is most often imported from Lebanon. If you can't find it, The Cook's Thesaurus suggests various substitutions; for this recipe, balsamic vinegar seems the most appropriate.
** On the subject of bell peppers, I'd like to share my latest epiphany. You know how slimy roasted bell peppers are, and how annoying it is to remove the little seeds once they're embedded in the slime? Well, what I do now is deseed the peppers before roasting — I know, how revolutionary. While the peppers are still raw, I carve all around the stem, pull it out, and discard the seeds that come with it. Then I hold the peppers upside down, and slap them a few times on the sides so the remaining seeds fall out (plus, the sound is fun). The bell peppers, thus decapitated and gutted, are then submitted to my regular method for roasting bell peppers in the oven.

Have you tried this? Share your pics on Instagram!
Please tag your pictures with #cnzrecipes. I'll share my favorites!
Ingredients
1 kg (2.2 pounds) red bell peppers, about 5 medium-large ones, firm and unwrinkled
130 grams (1 1/3 cups) walnuts
130 grams (1 cup) shelled cashews (unsalted)
2 teaspoons whole cumin seeds
1/2 teaspoon smoked salt (or regular salt + smoked paprika)
1/4 teaspoon ground chili pepper or more, to taste
2 cloves garlic, peeled, germ removed if any
2 teaspoons walnut or olive oil
1 tablespoon lemon juice
2 tablespoons pomegranate molasses (substitute balsamic vinegar)
Instructions
Roast, peel, and deseed the bell peppers using your favorite method (if you need guidance, see how I roast my bell peppers in the oven). Let cool completely.
Toast the walnuts, cashews, and cumin seeds in a dry skillet until fragrant. Let cool.
In the bowl of a food processor or blender, combine the flesh of the bell peppers with the rest of the ingredients, from walnuts to pomegranate molasses, and purée until smooth, scraping the sides of the bowl regularly. Taste, adjust the seasoning, and refrigerate until ready to serve (see note).
Assemble cucumber canapés by spreading muhammara onto rounds of unpeeled cucumber (one teaspoon per round), or serve with fresh pitas, lavash, or baguette.
Notes
Muhammara is best made a day ahead.
What you won't use immediately you can freeze in a freezer-safe container. Place a piece of plastic wrap directly over the surface of the muhammara (to prevent the formation of water crystals), close the container tightly, and freeze. To thaw, just pop back in the fridge the night before.
https://cnz.to/recipes/dips-spreads/muhammara-recipe/
Unless otherwise noted, all recipes are copyright Clotilde Dusoulier.