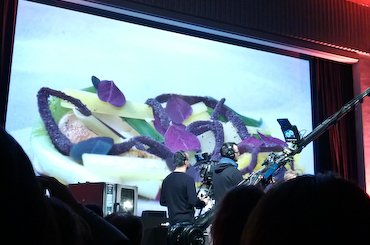 The 2013 edition of the Omnivore Food Festival (officially called Omnivore World Tour now that it's a traveling festival) was held at Paris's Palais de la Mutualité last week. I spent two days out of time in a dark auditorium, watching chefs cook on stage and jotting down notes in a handwriting that looks considerably more pulled together, I've only recently found out, if I use felt-tip rather than ball-point pens.
Every year a few common themes or ingredients emerge, and this time we saw a lot of oysters, cabbages, onions, and vegetables cooked to the point of being charred.
Aside from the excitement of climbing into a chef's brain, seeing him (overwhelmingly more than her, regrettably) do his thing, and listening to him talk about his craft, what I love about those sessions is being inspired by details, pairings, or techniques that I can take away and perhaps rig into my own cooking sometime.
Looking through my notes a few days later, I thought I would wring out a list of these ideas to share with you, in the hope that they may inspire you, too.
From Guillaume Foucault, formerly at L'Artémise in Uzès, soon to open Pertica in Vendôme, in the Perche region:
– A pork belly, cooked for 30 minutes in the skillet, then soaked for 1 1/2 hours at warm room temperature in nuoc mam infused with star anise, cinnamon, and clove (pictured below).
– Talauma, a Vietnamese spice that you grate (a bit like nutmeg), pairs well with game meats.
– Fresh, uncooked green beans layered with coarse salt and meadowsweet flowers in a barrel and left to rest for a while. He then cuts the beans in small slices and uses them as a condiment or seasoning, especially with fresh cheese.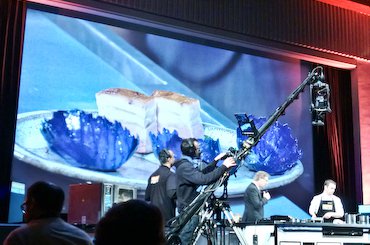 From Jose Ramirez-Ruiz, who runs the weekly pop-up restaurant Chez Jose in Brooklyn with pastry chef Pamela Yung:
– He slices an onion in two vertically, cooks it in the skillet until almost charred, bastes with melted butter infused with bay leaf and garlic, and bakes in a 200°C (400°F) oven until cooked through. He lets it rest, separates the onion halves into petals, and serves with lightly seasoned watercress and a sprinkle of sourdough breadcrumbs sautéed in bacon fat with some thyme (pictured below).
– He makes a trompe-l'oeil tartare of beets, which he roasts, dehydrates, then grinds in the meat grinder. He seasons that like he would a beef tartare, with olive oil, egg yolk, lemon juice, pickled mustard seeds, and pecans.
– He makes a puréed condiment of pecans, anchovies, and caramelized onions — very pungent. He serves it with the above beet tartare in the spirit of surf 'n turf.
– He always seasons nuts — with olive oil, lemon juice, and vinegar — before using them in his dishes.
– He roasts an entire green cabbage for about 45 minutes (depending on size) at 260°C (500°F), basting regularly with oil, until completely black. The center of the cabbage steams in its own juice. This he cuts into thick slices, cuts out piece with a round cookie cutter, and seasons with lemon juice, olive oil, and pepper. He serves it with cooked soybeans seasoned with red miso paste and lemon juice for his take on beans and cabbage, something he called a Puerto Rican staple.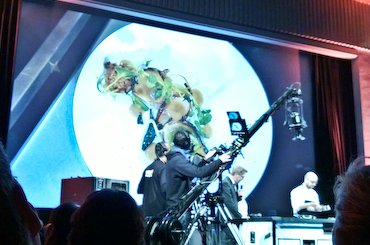 From Massimiliamo Alajmo, of Le Calandre in Padova in Northern Italy:
– For his caper and coffee risotto, he adds two coffee beans to the cooking risotto rice. At the end of the cooking, he adds butter, parmesan, and lemon juice, and tops the risotto with chopped capers.
– Talking about the summer vegetables he uses raw: "La cuisson, c'est le soleil." (The sun is the cooking agent.)
From Dimitri Zotov, of Antrekot in Moscow:
– He caramelizes corn flakes, grinds them to a powder, and places that underneath a scoop of ice cream. (In his case, a cauliflower ice cream, but I doubt I'll ever make that at home.)
From Jean-François Foucher, of Pâtisserie Foucher in Cherbourg, Normandy:
– For jellies, his rule of thumb is to use 1.5 grams agar-agar for 500 ml of liquid.
– If you need to flavor milk or cream with vanilla, he recommends a cold infusion: just add in the bean the day before and let it steep in the fridge overnight.
– To bake choux puffs evenly (for chouquettes or cream puffs), he inserts the tray into a hot oven preheated to 250°C (480°F), turns off the oven immediately and waits for 20 minutes, or until the oven is down to 180°C (360°F). He then turns the oven back on at 180°C (360°F) and continues to bake the puffs until they reach the desired shade of golden.
From Stéphanie Labelle, of Montreal pastry shop Rhubarbe:
– For maple syrup honeycomb (honeycomb is tire-éponge in Quebec French, I just learned), her formula is 250 grams maple syrup + 165 grams glucose syrup + 50 grams sugar that she heats to 151°C, then beats in 13 grams baking soda.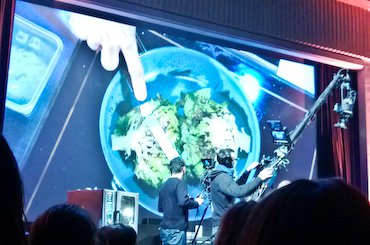 From the Folmer brothers, of Couvert-Couvert in Herverlee, Belgium:
– They grill lettuce hearts, sliced in two, in the skillet (pictured above).
– They rehydrate strands of sea spaghetti (a type of seaweed), and roll them in powdered seaweed (pictured at top of post).
– They wrap oysters in thin ribbons of cucumber.
– They grate bottarga (theirs is homemade from seabass roe) over white asparagus, and add on a mix of fresh herbs from their garden.
– They preserve red lemons Morroccan-style, adding a quarter of the weight in sugar.
– They pickle pearl onions in beet juice, and divide them into tiny ruby petals to serve with roasted celeriac (pictured below).
– They cut a peeled apple into thin horizontal slices, leaving them assembled in their original apple shape, and bake the apple like this (I missed that detail but I assume the apple is basted in some kind of liquid — melted butter or apple juice for instance).
What about you, what's your latest chef-inspired idea?