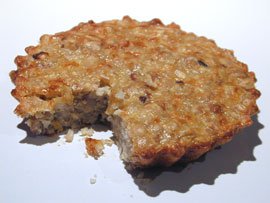 [Chestnut Meal Galettes]
When I went to the Salon Saveur last spring, I returned with quite a number of purchases. Some of them were fresh and perishable, and the days that followed were a happy procession of delicacies, as we methodically and dutifully consumed what needed to be.
Such food shows are always Temptation Hall for me and I would gladly get a bit of everything, but there's usually a moment when the little angel of Reason sitting on my left shoulder (the right one already laden with bags) starts to fidget and clear his throat, reminding me that, contrary to the belief I seem to hold, I do not have a family of five to feed, and that all those marvels won't be any good if half of them have to be left in the refrigerator to spoil, for lack of opportunity to eat them and sheer stomach room. And don't get him started about starving children or the société de consommation. He usually adds for good measure that he hopes I'm not counting on him to help lug the bags all the way home, because his back is extremely fragile and the doctor forbade him to carry anything heavy, and he doesn't want to strain his neck yet again, thank you very much. I tell you, he's a handful.
So. I'm usually careful not to buy more fresh stuff than we can conceivably eat, but that still leaves me with many options, products that have a longer shelf-life because they are canned, dried or vacuum-packed. Those I allow myself to buy (of course there's that full set of monetary, weight and pantry space considerations but let's not wander astray here). I will stash them somewhere in a cabinet, allowing myself to half-forget about them, thus preparing mini-surprises for myself when I rediscover them weeks or months later whilst rummaging in search of something else. (I'm thinking of organizing tours inside my kitchen cabinets, a bit like they do in the Paris catacombs, providing my visitors with flashlights and sturdy construction helmets.)
Case in point today : a package of Brise de Châtaigne, purchased at the aforementioned Salon Saveur last May. Brise de Châtaigne is a coarse chestnut meal produced in Ardèche, the region where all self-respecting chestnuts come from. Since brise is French for breeze, I am tempted to call this chestnut breeze because it's poetic, but here brise comes from the verb briser, to break. It is made of dried chestnuts ("Ingrédients : 100% châtaignes", said the label) broken into tiny nuggets, to be cooked like you would rice. This is actually a very new product, which first came out in January of 2004. I have yet to see it anywhere else than at the Salon though, but I haven't really looked either.
I was instantaneously pop-inspired to turn the chestnut meal into these little galettes. Since I suspected a risk of mush in the brise once cooked, the idea was to bake it into patties for better texture and presentation. I considered adding diced sauteed vegetables (possibly carrots or zucchini) to the mix, but decided against it, to get the purest first taste of the brise. The galettes turned out not only pretty and appetizing, but also mighty tasty : they developped a golden color and a thin crispy crust, while the inside stayed soft and nicely mealy, with the fabulous sweetness and flavor of chestnuts.
I would definitely make these again to serve as a side to game or a roasted meat, or quite possibly as the centerpiece of a fall salad. (If you can't find brise de châtaigne, chopped cooked chestnuts could be substituted, and I'm guessing that 180 g uncooked brise would be equivalent to about 500 g cooked chestnuts, but this is untested as of yet.)
Galettes à la Brise de Châtaigne
– 180 g brise de châtaigne (coarse chestnut meal — if you can't find brise de châtaigne, substitute about 500 g cooked chestnuts, chopped)
– 2 eggs
– 1 Tbsp marscarpone
– salt, pepper
(Makes 4 galettes.)
Cook the brise in salted boiling water for 35 minutes or according to package directions. Drain thoroughly and let cool for a few minutes.
Preheat the oven to 180°C (360°F) and grease four tartlet molds or ramequins (unless they are nonstick). In a medium mixing bowl, beat together the eggs and the mascarpone. Taste the brise and see if it needs more seasoning. Fold the brise into the eggs gently with a spoon (avoid making mush). Add salt and pepper if neccessary.
Pour a quarter of the mixture in each of the four tartlet molds, and even out the surface with your spoon. Put the molds into the oven to bake for about 30 minutes, or until set and golden. If the surface needs a little more color, put under the grill for a couple more minutes.
Unmold and serve the galettes warm, as a side to game or roasted meat, or as the centerpiece of a salad. They can be made ahead and reheated for ten minutes in the oven.
—
And here's the contact information for the producer of my brise de châtaigne :
Maurice Zerathe
L'Olivier
07110 Sanilhac
(Notice how tiny the village must be, no address is necessary, just the name of the chestnut farm!)
04 75 39 26 39