We seem to be having one of those stubborn springs that refuses to, well, spring. And after a particularly dreary winter with a record dearth of sunny days, the grower from whom I get most of my vegetables told me he's about a month and a half late with the spring crop.
So, despite what the calendar says — and despite my hunger for fresh peas — I am choosing to respect the realities of the current season, and to celebrate the tail end of the winter produce.
And the winter vegetable I've really rediscovered of late is the Savoy cabbage — chou frisé in French.
I like cruciferous vegetables of all stripes and colors, but this one had always been my cabbage of least proficiency. I love it in my mother's stuffed cabbage, and in the farci poitevin I've revisited in The French Market Cookbook, but I lacked ideas beyond those.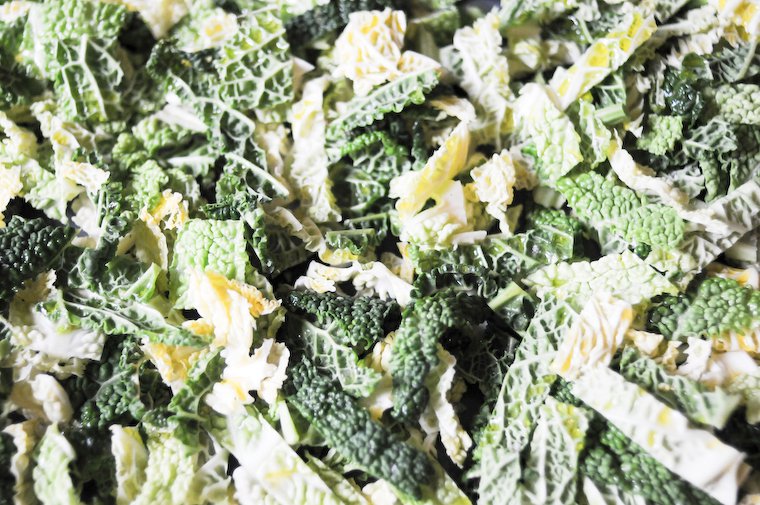 But then kale happened: it was suddenly easier to find on Paris markets, so I played around with it a lot — cue the mega-list of 50 things to do with kale — and naturally that gave me ideas for its close, if less fashionable, cousin the Savoy cabbage.

As it turns out, the roasting method that gave the world kale chips has a transformative effect on Savoy cabbage, too. In just a few chops of the chef knife and fifteen minutes in a hot oven, the slightly daunting head becomes a heap of lightly browned, tender at the spine but crisp-edged ribbons that I can eat by the bowlful — and happily have.
Add a touch of lemon juice, a scoop of steamed rice and a scatter of almonds, and I am content to wait for spring a little while longer. Just a little.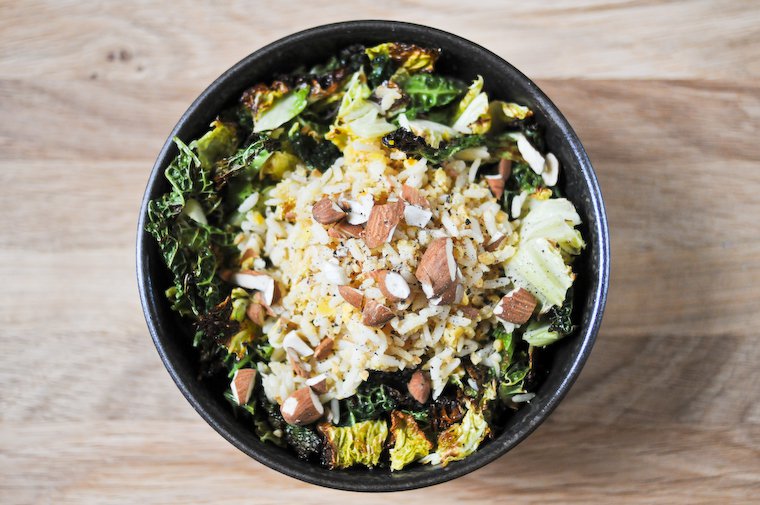 Have you tried this? Share your pics on Instagram!
Please tag your pictures with #cnzrecipes. I'll share my favorites!
Roasted Savoy Cabbage Recipe
Ingredients
1 head Savoy cabbage
olive oil for cooking
fine sea salt
freshly ground black pepper
lemon juice
Instructions
Preheat the oven to 200°C (400°F) and grease a rimmed baking sheet.
Cut the cabbage into quarters vertically and carve out the core (save it for one of Tamar Adler's ideas). Cut each quarter in two lengthwise, and slice crosswise thinly.
Place the cabbage on the prepared baking sheet. Drizzle with olive oil, sprinkle with salt, and toss to coat.
Insert in the oven and bake for 15 minutes, stirring halfway through, until cooked through and golden brown in places.
Sprinkle with black pepper, dress with a touch of lemon juice, and serve.
https://cnz.to/recipes/vegetables-grains/roasted-savoy-cabbage-recipe/
Unless otherwise noted, all recipes are copyright Clotilde Dusoulier.