As a sequel to my ode to the fresh pea, here is a recipe for chilled pea pod soup, a.k.a. "I have just devoted thirty minutes of my life to the shelling of those peas, and I intend to milk them for all they're worth" soup.
Like all recipes that propose to use odds and ends that might, in other, less frugal kitchens, end up in the trash, this one delights me to no end — the nose-to-tail philosophy applied to the vegetable kingdom, if you will.
All you need to do is shell and trim your pea pods (I recommend the tear-and-pull technique, which opens the pod and rids it of stem and string in a single gesture), discarding any that is browned or withered, and keeping the ones that look healthy. These you'll rinse well, drain, and save while you cook the peas in whichever clever way you've decided.
The pods don't stay fresh for very long, so if you're not absolutely positive you'll get around to making the soup within a day or so, it is wise to throw them in the freezer (of course I recommend depositing them in some sort of freezer-safe container first, don't be so literal).
The recipe itself is the simplest thing — an onion, some garlic, a splash of white wine, a whisper of nutmeg — yet I can't think of a more refreshing start to a late spring dinner than this army green soup, thin-textured and cool, its elusive sweetness brought out by a few drops of hot sauce.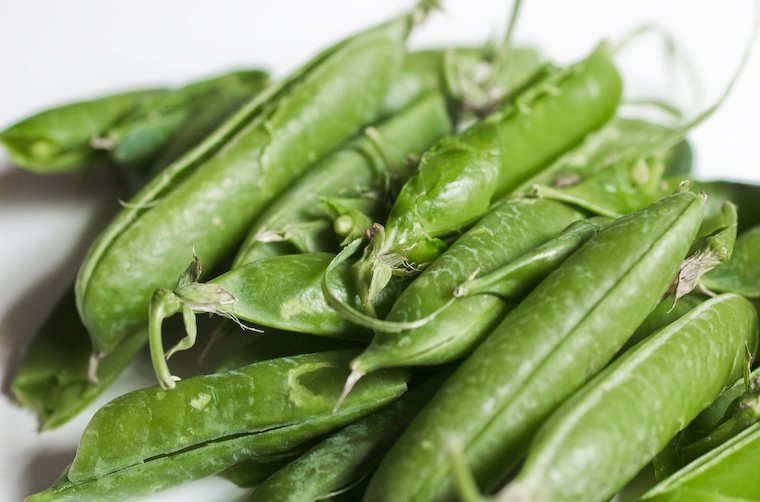 Have you tried this? Share your pics on Instagram!
Please tag your pictures with #cnzrecipes. I'll share my favorites!
Chilled Pea Pod Soup Recipe
Ingredients
olive oil
1 small onion, finely minced
2 cloves garlic, finely minced
the pods from 1.2 kg (2.5 pounds) fresh green peas, stems removed, rinsed and drained (no need to thaw them if frozen)
sea salt
2 tablespoons dry white wine
1 liter (4 cups) quality stock, brought to a simmer
freshly grated nutmeg (use a whole nutmeg and a small grater)
freshly ground black pepper
chili pepper sauce, such as Tabasco
a few stems of fresh herbs, such as chervil, cilantro, dill, or chives
Instructions
Heat a little olive oil in a cast-iron or soup pot over medium-high heat. Add the onion and garlic and cook until softened, stirring regularly. Add the pea pods, season with salt, and cook for a few minutes, until the liquids have evaporated if the pods were frozen.
Deglaze with the white wine, and cook for a minute. Add the hot stock, bring to a simmer, cover, and cook for 25-30 minutes, until the pods are quite soft. Remove from the heat and let cool, uncovered, for 10 minutes.
Put on an apron (I mean it; this can get messy). Using a blender or an immersion blender, whiz the soup in short pulses until all the pods are broken down into chunks. They will refuse to turn to a purée; the goal is simply to break their fibers so they'll be easier to strain.
Set a food mill (or a fine-mesh strainer) over a medium bowl and ladle a few spoonfuls of the soup into the mill (or strainer). Turn the handle of the mill (or press on the solids in the strainer with the back of a tablespoon) to strain out as much of the liquids as you can. Discard the solids (see note) and repeat with the rest of the soup, still working in batches.
Sprinkle the soup with a little nutmeg, stir, taste, and adjust the seasoning. Refrigerate until well chilled. (To speed up the cooling, set the bowl in a larger bowl filled with cold water and a few ice cubes.)
Pour the soup into bowls, add freshly ground pepper, a dash of hot sauce, and a stem or two of fresh herbs, and serve with thin, toasted slices of sourdough bread.
Notes
Rather than discard the solids right away, I prefer to reserve them in another bowl and strain them again after the first pass: I find I can usually strain out a little more liquid after giving them this short resting time.
https://cnz.to/recipes/soups/chilled-pea-pod-soup-recipe/
Unless otherwise noted, all recipes are copyright Clotilde Dusoulier.